How to use rewards cards with Apple Pay and the Wallet app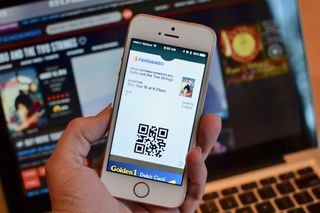 I love using Apple Pay around stores in my neighborhood: It's quick, easy, and almost always gets a delighted reaction from employees. I recently upped my Apple Pay game, however, by jumping into the fun world of digital rewards and loyalty cards.
These cards have been supported on the iPhone since iOS 9, and make it extra-easy to earn bonus points on your purchases at select stores. Sadly, I have to emphasize "select" here — adoption from merchants has been slow, even though they're easy and delightfully fun to use.
All of the programs that currently support Apple Pay Rewards and Loyalty cards
Unlike many barcode-style Wallet passes, rewards and loyalty cards have specific code within them that allows those cards to automatically pop up on Apple Pay scanners before you pay with a credit or debit card. In contrast, passes like Starbucks Rewards can be added to your Wallet app, but you have to manually select the card and hold it out to be scanned.
These are the rewards and loyalty cards we know of that are currently supported in the Wallet app:
Walgreens Balance Rewards
Coca-Cola Vending Pass
Kohl's Yes2You Rewards
Know of other programs we're missing? Let us know in the comments!
How to add a Rewards card to the Wallet app
Note: This process varies depending on the program you've signed up with, but usually involves downloading the merchant's app. Below, we'll walk you through signing up with the Walgreens Balance Rewards card.
Download the appropriate app for your merchant.
Open and log in to the app with your rewards login.
Tap on the link to Show Your Rewards Card.
Select the Add to Apple Wallet button.
Choose whether to add a Preferred Store Location.
The initial digital rewards card will display. Press Next.
Choose whether to Automatically Select the card when visiting the merchant's location. This will automatically load the pass before your credit or debit card when you pay with Apple Pay.
Press Done.
How to use an official Apple Pay Rewards card at the store
Enter the store and shop for your items, per usual.
During checkout, pull out your iPhone or Apple Watch.
If you've added a Preferred Location, you'll be prompted with an alert to open the card on your Lock screen.
Move your iPhone or Apple Watch within a foot of the payment terminal to bring up the payment screen; if that doesn't work, double press the Home button to display it.
If you've chosen for your rewards card to Automatically Select, it will display first as an option for scanning, followed by your credit or debit card.
Authenticate your purchase with Touch ID.
How to use a digital rewards card from the Wallet app without Apple Pay
If the store in question doesn't have an Apple Pay terminal, you can still have the cashiers scan your digital rewards card.
Enter the store and shop for your items, per usual.
During checkout, pull out your iPhone or Apple Watch.
If you've added a Preferred Location, you'll be prompted with an alert to open the card on your Lock screen.
If you haven't, open the Wallet app on your iPhone or Apple Watch and select your rewards pass.
Tap on the button at the bottom of the pass that says Show Code. If you don't have an official Rewards pass, this barcode may already be automatically displayed.
Have your cashier scan the resulting barcode.
Pay for your item with a physical credit card, debit card, or cash.
Questions?
Let us know in the comments.
Serenity was formerly the Managing Editor at iMore, and now works for Apple. She's been talking, writing about, and tinkering with Apple products since she was old enough to double-click. In her spare time, she sketches, sings, and in her secret superhero life, plays roller derby. Follow her on Twitter @settern.
Apple Pay was awesome....down to only one location in town that accepts Apple Pay. Apple should have gone after merchants along with banks not just go after banks and leave merchants alone. Sent from the iMore App

It's great in my town, more unusual for a merchant not to take it.

Apple pay works on the vending machine we have in our break room at work. It seems to work pretty much anywhere that has an NFC payment reader thing regardless of whether it has the Apple Pay logo or not.

I'm in a major metro area so there's probably many places it works. For me though when buying non groceries i don't notice it or see it advertised as available very often. It works at a few grocery stores i shop at, sprouts & trader joes but other than reloading my starbucks card (which i could do before apple pay) I don't use it often. Honestly, i pretty much only use it to reload my starbucks card. its a convenience but I don't rely on it as i still have to carry a wallet everywhere with my license and credit cards.

I thought when they announced reward cards could be added to the wallet I didn't think it was limited to like 5 cards. It doesn't even accept major supermarkets like Shop Rite which totally blows!

Shouldn't be limited! I have quite a few in my wallet. And sadly, it's up to merchants like Shop Rite to support Apple Pay, rather than the other way around.

Target Cartwheel I think does (not really a reward card). Wish the Target app supported gift cards being added.

i think the only reward card i use is Ralphs and i've used my phone number instead for a decade. No keychain. Other than that the places i tend to shop don't use them anymore.

Unfortunately, using numbers for reward keying is a good way to get your number on a spam call list — or worse, have someone try and reroute your calls to steal two-factor authentication information. Not something that's likely to happen, mind you, but why people are moving away from it.

I have, successfully, added the following "reward" (or membership) cards to my Apple wallet: Speedway, Target Cartwheel, Shop Your Way Rewards, and Kroger Plus.

Here are the Rewards I have added to Apple Wallet:
Whole Food Rewards, Walgreens, Tally's, iTunes Pass, Alaska Airlines, ShopRite,
IHG Rewards, Cinemark Connections, AMC Stubs Insider, Crown Club, Nike+, My Coke Rewards, Marriot, SPG, Emirates Skyward, American Advantage, Air France/KLM Flying Blue, Delta Sky Miles, Honda Roadside Assistance, Chick Fil-A, Dicks Sporting Goods, Shop Your Way Rewards, Ace Hardware, Plenti, Rite Aid,7-11 Rewards, Ralphs, Shell Fuel Rewards, Level up, Triple AAA, Starbucks Card, Veggiegrill, Glaze Teriyaki, Hook Burger, TOFAS Mediterranean, Stake and Shake, Asian Box, &Pizza, by choice, Pink Berry Card, TGI Fridays Give Me More Stipes, CPK Pizza Dough, Office Depot/Max rewards+, Haggen-Dazs, Great American Cookie Company ,Pretzel Maker, Marble Slab, Hot Dog on a Stick, CoatCheck, Belly Card, AEREWARDS, AutoZone, DSW, EXPRESS, Famous Footwear, Game Stop Power Up, GUESS List, Indigo Plum Rewards, Mylowes, Pep Boys, REI Member, Staples, Target Cartwheel and Red perks, Spot-on Rewards, Genghis Grill, Shoppers Foods, My Giant, My Stop & Shop, Harris Teeter, Wegmans, Race Trac Rewards, Speedway Speedy Rewards, Thorntons, Meijer mPerks, D&W Yes, Heathrow Rewards, Aeroplan, AEGEAN Miles & Bonus, Copa Airlines Connject Miles, TAP Miles Victoria Miles Winner, ACCOR Le Club Hotels, Best Western Rewards, Choice Hotel Privileges, Club Carlson, Hard Rock Rewards, Hilton HHoners, Hyatt Gold Passport, Wyndham Rewards,
Amtrak, Lufthansa Miles and More, Hawaiian Miles, United Mileage Plus, Costco, My BestBuy, Blockbuster, The League by Sport Authority, Van Heusen, Finish Line, Petco, Ikea Family Card, Randall's, PetSmart, CVS, CPK Pizza Dough 1 Wallet -Your Loyalty Cards in Apple Wallet $1.99: Hallmark, Stein Mart, Foot Action, Food Lion, Payless Source, Bass Pro Shop, Hot Topic, Calvin Klein, Ingles, Foodland Maikai, ToysRus, Air New Zealand, Big Lots, Food City, Jet Blue, Michaels, Foot Locker, Weis, Lindt, British Airways, Vitamin World, Selfpass.net Cards: Tesco, Nectar, LEGO VIP, WINN DIXIE Apple Pay Rewards Cards
My Coke Rewards, Walgreens, Wegmans

How were you able to add CPK?
I tried from inside the app, nothing, also searched the app store for "Find Apps for Wallet" and nothing either...

CPK card was a demo that pass Source sent me. Sent from the iMore App
Thank you for signing up to iMore. You will receive a verification email shortly.
There was a problem. Please refresh the page and try again.