How to use Siri with Google Maps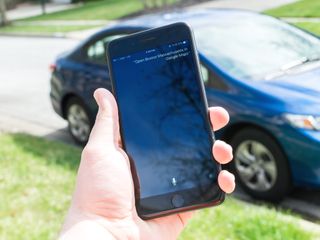 As much as I would love to be able to say "Open Boston, Massachusetts in Google Maps," that day is not yet here: Apple currently doesn't offer SiriKit routing for mapping applications.
Instead, whenever I query Siri for an address, I get Maps — which isn't always the best source for directions (especially if I need up-to-date traffic data). Back before the Maps app supported Transit directions, you could "hack" Siri to route via Google Maps by saying "Get directions to Boston via transit" — but these days, this command just opens the Maps app's direct Transit directions instead.
But there's still a way to open Google Maps with your voice whenever you want to use an alternative mapping service: Here's how to do it.
How to use Siri with Google Maps
First, make sure that Google Maps can accept voice control.
Open the Settings app.
Go to Privacy > Microphone.
Make sure the toggle next to Google Maps is On.
Once you've done this, you can execute these steps whenever you'd like.
Note: This trick won't work if you're using Siri Eyes Free or CarPlay, as Siri in the Car won't let you open apps with your voice.
Hold down the Home button to trigger Siri.
Say "Open Google Maps".
When Google Maps opens, tap the Microphone in the top left corner.
Say the address you want to travel to.
Google will automatically begin giving you directions.
Google's Assistant is fairly limited in its queries: You can ask it for "local restaurants" or "directions to Boston," but it doesn't currently understand something like "Biking directions to Somerville" or "Directions to Newton via transit."
How to use your Mac to get Google Maps directions
This isn't quite a Siri trick, but as a bonus: If you want to plan ahead, you can get Google Maps directions sent directly to your phone from your desktop.
Log in to Google on your computer.
Open Google.com/maps in your web browser.
Search for directions.
Click on the Send directions to your phone text.
Choose whether to send directions directly to your iPhone, or via your associated Google email.
Any questions?
Until Apple institutes full SiriKit support for mapping apps, I hope this little tip helps! Let me know in the comments if you have any additional tips for using Siri with Google Maps and other mapping applications.
Get the best of iMore in your inbox, every day!
Serenity was formerly the Managing Editor at iMore, and now works for Apple. She's been talking, writing about, and tinkering with Apple products since she was old enough to double-click. In her spare time, she sketches, sings, and in her secret superhero life, plays roller derby. Follow her on Twitter @settern.
...but this isn't "using Siri *with* Google Maps!" This is using Siri to *OPEN* Google Maps, which isn't any different than any other app, right? FWIW, I'm new to the iOS thing so I'm expecting to be wrong here...

You are exactly correct: The tip presented in this article really has nothing to do with Siri at all. Halfway expecting the next article to be: "How to use Siri with Super Mario Run!"

Or even better you can make sure you have Google Search App installed and tell Siri to open that app then say "Ok Google, Navigate to <State Destination>"

This is probably the best way to do it at the moment until Apple implements selection of default apps

Doesn't the new version of Maps in iOS 10 have traffic conditions while navigating? I was sure that was a new feature.

Pretty sure they didn't imply that it didn't. Sent from the iMore App

Genius idea here.... just tap the **** Google Maps app icon to open it. Less work all around!