How to use travel times with Calendar for iPhone and iPad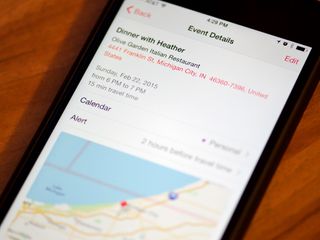 Have a lot of appointments and meetings to juggle? Would it make your life a little easier to be able to easily see how long it will take you to get from one place to another? Apple's Calendar can use location information to figure out just that, and best of all, it's easy!
How to get travel times with Calendar for iPhone and iPad
Launch the Calendar app on your iPhone or iPad.
Tap on the event you'd like to calculate a travel time for or create a new one.
Tap on Edit at the top right.
Tap on Travel Time.
Turn On travel time.
Tap on Starting Location and tell Calendar your starting location either by entering an address or the name of a place or business.
Tap on Based on location for either driving or walking directions.
Tap on Edit Event at the top.
Tap Done.
Look for travel time under the date area.
Mick is a staff writer who's as frugal as they come, so he always does extensive research (much to the exhaustion of his wife) before making a purchase. If it's not worth the price, Mick ain't buying.
This is the only thing I miss from Android. Google Now card telling me I need to leave at X:XX in order to be on time. This is something I'd love for Apple to take from Android and become a smarter and more personal smartphone.

I agree. I had a Windows Phone and Cortana would always tell me when I should go.

All, This looks like a really good function for me but I don't seem to be about to get the travel time. I have an iPhone 6 (IOS 8.13). Is there any functions or app I need to add? Thanks,
A.B.

For your new calendar appointment choose iCloud calendar. This function doesn't appear for any other calendars. I'm running 8.13 on iphone 6+

Thanks! Is there a way to sync iCloud Calendars with work calendars?

Well that makes this almost completely useless.

Going to have to agree with ohipva if I can't use it with work calendar.

I thought it would work with Google Calendar but it seems it does but it's then crucial to select the exact location with a red dot/line with the Apple Calendar app and then select Traveltime so you have these options available. A great widget option is: Agenda+ by Jeeeyul Lee which also shows the type of transport and time within the widget. Other alternatives that use their own ways are miCal and WeekCalendar see also my blog post here: http://www.funriders.net/robin/index.php/ios-calendaragenda-app-that-ind...

In order for this to work you have to give your calendar access to location services via settings>privacy>location services (location services feature switched on)>calendar>(select 'While Using')

What's the source for that wallpaper image? I like it.

I see the travel time option but when I turn it on all I can choose is the canned travel times in minutes I don't get the 'based on location' driving or walking options... I'm on latest iOS and iPhone 6+. Any ideas?

Without Exchange compatibility worthless. Would be helpful if the author pointed that out in the beginning instead of allowing many of us to waste our time.

For most of my calendar entries I only get the option to set up fixed times on my iPhone 6+, although on the iPad I have once been offered the options shown in this article. The event I was able to use the system above is from a Google calendar. None of my iCloud calendars offer me anything other than a fixed time option for travel time. :/

Great thought, but like many have said, if it doesn't work with Exchange it's largely useless for me. Sent from the iMore App

This is the only reason I use the stock calendar app. Sent from the iMore App

When you choose "Based on Your Location", it sets your current location as the starting point and bases the travel time from that location off of distance, not actual traffic conditions. This would work well if you were at the location you were at when you set the appointment and there was no traffic. For the 99% of other times you need to travel to an appointment and be on time, this feature doesn't appear to add any value. This is a huge feature gap.

It still doesn't work with Exchange servers. This should have been stated at the outset. Very frustrating, very disappointing.

Indeed such a pain that this doesn't work with e.g. Google Calendar together with the iOS Calendar app. I've used another app WeekCalendar that does show the distance to location near your appointment (without switching to Maps or Google Maps to see it). However that still has issue seeing my location so sometimes it thinks the distance is 1.30minutes because the app thinks I'm somewhere else. Although I approved the app to use my location and I checked in the app settings of WeekCalendar to use my current location. I'm now switching over to miCal that does work as it should (although I do like the UI better of WeekCalendar). It does take a second or so to show the actual distance and you can't choose between transportation options (by car,bike,walking) it's only car so it seems. It's odd that other calendar app don't seem to have such an option. I downloaded/tried quite a few e.g. Calendars5, Fantastical 2, Cal, Wave Calendar, UpTo Calendar.

Please ignore my post from 4 days ago. It is possible with Google Calendar together with standard Apple Calendar app but it's then crucial to select the exact location (with a red dot/line) and then you get these time/transportation options. A great widget option is Agenda+ by Jeeeyul Lee.

It does remain a problem to show the distance in time (hours/minutes) if you add your appointment via the desktop/laptop with the Google Calendar website though and iCloud.com Calendar doesn't offer an option to add a Google Calendar and also doesn't have an option to turn on travel time (for all or a certain appointment). So in the end I switched back to WeekCalendar. miCal is also nice but lacks the option to autofill an address like WeekCalendar does. I did need to set my home address in the contacts app and connected that with WeekCalendar instead of determining my current location (which is still not what everyone wants) to show a correct travel time to the next appointment.
Thank you for signing up to iMore. You will receive a verification email shortly.
There was a problem. Please refresh the page and try again.