How to use your iPhone to get the most out of the 2017 Total Solar Eclipse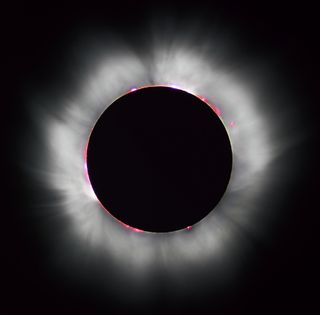 Although there are between two and five solar eclipses per year somewhere on earth, there hasn't been a total eclipse that crossed the entire contiguous United States since 1918! This is your best chance in North America until 2024 to get a view of a solar eclipse in totality. Depending on whether you want to see totality or simply enjoy what you can from your current location, here are some apps and tips to help.
A word of caution before you stare at the sun
As marvelous a spectacle as a solar eclipse is, solar radiation and UV light can seriously damage your eyes as well as cause damage to optical components in your cameras. If you will be enjoying the eclipse in any form, please make certain you have proper protection for your eyes (opens in new tab) (sunglasses WILL NOT DO) and the proper UV filters for your camera equipment. Though the iPhone has many such filters built-in that will limit exposure to the light, you will still be best served with procuring UV protective gear such as the eclipse kit from Formatt Hitech (opens in new tab). With that being said, lets get ready for the 2017 eclipse.
Note: Remember to NEVER look directly at the sun, especially during a solar eclipse, and only use ISO-certified eclipse viewing glasses.
How far are you from viewing a full total eclipse?
Not all view locations are created equal, although some partial aspects of the eclipse can be viewed in a wide swath; the path for viewing the sun completely blocked out by the moon (called totality) is a 70-mile thin strip. One app you can use to see how far away your are from the path of totality is Eclipse Hunter (opens in new tab) (free in the App Store).
Eclipse Hunter is a very simple app that gets your current GPS location and lets you know in which direction you need to head, the distance you need to travel, and the amount of time you need to get there before totality of the eclipse. You can then make a determination of your logistics to make that happen.
Download Eclipse Hunter from the App store

(opens in new tab)

.
Tap Install.
Tap Open.
Tap Allow Eclipse Hunter to access your location.
Tap Closest to see the closest distance to you for totality.
Optionally, offer a donation to the app developer by taping on the Information icon.
What will you see from your current location?
Are you already in the path of totality? Or perhaps you'd rather see what sort of spectacle you'll get form your current location? The Eclipse2017.org (opens in new tab) app (free, with in-app purchases) gives you all the information you need to figure that out.
The Eclipse2017.org app gets your GPS location and then gives you a preview of what you can expect from the eclipse. It then informs you if you are or are not in the path of totality and instructs you on the safe use of eclipse glasses (opens in new tab) depending on your results.
Download Eclipse2017.org from App store

(opens in new tab)

.**
Tap Install.
Tap Open.
Tap I Agree to all of the legal stuff.
Optionally tap Upgrade Now to all use of your GPS radio to setup your location.
Tap Continue.
Tap Select my location.
Enter your Location.
Tap Allow for Eclipse2017.org to access your location.
View the eclipse preview at your entered location.
The app also offers some links to purchase eclipse glasses from directly inside the app.
Get the most out of totality
If you are one of the lucky ones that will get to be in the path of totality during the 2017 eclipse, then there is an app called Solar Eclipse Timer (opens in new tab) ($1.99 in the App store) that will literally talk you through the event! It will tell you of the various states of the eclipse as it goes through them in real time and inform you when you can remove your eclipse glasses to get a view of totality directly and when to put them back on before frying your optics!
Although Solar Eclipse Timer is only really functional during a live solar eclipse, it comes with a "practice eclipse movie" that you can become acquainted with to let you understand the ins and outs of the program. Here's how to get that preview started.
Download Eclipse Timer from the App store

(opens in new tab)

.**
Tap Install.
Tap Open.
Tap Settings.
Tap Play a Practice Eclipse Movie.
Follow along with the movie.
How will you view the eclipse?
Will you be getting out to enjoy the 2017 eclipse? Let us know your plans in the comments!
I'll be staying at home in NL, so I won't be there for the spectacle, although some members of my astronomy club will be in the US for it. Just don't fall off mountains, get trampled under foot, eaten by bears or tornado's. I wish you all clear skies on the day, have fun!

Any tips for taking eclipse pics with iPhone?

My advice is DON'T. The pictures won't be very good anyway and there will be thousands of wonderful pictures available on the web. You certainly can't expect a selfie with the eclipse in it to come out at all. Totality lasts only two minutes, experience every second of it without messing with your iPhone

Turn off flash and autofocus
Reduce exposure
Attach a filter (certified eclipse glasses can be used to cover the lens.)
But I agree with the other reply. Don't bother with it. There will be plenty of professional photos and videos of this event.

Several sources are predicting that cellular internet access will be swamped, especially in mountain areas of the west where it is pretty patchy to start with. To navigate in these areas you need a "real" GPS application (I'll be using CoPilot) or at least download the Google maps for the area in which you plan to be. A paper map is a good idea!

What excellent advice about the cellular data issue. Thank you.

A paper map? How do you zoom in? It seriously, Google offline E maps are great, and way more reliable and accurate then a paper map.

Or download Here Maps. Better maps, better navigation routes, and Off-Line maps of the whole world, or parts of it in your phone. always.
ps. no, no shares on the thing, only on of the last remnants of Nokia mobile phones...

Thank you for this very cool article. I'm slightly embarrassed to admit I didn't even know this was happening until I visited iMore, lol. Here in Toronto, it looks like we'll be treated to a very-near total eclipse. Looks like about 80%, thanks to the Eclipse2017 app you suggested.

I'm so happy that this has helped some people get informed! Thank you for your feedback!

I used X-ray films to watch the solar eclipse, back when I was a kid :p
Get the best of iMore in in your inbox, every day!
Thank you for signing up to iMore. You will receive a verification email shortly.
There was a problem. Please refresh the page and try again.