How Using Philips Hue Lights Can Improve your Mood or Productivity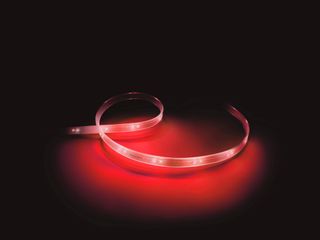 One of the best things about going all-in on Philips Hue lighting is the ability to create a customized lighting experience that works together seamlessly. You can fill your living room, kitchen, or home theater with Hue bulbs, Hue light strips, and Hue accent lighting to create any number of colorful scenes and (yeah, I'm gonna say it), chill vibes. Thanks to the numerous color options, you can even use your bulbs to promote a wakeful state. If you're looking to use your Philips Hue setup for a little more than a couple of cool party tricks, here's how to use 'em to improve your mood and boost your productivity!
Wake up feeling refreshed and drift off to dreamland feeling sleepy
One of my favorite Philips Hue lighting features is a routine called Wake up. The routine slowly fades up the lighting in your room(s) of choice, providing subtle encouragement (read: passive aggressive light) to get out of bed. If you have trouble getting going in the morning, get this routine set up and have it start turning up the lights before your alarm starts ringing. Your body should start to notice the light getting brighter in the room before you fully wake up, giving your body a bit of a head start on getting your system booted up for the day.
Here's a video tutorial to walk you through the setup process:
If you have trouble falling asleep at night, you might try Philips Hue's Go to sleep routine. This routine will gradually warm the temperature of the lighting in your room or rooms of choice, all the while dimming them down. Think of it as an extension of your eyelids, slowly and gradually falling closed at the end of the day. This routine will help keep that pesky blue light from interfering with your sleep cycle.
Here's a video tutorial to walk you through the setup process:
Have some Energize with your morning cup of coffee
It's quickly become a well-established fact that blue light is good during the day and not so good at night. Here's a little tidbit from Harvard Health:
If you want to boost your mood, reaction times, and attention, it stands to reason that you should surround yourself with blue wavelengths of light. Philips Hue's Concentrate and Energize scenes can help you out with that. The scenes brighten up the Hue lights of your choice and shift the color temperature toward the blue wavelengths of light.
Relax with your evening cup of chamomile tea
Remember that bit about how blue wavelengths of light promote attention and reaction times? That's sort of the last thing you want when you're winding down for the day.
Philip's Hue's Relax scene will shift the color temperature away from the blue wavelengths of light and dim things down a bit. It's exactly what you need as you start to stretch out and relax for the evening.
Kick back with a good book … anywhere
With a portable, multicolor light like the Philips Hue Go, you can relax with your favorite novel or concentrate with your least favorite finance textbook no matter where you are.
When you think about it, the $74 Philips Hue Go is a two-in-one: It can boost your mood by helping you get lost in your favorite fantasy world or it can boost your productivity by helping you stay focused long enough to calculate real estate trends … I can't promise those activities won't decrease your productivity or your mood, respectively.
Light's the limit
Once you've got a few of these bulbs, lightstrips, and accents in your home, you're bound to discover your own methods for incorporating lighting in your day-to-day routine. Be sure to share your favorite, most productivity-boosting examples in the comments below!
Looking for more ideas? Don't forget to check out my list of the 10 best lighting scenes for your Hue lights!
Master your iPhone in minutes
iMore offers spot-on advice and guidance from our team of experts, with decades of Apple device experience to lean on. Learn more with iMore!
Mikah Sargent is Senior Editor at Mobile Nations. When he's not bothering his chihuahuas, Mikah spends entirely too much time and money on HomeKit products. You can follow him on Twitter at @mikahsargent if you're so inclined.