HomeKit and the Home app: The ultimate guide to Apple home automation
Everything you need to know about HomeKit and the Home app.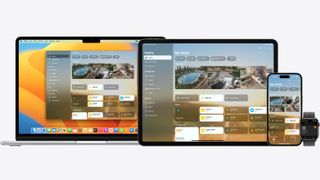 (Image credit: Apple)
Just getting started with the Home app or recently purchased your first HomeKit-enabled, Apple Home, or Matter accessory? Awesome! You've just bought into one of the most secure, private, and powerful connected home platforms around — especially if you're using an iPhone, iPad, Mac, HomePod, or Apple Watch.
While Apple's take on the connected home focuses on simplicity through the Home app, it can still be a little daunting if you are new to the world of smart gadgets. That's why we've put together this guide: to give you all the information you'll need (and then some!) to set up and take advantage of the best HomeKit devices and apps. So don't worry, you'll be controlling your home with Siri and the Home app in no time!
How HomeKit and Matter work
What the heck is HomeKit, Matter, and the Home app, and how do they work? Well, when you buy an accessory that works with Apple HomeKit or Matter, you're buying a product that meets stringent requirements for both security and functionality. HomeKit and Matter are frameworks that connect your home automation products and lets you control them with Siri and the Home app.
Here's an example: Say you buy the Logitech Circle View Doorbell, a HomeKit-enabled security solution for your front porch. After you perform the initial setup process, Apple's HomeKit framework securely connects the accessory to your iOS devices, Mac, and HomePod letting you access its live view in the Home app, through HomeKit-enabled apps, and via Siri.
A lot is going on behind the scenes, so for a deeper dive on HomeKit and the Home app, be sure to check out our HomeKit FAQ and our Matter: Everything you need to know guide.
We should also note that Apple recently changed its smart home naming conventions in iOS 16. So instead of seeing HomeKit devices on the shelves in the future, you will see devices that say Works with Apple Home. For this guide, we will be referring to some device types and features as HomeKit, which are the same as Apple Home app devices. The same goes for Matter devices, which will pair and operate with the Home app once they are available in the near future.
HomeKit and Matter devices
Are you looking for HomeKit and Matter accessories to add to your home? There are tons of available smart devices today, so the best place to start is with our handy guides that whittle them down to the best of the best. We are constantly testing the latest and greatest smart accessories, so we also provide in-depth HomeKit reviews to help you decide whether or not that shiny new device is worthy of your hard-earned dough.
If you are looking for a bit of inspiration, we have many general guides highlighting all of the magical HomeKit automation possibilities. The best HomeKit devices for renters are a collection of devices that do not require permanent installation, and HomeKit security accessories help keep your home secure. You can even bring HomeKit with you on the go with HomeKit devices for travel.
Lighting
For lighting, the best HomeKit light bulbs make it easy to add color and convenient controls to your home. There are smart bulbs for almost any size and style, including the HomeKit filament light bulbs, flood light bulbs, candelabara light bulbs, and GU10 light bulbs. If you have a favorite bulb that you don't want to replace but still want to add the smarts, HomeKit light bulb sockets give you the best of both worlds.
If you have lots of light bulbs, it may be cheaper (and easier) to go the replacement light switch route. HomeKit light switches and HomeKit dimmer switches are straightforward to install, with it taking as little as ten minutes with the right tools. Need to replace a ceiling light or chandelier? HomeKit light fixtures can help with that too!
Other lighting accessories like the best HomeKit lamps not only offer the smarts, but in some cases, they may offer a modern update to your decor. HomeKit lightstrips and light panels add fun colors to your space, and HomeKit nightlights are great for areas like the nursery.
Security
A big part of the appeal of the modern smart home is security, and there a few HomeKit and Matter accessory types that can help lock down your home. HomeKit door locks ensure that you never leave your front door unlocked with auto-locking capabilities, Siri, and Home app controls. Through the Home app, you can also set up activity alerts that notify you the instant your door is unlocked, and some keep logs so you can review all of your home's events.
HomeKit garage door openers offer similar security features to door locks. You can set up notifications for any open or close events, access activity logs, and have them remind you to close the door after a set time. Having a smart garage door opener is incredibly convenient, too, with the ability to open and close the door from afar, and combined with a smart door lock, you can go entirely keyless and still have access to your home.
Of course, cameras and video doorbells are also a huge part of home security, and HomeKit and the Home app have plenty of those as well. The best HomeKit cameras work with Apple's HomeKit Secure Video feature, which keeps a rolling 10-days worth of recordings in iCloud using your existing storage plan. HomeKit Secure Video also provides custom activity zones, face recognition, and intelligent filters to reduce nuisance alerts from pets or vehicles. Plus, since Apple is all about keeping your data private, everything is end-to-end encrypted so only you or your family can access your cameras.
While options are limited, HomeKit video doorbells put the power of a connected camera right at your front door. Video doorbells act similar to standard smart cameras — with some offering HomeKit Secure Video support — but have a few perks like the ability to chime your HomePods when someone is at the door. If you have an Apple TV in your home, HomeKit doorbells will send a live feed of your doorbell right on the big screen, so you don't miss a visitor.
When it comes to securing your home network, HomeKit routers allow you to place restrictions on your accessories through the HomeKit Secure Router feature baked into the Home app. There are three types of restrictions that you can set:
Restrict to Home: Only allow connections to your home hub. This may block firmware updates or other services.
Automatic: Allow connections with an automatically updated list of manufacturer-approved internet services and local devices.
No Restriction: Allow connections with any internet service or local device. This provides the lowest level of security.
The most interesting restriction is Restrict to Home. This setting blocks outgoing traffic from your accessories, so you can rest easy knowing that your smart plug isn't relaying all of your household activities to a random server. While this setting can break some manufacturer-specific accessory features, for the most part, the most restrictive option still allows you to control all of your accessories like always, just with the added security benefits. For more details, head on over to our HomeKit routers: Everything you need to know guide.
Sensors
HomeKit and Matter are home to a whole host of smart sensors that provide additional security benefits and help give you a greater sense of the health of your home. On the security side of things, you can pair HomeKit door and window sensors and motion sensors with your home's lighting to give the appearance that someone is home.
For safety, HomeKit smoke and CO detectors deliver critical alerts to your personal devices if one senses trouble — giving you time to react if you are away from your home. HomeKit water leak detectors do the same for water leaks, large or small, crucial for preventing a major disaster.
Other smart sensors focus on your home's environment. HomeKit air quality sensors provide valuable insight into the air that you breathe, reporting VOC levels, CO2, and more. For automation, the best HomeKit light sensors have the unique ability to trigger other accessories based on the amount of light in the room, creating loads of custom potential.
HomeKit temperature sensors and humidity sensors are a convenient way to monitor rooms in your home, and some can interact with smart thermostats, fans, and humidifiers.
Climate control
Speaking of climate, HomeKit and the Home app are a fantastic way to manage the temperature in your home with HomeKit thermostats. With a smart thermostat, you can fire up the heater from the comforts of your bed or create a schedule through automation that turns everything off while you are at the office.
If you have an older home or live in a climate where you can get by without central heating and air, HomeKit air conditioners can help keep you cool. For just a little bit more than your traditional window AC unit, smart air conditioners enable Siri and Home app controls, and just like smart thermostats, you can create custom schedules for your home's needs.
HomeKit ceiling fans are another excellent way to help keep your cool and reduce your energy bill. Most smart fans allow you to adjust speeds on-demand, and some do the chore of reversing direction simple. If you already have a fan that you like and want the smarts, HomeKit switches for ceiling fans can do just that.
HomeKit smart blinds can also play a role in your home's climate. Smart blinds help block out the sun during the day, and through the power of automation, your shades can close when it is time to settle in for some binge-watching.
Entertainment
HomeKit and the Home app also work with many entertainment devices like speakers, TVs, receivers, and set-top boxes in conjunction with AirPlay 2. The best AirPlay 2 speakers and receivers allow for effortless streaming, multi-room audio, and smart speakers, like Apple's HomePod and HomePod mini, work with Home app automation so you can arrive home to your favorite tunes at the end of a long day.
HomeKit TVs put all of the standard remote control functions like volume and power right in the Home app. You can also slot smart TVs into your movie night scenes so you can dim the lights, close the shades, and have your TV switch to the correct input, all with one tap.
Power and controls
Finally, you cannot mention smart home technology without mentioning smart plugs. The best smart plugs for HomeKit are the easiest way to add remote controls to older "dumb" devices like box fans and coffee makers thanks to their plug-and-play design. HomeKit power strips take it up a notch with multiple outlets in one and surge protection, making them the perfect office companion.
As convenient as controlling devices remotely through a smart plug is, sometimes nothing beats the convenience of having a physical button. The best HomeKit buttons and remotes solve this problem by allowing you to assign actions or scenes to a specific button. You can either mount them on the wall next to your light switches or have them within reach on a table or nightstand in many cases.
You can also bring your smart home and Siri to the great outdoors with HomeKit Sprinklers controllers and outdoor smart plugs. With a smart sprinkler controller, you can water your garden with a shout or create a schedule that hydrates your lawn every other day. Outdoor smart plugs can help keep your power tool batteries topped-off, or spring your holiday decorations to life when the sun goes down.
Setting up HomeKit and Matter devices in the Home app
Once you've picked up a HomeKit or Matter accessory, you'll want to set them up with your smart home. In most cases, adding your devices takes place over in the Home app on iOS and iPadOS. After selecting the Add Accessory option, you scan the HomeKit or Matter pairing code with your camera, usually found on-device.
During pairing, you will need to provide a name and room for your accessories, so if you want a complete walk-through, head over to our how to set up your HomeKit devices guide.
Some accessories, like smart locks, may require you to download an app before adding it to the Home app. If your accessory supports HomeKit and the Home app but doesn't have a pairing code, you will need to go this route.
Installing HomeKit devices
Some HomeKit and Matter devices — like light switches, require a little more effort than just plugging them in to get up and running. Don't worry — we have a few guides to help you with that as well.
Our guide, everything you need to install a HomeKit-enabled Light Switch, gives you a complete rundown on what you need to get the job done. When you are ready, our guide, how to install a HomeKit enabled smart light switch, will walk you through every step of the way.
We have other product-specific guides available as well. The guide, Installing and setting up the ecobee4 wifi thermostat gives you a step-by-step rundown on how to install one of the best thermostats, and how to install a logitech circle 2 camera outdoors makes mounting a HomeKit camera a breeze.
Controlling HomeKit and Matter devices
The best part of HomeKit is controlling all your smart home accessories in one familiar place across your devices. Through the Home app on your iPhone, you can toggle on and off your lights with a single tap, adjust brightness with a swipe, and access advanced settings with a long-press.
You can also access your HomeKit and Matter devices through your Apple Watch with the built-in Home app. While smaller, the Apple Watch version of the Home app is just as capable, even giving you access to your camera's live feeds. Not everything on the watch is a replica of how you access things on your iOS device, though, so if you want a rundown, take a look at how to use the Home app on Apple Watch.
The iPad and Mac versions of the Home app are pretty much identical, although instead of taps with the Mac, you right-click to access specific controls and settings. Both of these versions of the Home app feature a quick way to access rooms within the home with a sidebar view that is always available, saving you some taps and clicks.
Using an app for control is magical, but it gets even better when you use your voice to summon changes on-demand. Siri on your iOS devices and the HomePod can do pretty much everything you can do via the Home app — but you have to know the proper terminology. For some examples, check out our how to use Siri with your HomeKit devices guide, and don't be afraid to try new things as you might discover some neat tricks.
Automation and Scenes
Aside from the standard controls, HomeKit and the Home app also allow you to control your accessories through Scenes and Automation. Home app Scenes are groups of actions combined into one, so you can create a scene for your movie nights that will automatically dim the lights, close the blinds, and fire up your TV to the correct input. Once you create a scene, you can set everything in motion with just one tap in the Home app, or you can summon the scene via its name through Siri.
Setting up scenes is easy, but if you need a little help, you can visit how to create scenes in the Home app. You can also find out how to set your favorite scenes and accessories in the Home app to make them even more accessible.
Automation in the Home app takes things even further by running a series of actions based on the time of day, whether or not someone arrives at home or via the state of another accessory. For example, you can set your outdoor lighting to automatically turn on every day at sunset and then turn off at sunrise without lifting a finger with automation. You can also have your lights turn on automatically when someone passes by your motion sensor — the potential is endless.
If all of this sounds complicated, you should head over to how to create automations in the Home app before getting started. Here you will find everything you need to build your first automation, and you may even get a few ideas as to what to automate next.
Home sharing
Your friends and family can also join in on the smart home and Home app fun if you know how to add users to your HomeKit home. Through the Home app, you can send invites to those you trust. Following our guide, how to accept an invitation to join a HomeKit home, they can control and access all of your HomeKit devices the same way you do.
Sharing your home doesn't have to be a free-for-all, though, as you can set user-specific permissions that limit access to certain things. You can restrict when a user can access your accessories by enabling or disabling the remote access feature, and you can lock down your cameras to prevent prying eyes. You can also revoke access at any time, making sharing great for house sitters or even for AirBnB rentals.
If you decide to share your home, we suggest using a system to relay messages and helpful hints to those with access. The home notes area in the Home app is the perfect place to jot down any access codes for things like smart locks with keypads or general household instructions. Want to learn more about home notes? Then hop on over to the guide, how to add home notes in the home app.
Remote access
Controlling your access from the couch is awesome, but what if you want to control your lights while you're on vacation? Depending on your accessory, you may need additional equipment. Some devices utilize protocols like Bluetooth, Thread, or Wi-Fi for connectivity, limiting the distance you can be from your accessory — meaning if you leave home, you will lose access.
To control these accessories, you need a HomeKit resident device — commonly referred to as a HomeKit hub. HomeKit hubs act as a middle-man of sorts, relaying commands sent from your iOS devices to your accessories even while you are out and about. There are several HomeKit hubs available, including the best Apple TV models, the original HomePod and the HomePod mini.
Some HomeKit and Matter devices come with specific hubs which work similarly, but you will need to use the manufacturer's app if you don't have an actual HomeKit hub. It can sound a little complicated, so we put together an everything you need to know about HomeKit hubs guide to help clear it all up.
Troubleshooting
Are you having trouble setting up your smart home? You're not alone! Unfortunately, there's plenty of things that can go wrong with your devices and Home app setup, leading to some less than magical moments.
As always, the best place to start is with the basics: make sure that you are on the latest version of iOS and that you sign in to iCloud on all of your devices. You can find these steps and more in our how to troubleshoot your HomeKit devices guide.
The most common issue that we see is the dreaded No Response status in the Home app. While there is no exact cure-all for this issue, we have many suggestions that you can take in our how-to: no response HomeKit error? Here's the fix!.
Another one of the most significant issues surrounds HomeKit or Matter pairing codes. Since these codes are unique to the accessory, you must keep them in a safe place. If you lose one, you may lose the ability to add them to the Home app at a later time if you ever unpair it. If you are ever in this situation, visit our Lost your HomeKit code? Here's what to do! guide for some tips on where to look.
Automate, secure, and control your home with HomeKit and the Home app
As you can see, HomeKit and the Home app unleash your smart home's true potential. Whether it is automating your morning routine, or keeping an eye on your precious packages, the HomeKit and the Home app can do it all — if you know where to look. If you still have questions about HomeKit or want to chat with some fellow HomeKit users, check out our HomeKit forums and our other HomeKit and Home app articles!
Master your iPhone in minutes
iMore offers spot-on advice and guidance from our team of experts, with decades of Apple device experience to lean on. Learn more with iMore!
Christopher spends most of his time writing and dreaming about all things HomeKit and the Home app. Whether it is installing smart light switches, testing the latest door locks, or automating his households daily routines, Christopher has done it all.