I just went to D23 for the first time and my iPhone was my lifeline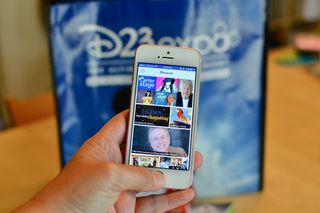 I just went to my first D23 Disney convention last weekend. It was not, however, my first ever convention. I've been going to tech cons, comic cons, Star Wars Celebrations, horror cons, anime cons, and a plethora of other large meet-ups dedicated to one specific genre for years. I used to carry a backpack just for maps and schedules and was always just a little too late to find out about something cool that happened on the expo floor.
And then the iPhone was born.
Thanks to the advent of the smartphone, it is easier than ever before to navigate the stress-inducing, overly crowded waters of a convention, as well as find out about goings-on at the exact moment they happen, thanks to social media.
How my iPhone saved my D23 experience
Here's an example of a day at D23: To start, we took a Lyft to the convention so we wouldn't have to worry about spending extra money on parking. We arrived at the convention with just enough time to stand in line for a panel. While in line, I opened the D23 app and perused the rest of the day's schedule. Looks like we'd have just enough time to check out the Expo floor before heading to the next panel.
Once on the Expo floor, we discovered that there were also lines to see many of the exhibits. Well, we could stand in line here or stand in line for that other panel. Thanks to YouTube, we knew we could just watch the panel online shortly after it ended. Perfect. We stood in line for the exhibit instead.
Later, after not making it into one of the most popular panels, we saw a huge group of people heading to one location, many with green balloons. "What's this?" we said. Thanks to a little sleuthing on Twitter, we discovered that attendees of that panel were given special passes to the brand new Fantasmic show at Disneyland that night. Well, maybe we had a bit of FOMO, but we didn't have to wonder all day what that big crowd of green balloons was all about.
Come dinner time, we definitely didn't want to eat the expensive and less-than-tasty convention food, so we decided to find a restaurant nearby. Thanks to Google Maps and a little help from Yelp, we found a local haunt that filled our tummies for a quarter of the price of the convention food (don't get me wrong, I still ate my share of Mickey pretzels while I was there).
What's my favorite travel accessory? My iPhone, of course
As you can see, my iPhone is my most important travel gadget. It got me to the convention and around to other places. It told me what was happening at the convention, even when I wasn't able to attend a panel myself. It helped me find dinner at a place I'd normally have to ask a bunch of locals to find out about. Thanks to the tech age and the proliferation of smart phones, I was able to make changes to my plans on the fly without it throwing a wrench in my entire trip.
The iPhone, and smartphones in general, have become a vital addition to our go-bag, whether it's finding a building we've never been to or planning a road trip across the country. Sure, we can go without them, but life is much, much easier with one (I booked a cross-country tour for my band before there were smartphones — trust me, it sucked).
D23 was still a madhouse, but it used to be worse
D23 is a behemoth of a convention (it's funny that a company known for perfecting line management could fail so badly at managing lines at a convention). Though it was hectic and crowded and difficult to navigate, it was the D23 app, as well as various social media connections, that made it possible for me to have a good time at all.
It took a while for event promoters to take advantage of the fact that most of us walk around every day with a tiny computer in our pockets. It wasn't that long ago that I'd have to grab a souvenir schedule just to find out what was happening at a day-long event. Now fairs, theme parks, conventions, concerts, and all manner of events have an app dedicated to letting you know what's going on and how to find it. Many include promotions that work to our benefit, like discount coupons for purchases or a way to connect to celebrity attendees, or even the ability to make in-app upgrades to tickets.
The convention-going world is much better off thanks to the smart phone. I'll never walk through an expo floor again without my iPhone in my pocket.
Master your iPhone in minutes
iMore offers spot-on advice and guidance from our team of experts, with decades of Apple device experience to lean on. Learn more with iMore!
Lory is a renaissance woman, writing news, reviews, and how-to guides for iMore. She also fancies herself a bit of a rock star in her town and spends too much time reading comic books. If she's not typing away at her keyboard, you can probably find her at Disneyland or watching Star Wars (or both).