Lyft: Everything you need to know!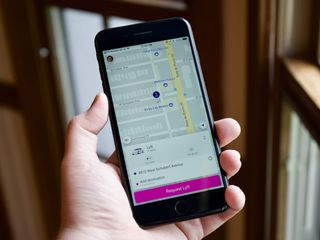 Like its chief rival, Uber, Lyft allows you to call a car to your location if you need a ride somewhere. Ordinary people can sign up to become drivers for Lyft, providing their own cars, insurance, and licenses, which keeps costs for Lyft itself down. Because of this, rides with Lyft tend to be less expensive than those with taxis.
Here's everything you need to know about Lyft.
What's new with Lyft?
The ride-hailing company has announced that it will be matching donations made through its Round Up & Donate program with Apple Pay for the month of August. Round Up & Donate lets riders round up the cost of their ride to the next dollar and donate the amount of that round up to the cause of their choice. Riders just need to select Apple Pay as their payment option for their rides.
What is Lyft?
Lyft is a ride-hailing service that lets riders call a driver and car to their location using the Lyft app. When you request a ride, a driver near you will be sent the request, which they can accept or decline. You'll be given an estimated time until pickup, then when your driver arrives, you just get in the car and go.
Because you'll already have your payment information saved in the Lyft app, you don't need to worry about having enough cash or swiping your credit or debit card when the ride is over. At the end of the ride, you can even add a tip for your driver when you pay in the app.
How do I sign up?
Everything you do with Lyft, including signup, takes place in the Lyft app (opens in new tab). Once you've got the app installed, you can enter information like your email address and a password and set up your Lyft account.
You'll also need to enter a preferred payment method, such as a credit or debit card. However, Lyft also supports Apple Pay, as well as PayPal. If you have Apple Pay set up on your iPhone, it shows up as one of the available payment options for any Lyft ride, and you can set it as your default payment method when you order your next ride.
Lyft will also need access to your location so the driver knows where to pick you up.
How do I request a ride from Lyft?
To request a ride with Lyft, open the Lyft app and tap Set pickup. You'll see what tier of Lyft ride you'll be getting, which you can change by tapping on it and selecting a different tier. You can also select which payment method you'll use if you have multiple options, as well as how much the ride to your destination will cost, which is normally shown in range. If you have any discounts available on your Lyft account, they will be automatically be applied at this time.
If you're using an iPhone running iOS 10 or later, you can also ask Siri for a ride by saying something like "Hey Siri, get me a ride to the airport with Lyft," then just fill out any remaining details and confirm when Siri asks if you'd like to request the ride.
After you request your Lyft, the service will find a driver for you, and you'll be able to track the ride as it makes its way to pick you up.
Can I request a ride for someone else?
Yes, you can! You don't have to choose your own location when setting up a pickup. Instead, set your friend's location. After the ride is accepted, contact the driver via phone or text to let them know that they'll be picking up your friend instead of you.
Can I schedule a ride in advance?
Lyft does have a feature that allows you to schedule rides in advance, but it's only available in select locations at the moment. You can schedule a ride in advance in the following locations:
Atlanta
Austin
Boston
Charleston
Chicago
Dallas
Denver
Houston
Las Vegas
Los Angeles
Miami
Nashville
New Jersey
New York City
Orange County
Phoenix
Portland, Oregon
Sacramento
San Diego
San Francisco
San Jose
Seattle
Tampa
Tuscon
Washington, D.C.
To set up the ride, open Lyft and tap Set pickup. If you're in one of the above locations, you'll see a clock icon next to your pickup location. Tap the clock, then pick the date and time that you'd like to be picked up.
What if I want to cancel my Lyft ride?
If you don't want a ride from Lyft anymore, you can always cancel it. However, if it's been more than five minutes since you requested a ride or your driver is on time to arrive within five minutes of the original estimated time, you'll be charged a cancellation fee. The amount of that fee depends on the city you're in.
If you cancel a scheduled ride within 30 minutes of the pickup time, your cancellation fee is a flat $10.
Does Lyft offer different ride tiers?
Lyft features four different tiers of cars that you can order, from more budget-friendly shared rides to higher-end luxury cars. Lyft rides can seat anywhere from two to six people, depending on the type of car you order.
Line - This is Lyft's cheapest option, though it's not available in all cities. You'll be matched with one other rider if you're both headed in the same direction.
Lyft - Lyft's standard ride option. It allows you to call for a ride for yourself and up to three other people.
Plus - If you're in a bigger group of people, Plus matches you with a six-seater car.
Premier - If you're looking to ride in a bit more style than the other tiers offer, Premier lets you hail a four-seat luxury car.
If you don't see the type of car that you're looking to ride in, just tap the circular button with your current option in it down by the pickup address to see an expanded list of options.
Can I see how much my Lyft ride will cost before I request it?
After you tap Set pickup but before you finish requesting your Lyft, you'll be able to check out what Lyft thinks your drive will cost. On the Set pickup screen, there's a box to the right of your payment method that shows the estimated fee for your ride if you've set a destination. If you have any promotional discounts available, they will be applied at this time.
Also, keep in mind that the cost of your ride depends not only on distance but on which tier of Lyft car you've ordered.
When do I pay for my ride?
After your ride is complete, you'll be able to pay for it. First, you'll rate your driver and give them any feedback you think is necessary. Tap Submit on the payment screen and add a tip if you'd like.
Can I contact my driver before they pick me up?
You might need to contact your Lyft driver for any number of reasons. Maybe you need to see if it's okay to bring your pet along with you. Perhaps you're having them pick up a friend instead of yourself, and you need to let them know. In any case, it's fairly simple to do.
After you've requested a ride, you'll see a little card at the bottom of your screen with your driver and their car, your pickup location, and your destination. Below you destination, you'll see a Contact button. Tap that and choose whether to call or text your driver.
How do I know which Lyft is my ride?
If you're in a situation where multiple Lyft drivers might be showing up to pick up passengers, Lyft has given you a few ways to determine which car is for you.
The card at the bottom of your screen with all of your ride information features not only your driver's name and photo, but also their car and license plate. If you think you've found your ride, check the plate, and look at the driver to match them to their photo.
Does Lyft have anything like surge pricing?
Yes, indeed it does. During peak busy hours, you may be charged an additional percentage on top of your original ride cost based on demand for Lyft rides. Lyft calls this "Prime Time".
In order to see the Prime Time percentages, open Lyft and tap Set pickup, then tap Skip instead of entering a destination. If there is a Prime Time percentage, you'll see it before you request a ride.
If you enter exact pickup and drop-off locations, you won't see such a percentage, as Prime Time rates are included in the total price of the ride shown up front.
Can I split the cost of my Lyft ride with friends?
Once you and your fellow passenger have been picked up, you can decide to split the cost of the ride. Open the Lyft app and head down to the card with your ride information on it. Tap the Split button, scroll through your contacts and select the person that you're with from the list. In addition to the ride cost, you'll also split the cost of any tip you decide to leave.
You can select up to five other people to split the tip with.
Any questions?
If you've got any more questions about Lyft, be sure to let us know in the comments.
Get the best of iMore in your inbox, every day!
Joseph Keller is the former Editor in Chief of iMore. An Apple user for almost 20 years, he spends his time learning the ins and outs of iOS and macOS, always finding ways of getting the most out of his iPhone, iPad, Apple Watch, and Mac.