I prefer my photos RAW: The Best RAW camera apps for shooting with the iPhone!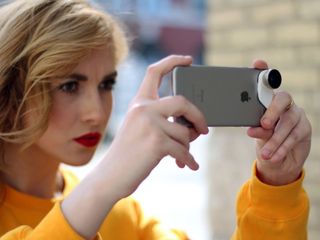 (Image credit: iMore)
While a lot of people are super content to simply load up their Camera app and snap a couple of pictures, having a RAW camera app that allows you to have more creative control over your photography can really be a game-changer in the long-run.
When you shoot with RAW, you don't run the risk of compressing or limiting the quality of your photo like you do with the regular camera app. Plus, if you're shooting RAW, you're able to easily edit and fix issues in a photo that you wouldn't normally be able to if your image was all, well, not RAW!
Here are a couple of really fantastic apps that allow users to shoot RAW photos straight from their iPhone without any extra steps or complicated settings: just tap on your RAW camera app and start shooting!
Halide
When Halide was fist released, professional photographers and casual mobile photographers were all like, WHOA — and for very good reason!
This groundbreaking camera app allows you to shoot not only RAW images but also JPG photo for the highest quality shots.
With Halide, you can play and shoot along with its beautiful, intuitive gesture-based interface, play with focus peaking and powerful manual focus, mess around with full manual controls including exposure, IOS, and white balance, mess with live histogram for perfect exposure, quick-review your last few shots to make sure you're editing the perfect pic, and even play with intelligent automatic and manual mode.
Manual
Designed to make shooting with your iPhone as close to humanly possible as shooting with a DSLR, the Manual app allows users to shoot and save their RAW photos in DNG format while allowing complete and full control of exposure – something that's quite challenging to perfect with your iPhone's regular camera.
While RAW mode is only available for iPhones as old as the 6s (sorry iPhone 5/5s/5c users!) and with iOS 10, anyone with iOS 8 or later can also live monitor automatic exposure values, adjust your shutter speed, fix white balance, tweak the iSO and focus, and so, so much more.
The only downside to the app? It costs around $3.99. But is it worth it? If you want to turn your iPhone into the closest thing to a DSLR camera without all the bulk and big price tag, then yes, absolutely!
VSCO
VSCO has been around for awhile now, but it wasn't until recently that every hipster's favorite app started allowing users to shoot and edit photos in RAW.
By using VSCO's app, you don't only get to shoot your RAW images while having control over exposure, contrast, focus, etc., but you can also edit them directly in the app once you're done with them. Simply snap your RAW photo, add on a filter, export, and post wherever!
Oh! And did I mention that it's free? (Unless you want to buy different filter packs, but that's a whole 'nother animal).
MuseCam
If you're looking for an app that lets you shoot RAW photos, allows you to adjust and customize camera settings, permits you to create custom presets & filters, and so, so much more, then check out MuseCam by MuseWorks, Inc.!
Designed to effortlessly shoot and then promptly bring your photo in for editing ("Forget the slow, multi-tap import process. Your photos are ready to edit right away!"), the MuseCam combines all the features and functions of a DSLR for free.
With MuseCam, you don't only shoot RAW – you can also adjust hue, saturation, and vibrancy of specific colors, play with tone curves to make certain tones of red, green, and blue pop, add striking, and film-inspired resets from professional photographers: of course, there's more, you just need to get creative!
Another unique feature that MuseCam has is its Journal section, which acts as a source of inspiration – or a muse, one would say – to inspire and encourage potential photographers who are using the app.
ProCam 4 – Manual Camera + RAW
Selected as one of the best apps on the App store for nearly two years running, and trusted by over 6 million users, the ProCam 4 – Manual Camera + RAW app from Samer Azzam aims to turn your iPhone into a true photography tour-de-force!
Designed to effortlessly shoot and capture RAW images with AEB (auto exposure bracketing) support for high-contrast shots, the ProCam 4 – Manual Camera + RAW certainly packs a punch in regards to shooting raw photos. You can effortlessly capture your images in RAW with just a few taps – no convoluted run-around, no changing settings!
You can download and use the ProCam 4 app for $4.99 with either your iPhone or your iPad, and if you don't feel like shooting RAW (or if you want to combine your RAW photography with some other modes), the app has a ton of different shooting modes like:
How do you shoot your RAW images?
Are you someone who's a big fan of shooting RAW photos? Or do you think they're unnecessary and take up too much space? Or maybe you think they're the absolutely best way to capture the world around you?!
Let us know how you shoot your iPhone photography in the comments below!
Updated October 2017: This article was updated to include Halide.
Master your iPhone in minutes
iMore offers spot-on advice and guidance from our team of experts, with decades of Apple device experience to lean on. Learn more with iMore!
Cella writes for iMore on social and photography. She's a true crime enthusiast, bestselling horror author, lipstick collector, buzzkill, and Sicilian. Follow her on Twitter and Instagram: @hellorousseau