I prefer my photos RAW: The Best RAW camera apps for shooting with the iPhone!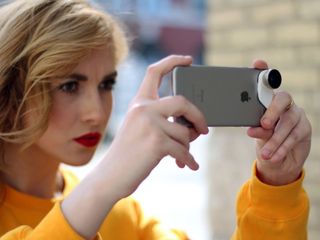 (Image credit: iMore)
While a lot of people are super content to simply load up their Camera app and snap a couple of pictures, having a RAW camera app that allows you to have more creative control over your photography can really be a game-changer in the long-run.
When you shoot with RAW, you don't run the risk of compressing or limiting the quality of your photo like you do with the regular camera app. Plus, if you're shooting RAW, you're able to easily edit and fix issues in a photo that you wouldn't normally be able to if your image was all, well, not RAW!
Here are a couple of really fantastic apps that allow users to shoot RAW photos straight from their iPhone without any extra steps or complicated settings: just tap on your RAW camera app and start shooting!
Halide
When Halide was fist released, professional photographers and casual mobile photographers were all like, WHOA — and for very good reason!
This groundbreaking camera app allows you to shoot not only RAW images but also JPG photo for the highest quality shots.
With Halide, you can play and shoot along with its beautiful, intuitive gesture-based interface, play with focus peaking and powerful manual focus, mess around with full manual controls including exposure, IOS, and white balance, mess with live histogram for perfect exposure, quick-review your last few shots to make sure you're editing the perfect pic, and even play with intelligent automatic and manual mode.
Manual
Designed to make shooting with your iPhone as close to humanly possible as shooting with a DSLR, the Manual app allows users to shoot and save their RAW photos in DNG format while allowing complete and full control of exposure – something that's quite challenging to perfect with your iPhone's regular camera.
While RAW mode is only available for iPhones as old as the 6s (sorry iPhone 5/5s/5c users!) and with iOS 10, anyone with iOS 8 or later can also live monitor automatic exposure values, adjust your shutter speed, fix white balance, tweak the iSO and focus, and so, so much more.
The only downside to the app? It costs around $3.99. But is it worth it? If you want to turn your iPhone into the closest thing to a DSLR camera without all the bulk and big price tag, then yes, absolutely!
VSCO
VSCO has been around for awhile now, but it wasn't until recently that every hipster's favorite app started allowing users to shoot and edit photos in RAW.
By using VSCO's app, you don't only get to shoot your RAW images while having control over exposure, contrast, focus, etc., but you can also edit them directly in the app once you're done with them. Simply snap your RAW photo, add on a filter, export, and post wherever!
Oh! And did I mention that it's free? (Unless you want to buy different filter packs, but that's a whole 'nother animal).
MuseCam
If you're looking for an app that lets you shoot RAW photos, allows you to adjust and customize camera settings, permits you to create custom presets & filters, and so, so much more, then check out MuseCam by MuseWorks, Inc.!
Designed to effortlessly shoot and then promptly bring your photo in for editing ("Forget the slow, multi-tap import process. Your photos are ready to edit right away!"), the MuseCam combines all the features and functions of a DSLR for free.
With MuseCam, you don't only shoot RAW – you can also adjust hue, saturation, and vibrancy of specific colors, play with tone curves to make certain tones of red, green, and blue pop, add striking, and film-inspired resets from professional photographers: of course, there's more, you just need to get creative!
Another unique feature that MuseCam has is its Journal section, which acts as a source of inspiration – or a muse, one would say – to inspire and encourage potential photographers who are using the app.
ProCam 4 – Manual Camera + RAW
Selected as one of the best apps on the App store for nearly two years running, and trusted by over 6 million users, the ProCam 4 – Manual Camera + RAW app from Samer Azzam aims to turn your iPhone into a true photography tour-de-force!
Designed to effortlessly shoot and capture RAW images with AEB (auto exposure bracketing) support for high-contrast shots, the ProCam 4 – Manual Camera + RAW certainly packs a punch in regards to shooting raw photos. You can effortlessly capture your images in RAW with just a few taps – no convoluted run-around, no changing settings!
You can download and use the ProCam 4 app for $4.99 with either your iPhone or your iPad, and if you don't feel like shooting RAW (or if you want to combine your RAW photography with some other modes), the app has a ton of different shooting modes like:
Photo
Night Mode
Burst Mode
Slow Shutter - iPhone 5 / iPad 3 and later
3D Photos - iPhone7 Plus
Video
Time Lapse
$4.99 - Download now

(opens in new tab)
How do you shoot your RAW images?
Are you someone who's a big fan of shooting RAW photos? Or do you think they're unnecessary and take up too much space? Or maybe you think they're the absolutely best way to capture the world around you?!
Let us know how you shoot your iPhone photography in the comments below!
Updated October 2017: This article was updated to include Halide.
Get the best of iMore in your inbox, every day!
Cella writes for iMore on social and photography. She's a true crime enthusiast, bestselling horror author, lipstick collector, buzzkill, and Sicilian. Follow her on Twitter and Instagram: @hellorousseau
I've been using Lightroom Mobile. I like the RAW HDR mode, which works very well. It does as, as they say, give bigger files, but it does work to lessen noise in shadows, as HDR does, which is particularly helpful indoors. I don't try to control all of the manual factors with my 7+ as I do with my Canon 5DmIV. It's a whole different method of shooting, and processing files. But this does make my iPhone files much better, and for the majority of my photos these days, I use my iPhone.

+1
Since we're already paying for the desktop Lightroom/Photoshop subscription, might as well take advantage of Adobe's mobile apps and the CC integration.

as a very novice iphone photographer that took a photo class in highschool (many many moons ago) can you explain what things you look at to get a good iphone image? Like are you making sure it's under exposed and adjusting after? Are you focused largely on composition at the expense of color because maybe that can be done later in lightroom? again i'm a noob really. I'm just trying to get an idea so when i take a picture, maybe a raw image, that i get an image that i can edit and don't ruin in the way i take the picture.

I learned a lot on this site: http://iphonephotographyschool.com/category/tutorials/

Just learn how to take a good photo. Forget about fixing it later.

I'd suggest you are on the right track focusing on composition. RAW and RAW HDR give you much more latitude to recover technical errors at the time of capture. By going back and editing the RAW in post, you will learn about situations where you should have gone with a different exposure and hopefully you can apply that learning to your shooting. The beauty with RAW capture is there is literally NOTHING you can do with color, texture, effects, etc. at capture time. At least not in the camera software. Literally ALL of those choices must be done in post. This is liberating and frustrating. Success with RAW requires that you visualize how you want a photo to look and edit to match that vision after capture. This is difficult because there are SO MANY sliders and controls, but once you learn them you have so much creative power. Because of this two stage process, there are times I prefer to shoot non RAW when I'm going for a super stylized look (think the photo apps Glitche or Hyperspektiv), so I can see the finished result on-screen at capture time. The downside is the lack of editing latitude after the capture. Give RAW a try. Lightroom is free as long as you are happy using it on iOS. And its reasonably priced should you decide to subscribe to CC.

Wait a minute: Lightroom adds RAW HDR yet no mention? What? http://blogs.adobe.com/lightroomjournal/2017/03/lr-mobile-update-raw-hdr... https://www.youtube.com/watch?v=zl52SfbxYv8

How do you not mention Lightroom?

I chalk it up to the tech-blogosphere's general hatred of Adobe. I get not liking to pay for software, especially on a blogger's salary, still any Apple-centric blog should know that Adobe users saw the Mac platform through some dark times for Apple. Don't ghost Adobe!

I'm a big fan of Camera+, not a fan of how they implemented RAW in their application.

Agreed. But then, I need to learn more about RAW and what I can do with the files. I though TIFF files were RAW files! LOL

Tiff files gives you a bit more space to post-process your images. For most people who want to experiment with Raw it should be enough. The file size is just a bit more compared to JPG and way less then RAW. RAW is just one bulk of data which you have to finetune like @tuckyhutsman explains. So basically: JPG (+ editor) if you just want to take nice pictures. Tiff (+ editor) for more creativity and RAW (+ editor) is you want full control of the final result. I use ProCamera for shooting RAW (and Tiff, and JPG).

To digital-nomad. Thank you :)

Love the innuendo in the headline. That is all. 😏 Sent from the iMore App

I've been using Lightroom Mobile for a long time. I can get almost as good a photo as I can with my Canon.

I see this has been updated with a new App. Still no coverage of Lightroom Mobile? It is the most-mentioned App in the comments. Is there some policy at iMore to ghost Adobe?

Why is $3.99 unfortunate for one app, but $4.99 not for another?

PraCam is now version 5, yes?

Yes, ProCam is on version 5. But iMore is so much on autopilot these days, just reposting old stuff with tiny updates. (As soon as I saw there were 19 comments, I knew it must be an old story reposted.) Don't worry, it will probably be reposted again next year, maybe the version will be updated then.

Hey, as the first company to offer raw support on iPhones (and hey, don't forget DNG was made by us) and the folks ON STAGE for the announcement at Apple for the raw capture, I'd imagine we'd get _some_ love ;) Also, don't forget that the DNG capture mode is _free_. #DontGhostAdobe -Josh
Product Manager for Lightroom Mobile

Hey, Josh! Nice to see the mothership weigh in. I was about to mention the Adobe-made-DNG thing in my comment. I like the variety of RAW processing apps out there, and am not throwing shade at any of them, but we are wise to remember that everyone who uses DNG is standing on the shoulders of those who made it, then opened it up. Speaking of DNG: is there a way to save Depth Maps in a DNG that RAW software could use in its processing? Offering portrait or lighting effects in post, a la iPhone 7 & 8 plus? I know Max is just a week out. Maybe you guys will have something to say there…

I had been using ProCamera (NOT ProCam, different app) for the last two years after someone I saw around here with a ton of camera apps recommended it as a great choice especially for the HDR modes. Once RAW was introduced I used it for that of course as well. It's great and has an overwhelming amount of features plus the editor/etc. However.....I just tried out Halide and for situations where I just want straight up photography with RAW format for editing later in Lightroom on my PC Halide is going to be my go to app. It's much simpler to use with more intuitive controls for manual use. I used ProCamera a few weeks ago on my 7+ to do a bunch of photos on a trip and I was constantly getting the focus and exposure boxes confused. There's no chance of that with Halide. Also noticed, as of my comment writing just now, that ProCamera besides not being updated for my new iPhone X yet is also having some of its manual controls cut off by the FaceID block as a result of that.

Maybe a bit late to reply, but ProCamera is updated for iPhone X as we speak.
What do you mean with 'manual controls are cut off'? Don't have this issue right here.