I tried working exclusively on my iPad for a month and failed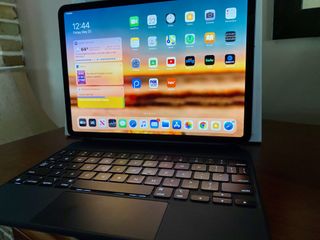 (Image credit: Bryan M. Wolfe / iMore)
In late April, it had finally arrived. My brand new Magic Keyboard for my month-old iPad Pro was sitting on my coffee table, ready to come alive. I was so convinced the hardware combination would let me replace my MacBook Pro for everyday tasks that I committed to doing just that for 30 days.
Unfortunately, I failed the test. Or rather, Apple did. Mainly because of software shortcomings, the iPad Pro still hasn't replaced my computer, and here are the many reasons why.
The iPad Pro hasn't always been a "pro" device, regardless of what Apple said about earlier models. The introduction of iPadOS slowly changed this when must-have iPad-only features went online, including the ability to use the tablet with mice and other input devices.
This spring, Apple took things even further into the professional direction by introducing the very expensive Magic Keyboard for iPad Pro. Featuring a built-in trackpad, the keyboard, when snapped into place, gives the iPad Pro an almost iMac-like appearance, especially when viewed from the side.
No doubt, the hardware combination is the reason Apple says of the 2020 iPad Pro, "Your next computer is not a computer."
What works and doesn't work
From a hardware perspective, there's little I would change about the Magic Keyboard and how it connects to the iPad Pro. Sure, an Escape key would be helpful, and the trackpad could be bigger. The keyboard itself, however, is a joy to use thanks to the heavily-praised scissor mechanism also found on the newest MacBooks. I've also come to love the top-heavy design of the iPad Pro/Magic Keyboard combination that works whether you're sitting at a desk or using your tablet from your lap.
As a member of the Future team, I primarily use my computer for writing and editing/adding images to articles. Throughout the workday, you'll also find me on Slack chatting with colleagues, checking out Twitter, and reading the latest news headlines across multiple sites. For video conferencing, we use Google Meet.
Generally, I don't use the computer for processor-heavy tasks such as video-editing or game-playing. When I'm not working, my MacBook Pro is turned off, and the iPhone 11 Pro Max and second-generation 11-inch iPad Pro are my devices of choice for fun and entertainment.
For the "easy" work stuff, the iPad Pro performs just as well as my 2-year-old MacBook Pro. Writing with iA Writer (my favorite text app) on my tablet using the Magic Keyboard is beautiful, for the lack of a better word, and the process of bringing my text to my company's customized web-based CMS is seamless. Editing that content through the CMS is also simple thanks to the trackpad's ease of use.
Slack is also a joy to use on the iPad Pro, as is the everyday web-surfing experience. The Google Meet app performs adequately, although not as well as the web version. However, the login process on the former is much quicker.
Make no mistake; there's nothing I do throughout the day on my computer that can't also be performed on my iPad Pro. However, there are pain points that can't be overlooked. During my month-long test, each of these difficulties slowed down my work process. In some cases, I had to switch back to my computer out of frustration and to keep up with deadlines.
My biggest issue was with editing and importing screenshots and images into our company's CMS. The difficulties here mostly have to do with how iPadOS (and iOS) store photos by default. To create an effective workflow, I had to move images into the Files app (from the Photos app), then give the file(s) a new name to match our requirements. Only then could I drag the images into the CMS.
I also had trouble using Airtable on iPad, which is a software package iMore uses to keep track of assignments. On a computer, Airtable is best accessed through a web browser. On iPad, there's an iPad app that doesn't work nearly as well.
Though multitasking has come a long way on the iPad, it's still not nearly as good as macOS. Specifically, the app tray at the bottom of the iPad Pro shows only recently opened apps, not all opened apps. On a Mac, everything remains in the dock, which keeps the workflow moving in a much more successful way.
Moving forward
Some readers may suggest the difficulties I experienced on iPad Pro are short-term and simply because I'm used to how things work on macOS. In other words, a case of not being able to teach old dogs new tricks. I'd agree with this, at least up to a point. However, there's also a strong case to be made that there's no reason to reinvent to wheel. And on this point, I think Apple "gets it."
Many of the improvements made to iPadOS and iOS in recent years can get tied back to making mobile more like a desktop. Adding trackpad and mice support is just one example of this. I would expect that future versions of iPadOS will look even more like macOS, and no doubt, at some point, a universal OS could be announced. Until then, incremental steps will involve tackling learning curves and patience.
Though my 30-day test is over, I continue to use my iPad Pro for things I once relied on my computer to complete. In cases where the tablet doesn't do a great job, I simply pivot to my laptop, and that's okay.
Questions?
Have you successfully moved from a computer to a tablet? How'd you do this? Let us know below.
Get the best of iMore in in your inbox, every day!
Bryan M. Wolfe has written about technology for over a decade on various websites, including TechRadar, AppAdvice, and many more. Before this, he worked in the technology field across different industries, including healthcare and education. He's currently iMore's lead on all things Mac and macOS, although he also loves covering iPhone, iPad, and Apple Watch. Bryan enjoys watching his favorite sports teams, traveling, and driving around his teenage daughter to her latest stage show, audition, or school event in his spare time. He also keeps busy walking his black and white cocker spaniel, Izzy, and trying new coffees and liquid grapes.
I don't need some computing device for work. But I do write, and you may recognize me by the length of my comments. Usually entered on an iPad (by default a larger 2018 Pro) on the virtual keyboard while holding the device in portrait orientation (connector facing up...) against my belly while sitting (rather reclined) on the couch. I have a 2019 MacBook Pro and a 2019 Windows notebook (and more computing devices and accessories, including keyboards) within reach, but I hardly use them. Despite spending over a thousand euros (or dollars) in upgrading and expanding their software.
Yes, I spend hours each day watching YouTube, but rather than turning the iPad into landscape orientation, I use a 4K smart tv. (I have an HDMI cable with adapter hanging out, so I could easily mirror my iPad screen.)
I also find photo editing comfortable in this position. One of the last strongholds of my desktops was file management, especially among my clouds, but the latest upgrade of FileBrowser for Business (by Stratospherix) and of Documents (by Readdle) have greatly reduced my need for Total Commander (for Windows, by Ghisler) or Commander One with Pro pack (for macOS, by Eltima).
The last stronghold is an obsolete web editor for Windows, one that doesn't insert an iceberg of code under my simple text.
(To be complete: the old dual-boot Linux/Windows desktop that contains my obsolete accounting software has stopped booting into Windows. My data are safe in the cloud, but I'd need to export them and configure my current cross-platform accounting software.) It seems to me (matter of impression rather than opinion) that many users can't adapt to the different (and in my opinion greater) possibilities of tablets (iPads in particular) than desktops (including my 11" MacBook Air and my defunct Asus Eee). Like the possibilities of a car differ from those of a horse-cart. No, there are no "Giddyup!" (Enter) or "Whoa!" (Escape) keys on a tablet. You may be able to teach Siri to react to such voice command. (I don't know: I don't use voice control.)
Anyway, circumstances may make one prefer a cart to a car, or a desktop to a tablet. I sometimes use a fork, sometimes a spoon... :-)

I guess if the Mac is a fork and the iPad a spoon, the Microsoft Surface must be a spork (that's a real thing)

I use the 11" iPad Pro as my main mobile computing device no laptop needed, even when I go out of town for a few days. The setup I use consists of a case, an Apple Pencil, some AirPods, a charge setup consisting of whatever is appropriate for the situation, and a Lacie 1TB SSD Drive. No keyboard. It's a tablet not a laptop. When I work, it usually gets held in my hands and the interface is the touch interface. The new keyboard is a cool idea in that you can charge while having a drive plugged in, but keeping a charge on the iPad isn't really that hard to manage with just the one port. Seldom do I have to use the external drive when I'm low on battery as I make it a point to keep things charged up. The other cool thing I've seen about the new keyboard is the slight lift it would give sitting next to the 27" screen plugged into the Mac Mini. As it is it sits on the low side when using Side Car, but I should come up with a stand for that use rather than spend $300 on a keyboard I'm not really going to use. So about the Mac Mini. It's kind of the Mother Ship for all the other Apple devices we have and it gets used about 15% of the time. It's a great thing to have and allows quite a bit of flexibility, especially with organizing iCloud Drive files and creating spreadsheets. But then all of that stuff is accessible on our phones tablets and other devices and can be edited and moved around as needed with only slightly more difficulty. I use the iPad Pro's Superior processing capability over the Mac to edit all my videos and save the work on the aforementioned SSD external drive, which can be backed up to the Mac's internal platter drive, at least until that fills up. That's pretty much how I use the iPad. For me It actually does replace the need for a laptop. I don't even own a laptop anymore.

The iPad Pro has been my only computer for over 2 years now. Both of my parents also ditched their old laptops and have been using nothing but an iPad for well over a year now. I understand that many professionals can't do their work with an iPad, but for many people like me, the iPad is a better choice than a laptop. Unless I need professional video or audio editing someday, I will never go back to a Mac or PC.

I truly believe the iPad is the future of computing. It just may take a generation to realize it. What I found interesting in your article is that you compared your legacy computing workflow to tablet computing. The only problem is you really can't compare the two as they are totally different in design. I absolutely hate the Apple Smart Keyboard. I don't want a Microsoft Surface "PC want-a-be" experience! In my opinion this is a huge mistake by Apple. The iPad keyboard is more than capable to type any assignment with. I actually like it better than the MacBook Pro keyboards. A tablet is not suppose to be a PC (laptop). So why would your workflow be the same? To make my transition from PC to tablet, which at first was difficult because I am old as dirt, I realized I hade to retrain how I worked. I had to create new workflows and processes to conform to the design of the iPad. After a few weeks of using the iPad with my new workflow, it really started to come together. Now when I return to my PC, mainly because my college uses legacy applications (BlackBoard... ugggg...), I feel like I've gone back in time and I'm using a Brother typewriter again. It just feels weird. The other aspect you have to adapt to is the screen real estate. I have a 11" iPad Pro and at times I wish I bought the 12.9". But then I would complain it's too large to play games in my hand... Microsoft had the right idea with Continuum. Plug your mobile device into a monitor and use it like a PC. Of course they screwed themselves by not following through (can you imagine all of the third-world users with cheap mobile compute capabilities?). I haven't tried using my iPad Pro with a large monitor yet, but I'm sure the larger screen real estate would be just great. I just don't want to go back to my old ways of working...

"On a computer, Airtable is best accessed through a web browser. On iPad, there's an iPad app that doesn't work nearly as well." I mean.....fix the software? There's no doubt that end-users cannot make the transition to iPad alone, despite what Apple's ads might suggest. I'm an iOS / iPadOS developer, and I can tell you that when I tell recruiters calling me that I'm not interested in doing iPhone-only software, that my passion is adaptive UI that scales up to iPadOS and Mac Catalyst....it turns them off. Companies really are locked into the 'desktop equals web' mindset. Apple can't do this on their own. The entire ecosystem has to make more and better iPad apps. If Airtable is deficient on iPad, there's your answer right there. Lobby them to make it better than the web version, because it certainly can be (inherently, the iPad native app is easier to make more capable than the web app, except for doing 'browser-y' things like links and so forth). If Airtable iPad is worse than web, that's just laziness on the developer's part. "My biggest issue was with editing and importing screenshots and images into our company's CMS. The difficulties here mostly have to do with how iPadOS (and iOS) store photos by default. To create an effective workflow, I had to move images into the Files app (from the Photos app), then give the file(s) a new name to match our requirements. Only then could I drag the images into the CMS." Again, software deficiency. Just do the work. Write an iPadOS extension (I forget which kind it is, but....) to push those photos directly from Photos into your CMS. This is not hard stuff, but users can't do it on their own.
Have iMore contact me (you have my email), and I'll fix this for you, for a competitive price.

Twice you made the comment that the app doesn't work as well as the web site. Why then not just use the web site, (and leave a review for the developer). We get so used to "there's an app for that", we forget that web sites exist and are sometimes better. If it is a site you access often, you can simply add it to the home screen for convenience.

My iPad has been my laptop since the iPad 3. For me, it was an apple employee who saw me working with my iPad and my MacBook Pro (2012) some years ago at Barnes and noble and asked why was I being redundant? He said that I would get more bang for my buck if I got an iMac and used my iPad as my laptop. This has been my setup ever since. As the iPad evolved my reliance on my iMac has dwindled to the point that I only really use it to back up my iPad Pro 2018 and iPhone 11 Pro Max. I am not a big fan of iCloud backup and only turn it on if I am going out of town. I agree with most of the commentators in that the problems that the iPad faces as a true computer replacement has more to do with devs not upgrading their software to work with tablets and not the other way around. I hate when I hear someone say that real work can't be done on an iPad because the proprietary software that their company uses is not compatible (this is not in reference to the article but generally speaking). If this is the case then the software needs to be updated not the tablet. Even adobe stopped fighting it and have brought photoshop to the iPad. The key is to bring the software to the iPad not the other way round. There are a plethora of apps that can do what most desktop apps do in the AppStore anyway. If you just don't want to make the switch to use lets say lumafusion on your ipad b/c you want Final Cut Pro on ios then you are limiting your skillset. The iPad has come a long way and to say it's not a computer really just doesn't fit anymore. Now if you say that you just prefer a desktop/laptop then that is different.
Thank you for signing up to iMore. You will receive a verification email shortly.
There was a problem. Please refresh the page and try again.