IBM employees now able to choose Macs as their company issued computer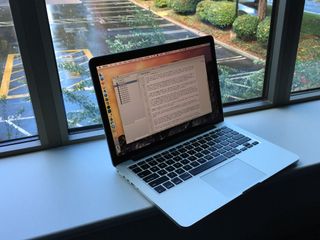 (Image credit: Rene Ritchie / iMore)
Back in July of 2014, IBM and Apple inked up a partnership that was designed to bring out the best in both companies, and enhance the enterprise experience. Since then we have seen the two companies release a number of new mobile apps, and now IBM has given its employees a new option for their computers. IBM employees are now able to use Mac computers if they choose, instead of just having the Windows and Linux options. Employees were made aware of the changes through an internal memo according to 9to5Mac:
Employees of IBM are now able to make the selection when being set up for a new or replacement workstation. The partnership appears to be going strong, as we recently even saw Apple Watch support roll out to the three of their apps.
Source: 9to5Mac
Jared started off writing about mobile phones back when BlackBerry ruled the market, and Windows Mobile was kinda cool. Now, with a family, mortgage and other responsibilities he has no choice but to look for the best deals, and he's here to share them with you.
If you told this to an IBM exec ten or fifteen years ago, he probably would have smashed your head in with a Thinkpad (which were actually strong enough to do that back then, unlike the current crop) and laughed at you in maniacal fashion.

That was back when Lenovo was still part of the IBM group. Now? Can someone tell me what IBM even does today?

Make poor decisions and lay people off.

They make enterprise apps for iOS, among other things.

Mine user data, at an alarming rate.

Thanks! I almost forgot that one.

I thought that was Google. Sent from the iMore App

I don't think Google is nowhere near IBM when it comes to data. There's a reason why the NSA chose IBM and it wasn't because of cost.

They make enterprise applications that many large companies depend on. IBM is still very relevant today, just not to the consumer market. Sent from the iMore App

IBM Slamtracker.. Big Data Analysis

Ahhhh . . . I remember my T42p. You could have pounded nails in with that thing.

Loved my T42. Still in a cupboard around here somewhere, fully functioning. Sent from the iMore App

Put a lightweight Linux distro on it and it'll probably run smoother than the new Retina MacBook on Yosemite.

1.) BSD > Linux
2.) You can't compare a "lightweight" distro to fully functional desktop OS. Just like a tricked out Ubuntu can't be compared to a minimalistic approached slackware.

I disagree. I'm typing this from an OpenBSD-CURRENT install (in VMware on OS X) running SpectrWM as the tiling window manager with full GTK3 suite installed, minus the bloat of Gnome3 as a desktop environment. I don't have any Gnome/GTK library or application running at the front, but they're all there at my beck and call. You can install whatever you want with these types of systems, and confihure them however you want as well, provided you have the know-how and experience, and don't forget to RTFM constantly. Desktop-centric distros like Ubuntu just give you an easy way in, hence they include as much as possible, but you can easily get fully-functional and lightweight at the same time.

This is quite amusing considering IBM's new email offering, Verse, rejects Safari.

Bccmxk Sent from the iMore App

I was shocked at how many IBM employees used macs at a big conference back in 2012. I think the only IBMers not using macs were using iPads. Sent from the iMore App

Still waiting for Apple to have enough of an influence for IBM Notes not to suck more than any other software ever in pretty much any way possible, or at least for some native Apple software to support even IBM Traveler. It's pretty embarrassing.

1.) IBM Notes is supported on OS X! IBM Notes Traveler Companion, as well as To Do, is on the iOS app store. 2.) Your sentence structure is atrocious.

1. Yes, unfortunately I use IBM Notes at work on my Mac. It's by far the worst software I've ever used. Traveler is supported by some Windows software, like Mail for Windows 8 and 10. I believe Outlook also supports it. But nothing on OS X. 2. How so?

I'll keep that in mind, should IBM be hiring in my area. Never had a Mac at work. That would absolutely rock.
Thank you for signing up to iMore. You will receive a verification email shortly.
There was a problem. Please refresh the page and try again.