Apple, IBM team up to make mobile enterprise better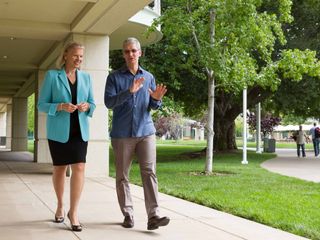 Apple and IBM have announced a sweeping new partnership designed to bring the best of both companies together and, in doing so, make mobile in enterprise better. The agreement, which includes industry-specific solutions, dedicated apps for iPhone and iPad, cloud services optimized for iOS, AppleCare support for enterprise, and packaged services from IBM, aims to meld IBM's big data and analytics with Apple's device and experience savvy.
Apple CEO, Tim Cook, had this to say:
And IBM Chairman, President and CEO, Ginni Rometty:
Mobility—combined with the phenomena of data and cloud—is transforming business and our industry in historic ways, allowing people to re-imagine work, industries and professions. This alliance with Apple will build on our momentum in bringing these innovations to our clients globally, and leverages IBM's leadership in analytics, cloud, software and services. We are delighted to be teaming with Apple, whose innovations have transformed our lives in ways we take for granted, but can't imagine living without. Our alliance will bring the same kind of transformation to the way people work, industries operate and companies perform.
Cook and Rometty gave a number of interviews in support of the announcement. Re/code:
Both Cook and Rometty appeared together on CNBC:
Tim Cook's internal email to Apple employees included, according to 9to5Mac:
So why Apple and IBM? The focus really seems to be on their complementary rather then competing businesses, their gold standards when it comes to the respective products and services, their global scales, and their joint desire to make enterprise customer's lives better.
IBM gets the best mobile devices and app development ecosystem in the world to work with, Apple gets IBM's deep reach into enterprise to go from breadth to depth. Right now 98% of the top companies in the world have deployed iOS. With Apple and IBM partnering, the goal seems to be getting those enterprises to use even more iOS. A lot more. All serviced and supported by IBM.
Update: The NYT has printed their interview with Cook, which includes pretty much exactly what was summed up above:
Complete press release below, let me know what you think!
CUPERTINO, California and ARMONK, New York—July 15, 2014—Apple® and IBM (NYSE: IBM) today announced an exclusive partnership that teams the market-leading strengths of each company to transform enterprise mobility through a new class of business apps—bringing IBM's big data and analytics capabilities to iPhone® and iPad®.
The landmark partnership aims to redefine the way work will get done, address key industry mobility challenges and spark true mobile-led business change—grounded in four core capabilities:
a new class of more than 100 industry-specific enterprise solutions including native apps, developed exclusively from the ground up, for iPhone and iPad;
unique IBM cloud services optimized for iOS, including device management, security, analytics and mobile integration;
new AppleCare® service and support offering tailored to the needs of the enterprise; and
new packaged offerings from IBM for device activation, supply and management.
The new IBM MobileFirst for iOS solutions will be built in an exclusive collaboration that draws on the distinct strengths of each company: IBM's big data and analytics capabilities, with the power of more than 100,000 IBM industry and domain consultants and software developers behind it, fused with Apple's legendary consumer experience, hardware and software integration and developer platform. The combination will create apps that can transform specific aspects of how businesses and employees work using iPhone and iPad, allowing companies to achieve new levels of efficiency, effectiveness and customer satisfaction—faster and easier than ever before.
As part of the exclusive IBM MobileFirst for iOS agreement, IBM will also sell iPhones and iPads with the industry-specific solutions to business clients worldwide.
"iPhone and iPad are the best mobile devices in the world and have transformed the way people work with over 98 percent of the Fortune 500 and over 92 percent of the Global 500 using iOS devices in their business today," said Tim Cook, Apple's CEO. "For the first time ever we're putting IBM's renowned big data analytics at iOS users' fingertips, which opens up a large market opportunity for Apple. This is a radical step for enterprise and something that only Apple and IBM can deliver."
"Mobility—combined with the phenomena of data and cloud—is transforming business and our industry in historic ways, allowing people to re-imagine work, industries and professions," said Ginni Rometty, IBM Chairman, President and CEO. "This alliance with Apple will build on our momentum in bringing these innovations to our clients globally, and leverages IBM's leadership in analytics, cloud, software and services. We are delighted to be teaming with Apple, whose innovations have transformed our lives in ways we take for granted, but can't imagine living without. Our alliance will bring the same kind of transformation to the way people work, industries operate and companies perform."
Apple and IBM's shared vision for this partnership is to put in the hands of business professionals everywhere the unique capabilities of iPads and iPhones with a company's knowledge, data, analytics and workflows. Specifically, the two companies are working together to deliver the essential elements of enterprise mobile solutions:
Mobile solutions that transform business: The companies will collaborate to build IBM MobileFirst for iOS Solutions—a new class of "made-for-business apps" targeting specific industry issues or opportunities in retail, healthcare, banking, travel and transportation, telecommunications and insurance, among others, that will become available starting this fall and into 2015.
Mobile platform: The IBM MobileFirst Platform for iOS will deliver the services required for an end-to-end enterprise capability, from analytics, workflow and cloud storage, to fleet-scale device management, security and integration. Enhanced mobile management includes a private app catalog, data and transaction security services, and productivity suite for all IBM MobileFirst for iOS solutions. In addition to on-premise software solutions, all these services will be available on Bluemix—IBM's development platform on the IBM Cloud Marketplace.
Mobile service and support: AppleCare for Enterprise will provide IT departments and end users with 24/7 assistance from Apple's award-winning customer support group, with on-site service delivered by IBM.
Packaged service offerings: IBM is introducing IBM MobileFirst Supply and Management for device supply, activation and management services for iPhone and iPad, with leasing options.
Announced at Apple's Worldwide Developer Conference in June and available later this year, Apple's iOS 8 is the biggest release since the launch of the App Store℠, giving users incredible new features and developers the tools to create amazing new apps. For enterprise, iOS 8 builds on the new IT model for a mobilized workforce by improving the way users are informed of how their devices are configured, managed or restricted, with expanded security, management and productivity features.
Apple designs Macs, along with OS X, iLife, iWork and professional software. Apple leads the digital music revolution with its iPods and iTunes online store. Apple has reinvented the mobile phone with its revolutionary iPhone and App Store, and is defining the future of mobile media and computing devices with iPad.
IBM's 5,000 mobile experts have been at the forefront of mobile enterprise innovation. IBM has secured more than 4,300 patents in mobile, social and security, that have been incorporated into IBM MobileFirst solutions that enable enterprise clients to radically streamline and accelerate mobile adoption, help organizations engage more people and capture new markets.
IBM has made a dozen acquisitions in security in the past decade, has more than 6,000 security researchers and developers in its 25 security labs worldwide that work on developing enterprise-class solutions.
IBM has also established the world's deepest portfolio in Big Data and Analytics consulting and technology expertise based on experiences drawn from more than 40,000 data and analytics client engagements. This analytics portfolio spans research and development, solutions, software and hardware, and includes more than 15,000 analytics consultants, 4,000 analytics patents, 6,000 industry solution business partners, and 400 IBM mathematicians who are helping clients use big data to transform their organizations.
For more information regarding the new Apple and IBM solutions, please visit www.ibm.com/MobileFirstForiOS or www.apple.com/ipad/business.
Get the best of iMore in in your inbox, every day!
Rene Ritchie is one of the most respected Apple analysts in the business, reaching a combined audience of over 40 million readers a month. His YouTube channel, Vector, has over 90 thousand subscribers and 14 million views and his podcasts, including Debug, have been downloaded over 20 million times. He also regularly co-hosts MacBreak Weekly for the TWiT network and co-hosted CES Live! and Talk Mobile. Based in Montreal, Rene is a former director of product marketing, web developer, and graphic designer. He's authored several books and appeared on numerous television and radio segments to discuss Apple and the technology industry. When not working, he likes to cook, grapple, and spend time with his friends and family.
Wow. Not sure if this is more important symbolically or in reality but Apple teaming up with Big Blue? This is officially Tim Cook's Apple.

This is promising. My work deployed iPads recently but it is haphazard at best as to their usefulness. With a more enterprise focused "guiding light" maybe companies can better use the platform.

Rene help me out here. Are IBM and Lenova not working side by side? How can Apple now be added to the mix? What am
I missing?

No.. Lenovo bought IBM's hardware PC business; the Thinkpad line, etc.. There is no hard tie between them..

If Apple made a multi-billion dollar buy.. I would have bet on them buying IBM, was thinking that a while ago.. It made sense for them to get heavy into the business sector.. Maybe they still will and this is just a feeler to see how well they fit..?? While I'm not one to normally say "Steve Jobs would or wouldn't have".... I do think Steve would have wanted IBM, but I don't think he would have gone with a partnership.. I'm fairly sure he would have seen IBM like he saw Dropbox. An aspect of the whole business, a feature set for business/enterprise.' Still.. I think this was a good move overall..

I don't think Apple have got $ 200 Billion in the bank...

No, it would be a terrible move. Take it from a soon to be former IBM employee (Friday can't come soon enough) the two would make a really bad fit. The cultures would clash - badly. IBM has too much dead weight and dated products which would have to go. Then there is the Blue Goo - bureaucracy so bad that things that make sense won't get done because of revenue recognition or internal politics. IBM is a stage 4 cancer patient and either doesn't know it or won't admit it. There's only a sliver of what Apple would need out of IBM (it's not the legacy Lotus division or many other old brands that still exist) and I trust as time moves on they could get it at a good price when the next IBM CEO needs money for a turn around. I could go on but let's just say that Apple would do good to keep this relationship at the partnership level.

It's still nice too see apple (and IBM) can still keep things under the hat and use the element of surprise when announcing a new service, instead of all the those little Trojans leaking stuff all the damn time. Speculation, discussion and debate about our hobbies and interests is nice, but spy shots about those things you care about and invested money in, big no no. Tim - get it sorted. But on the Apple IBM deal, it's so important for apple and a natural extension too, as IBM have been doing business analytics for years, so the apps that could come out of this could be interesting, just don't make them too complex!

That is great! I have never seen that one.

The top picture with Cook and Rometty totally needs the caption, "Here's a new dance step I just learned!"

There is a lot to like here... Internationally there is really no such thing as on site support for Apple devices and the smaller integrators often refuse to support Apple, too, as they don't want to be fined for violating SLAs due to Apple not delivering spare parts in a timely manner (where a 'timely manner' by definition of Apple Germany can be anything below 6 months for a stupid original Cinema Display power cable costing its weight in gold). Here is hope that IBM will teach Apple a fair bit about how "enterprise" is done. People only thinking "Notes" when they hear IBM certainly don't know much about their enterprise stuff. I have been working for huge infrastructure companies that live and breathe Maximo, Content Manager, Tivoli, Websphere etc. Once you see how great these products are, and what they do to empower huge organizations and processes of the highest complexity, you will forget that Notes crap instantly. There are countless jobs that require customized and secure access to data from these systems, thousands of processes that could be improved by real time KPIs, instant notifications and feedback... Nothing where a closed Laptop will be of any help, and tablets and smartphones are the solution. Apple has no idea about this part of the market, but their devices are part of the ideal solution in many cases. So, yes, this deal makes (to quote the late Debra Morgan) a metric f***-ton of sense. Cook keeps impressing me.

Wow, am I mistaking or does this cut Blackberry even harder?

I'm surprised at Tim getting into bed with IBM. His (and my) kind were only an IBM holepunch away from being murdered by Nazis!

I take you don't drink Cola-Cola, drive a Ford or a VW, wear Hugo Boss, take Bayer medicine, read Random House books or get fuel at Exxon or Chevron.
Thank you for signing up to iMore. You will receive a verification email shortly.
There was a problem. Please refresh the page and try again.