iMac (2019) Preview: Fresh-brewed Coffee Lake updates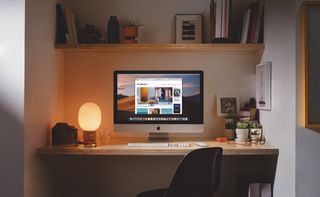 (Image credit: Apple)
Apple's just announced new iMacs for 2019. Well, newly updated iMacs. Up front, they're spec bumped versions of the previous models. Beyond that, though, I got to spend some time with Apple in New York looking at the specific updates and hearing all about the modern iMac in general. And, yeah — turns out there's just a little bit more to the story.
Rather watch than read? Hit play on the video above.
Order now
(opens in new tab)
Apple's 2019 iMac is the fastest it's ever been.

If you're ready to upgrade your iMac, now is the time. With a brand new, faster Coffee Lake processor and AMD graphics, your new iMac is running at top speed.
Same Design
Old things first. Yes, this is still the same iMac chassis that Apple's been shipping, since, well, 2012. If you've been waiting for iMac to have its X moment — to win its personal war on bezels, to take its screen edge-to-edge, and to skip right over the still non-existent Touch ID for Apple Keyboard and go straight to Face ID for... our faces. Well, you and me both. But for that, for now, we're all going to have to just keep waiting. At least for a while longer, because either it's not ready or Apple's not ready for it yet.
Either way, what we have here is iconic, silver-hued, bead-blasted aluminum, Retina-display packing skinny unibody with that Apple logo unabashedly emblazoned on that chin, all absolutely intact. In other words, no surprises here.
But, if that's perfectly fine for you and all you've been wanting for is some Coffee Lake love. Well, then, good news. Apple has just exactly those new iMacs for you to love.
New guts
New things next. Technically, Apple has two generations of new Intel silicon for you, one of which is piping fresh from the fabs.
Now, I know some people live and die by the spec sheet and others just glaze over and hit fast forward until they see something better approaching real, but since these particular updates ARE spec updates, I'm going to hit them old school style, but real quick.
21.5-inch iMac options include:
27-inch iMac options include:
Which is, yeah, fast. And, maybe, just maybe, dare I hope, better than most Intel updates lately.
No T2 chip, which is the Apple A-Series-based ARM chip that handles security and drivers on the iMac Pro, MacBook Pro, Mac Mini, and new MacBook Air. That the new iMac didn't get the T2 is simply a reflection that this isn't a re-architecture. It really is just a spec bump.
There's new AMD graphics here as well.
21.5-inch iMac options include:
Radeon Pro 555X with 2GB of GDDR5 memory
Radeon Pro 560X with 4GB of GDDR5 memory
Radeon Pro Vega 20 with 4GB of HBM2 memory
27-inch iMac options include:
Radeon Pro 570X with 4GB of GDDR5 memory
Radeon Pro 575X with 4GB of GDDR5 memory
Radeon Pro 580X with 8GB of GDDR5 memory
Radeon Pro Vega 48 with 8GB of HBM2 memory
So, yeah, still no Nvidia, but better AMD options than ever, and thanks to Thunderbolt 3 — the I/O is all unchanged — you can hang newer and better eGPU off the back if and when you want to.
For memory, the 21.5-inch includes 8GB of 2666MHz DDR4 memory and you can bump that up to 16GB or 32GB.
the 27-inch is 8GB standard, bump-able to 16GB, 32GB, or 64GB.
For storage, the 21.5-inch iMac options include:
1TB Hard Drive
1TB Fusion Drive
256GB, 512GB, or 1TB SSD
And, the 27-inch iMac options include:
1 TB, 2TB, or 3TB Fusion Drive
512GB, 1TB, or 2TB SSD.
I get the cost at size savings of HD and the aspiration of fusion drives, melding SSD for speed with good old fashioned platters for volume, but my advice on this remains the same as it's always been: Internal hard drives are for suckers. Go pure SSD and then hang any extra storage you need all external like off a Thunderbolt port. You'll thank me when you can just swap out enclosures and never have to worry about taking your whole iMac in just because the platter puttered out.
iMac vs. iMac Pro
On paper, these new iMacs are pretty amazing. So amazing, you may wonder what the deal is with iMac Pro.
Which, fair. The lines are really butting together now in the middle, but here's the thing — they're butting but not really crossing over. At least not yet.
If you want up to 8 cores of blisteringly fast Core 9 performance, the just updated iMac is a beast. If 8 cores are just the starting point for you, then iMac Pro remains your main monster.
Where iMac fits
Computers aren't just bits and atoms. They're important objects in our lives. Some of the most important. And that's especially true when it comes to the iMac.
While MacBooks are by far the most popular Macs, the clean, iconic design of iMac makes it the center piece for a lot of people, especially when they're upgrading not just their desktop but their entire desks.
Whether you have an iPad or a MacBook on the go, iMac lets you stop, and the big screen really lets you take it all in. Photo editing, music editing, video editing, web browsing, gaming, watching movies. There just isn't an iPad or MacBook that can do that at 21.5 inches, let alone 27-inches.
Call it hipster or even silly if you like, but there's a reason you see them on TV shows and in movies, even when there are no deals and the logos are, hilariously, stickered over. And it's because they're so unmistakably iconic. It's the same reason you see them on YouTube channels that really excel at showing off just these kinds of setups, Jonathan Morrison and Daily Tekk come to mind immediately.
In a home office or living room, an iMac is still the gold standard when it comes not just to design, but to a lot of people's redesigns. Speakers, plants, sculptures, books, even the desks themselves are often built off of and around the iMac.
The office office is similar. If you've pumped a ton of money into making your front-of house as beautiful and inspirational as possible, down to the art and installations, the all-in one nature of the iMac, with a back that looks as good as its front, can really complete that look.
And since the iMac runs Office, and I'd argue the Mac App Store is now the best way to get Office, way better than the web, you're not sacrificing anything. Even up to and including Boot Camp and Virtual Machines for full on compatibility. I mean, if you still need it in the age of software as services.
Same for back-of-house, especially for app and game developers and creative professionals.
The iMac panel is just so good once you see your work on that expansive, high density, retina, DCI-P3 display, it's really hard to go back.
Now, I'm not saying these new iMacs are perfect. There's still a ton of stuff I'm wanting and waiting for Apple to bring to the iMac and macOS in general. And I'll have a separate column up on all of that sooner than you might think.
But they're iMacs. Not the iMacs that will be, that a lot of us are waiting for. These are the iMacs that are, just faster and therefore, better.
Alas, I haven't had time to go in depth on either of these updated iMacs yet. I can tell you the displays are as stunning as always and the new speeds seem super speedy, but I've yet to bench any marks, test any thermals, measure read/write, or dive into any of the other geeky details that are really needed to spot potential gotchas, and pleasant surprises both. So, I'll have to report back on when I have spent that time.
But…
If you've been waiting on iMac with all the latest silicon, or to use as the centerpiece for your big desk redesign, these are the iMacs you've been waiting for.
The 21.5-inch iMac starts at $1,299. The 27-inch iMac starts at $1,799. Both are available for order starting today and will be in stores starting next week.
Order now
(opens in new tab)
Apple's 2019 iMac is the fastest it's ever been.

If you're ready to upgrade your iMac, now is the time. With a brand new, faster Coffee Lake processor and AMD graphics, your new iMac is running at top speed.
Get the best of iMore in your inbox, every day!
Rene Ritchie is one of the most respected Apple analysts in the business, reaching a combined audience of over 40 million readers a month. His YouTube channel, Vector, has over 90 thousand subscribers and 14 million views and his podcasts, including Debug, have been downloaded over 20 million times. He also regularly co-hosts MacBreak Weekly for the TWiT network and co-hosted CES Live! and Talk Mobile. Based in Montreal, Rene is a former director of product marketing, web developer, and graphic designer. He's authored several books and appeared on numerous television and radio segments to discuss Apple and the technology industry. When not working, he likes to cook, grapple, and spend time with his friends and family.
Oh, Rene. I love iMore, and I love your analysis, most of the time, but.... "Now, I know some people live and die by the spec sheet and others just glaze over and hit fast forward until they see something better approaching real, but since these particular updates ARE spec updates" I guess you know your audience. It makes me feel old, geeky, left-out, like the kid in the gym who never got chosen for the dodgeball games. For me, probably a lonely audience of one, the only thing interesting about this release of the iMac is, "does it compile Swift fast enough to tempt me to forego the upcoming Mac Pro", despite the fact that all-in-ones are....why-would-you-do-this? And all this focus on its iconic look and how it fits on your desk, and,......if your readership has the same values as you do (or at least the ones exhibited by this article), then I guess Apple has done all the right things since 2012-ish, as regards the dichotomy of form and function. It just makes me feel very old and left out, and not one of the cool kids. I have a 2013 12 core Mac Pro for sale, if you're interested.

Yep. Nothing new to see here, move along. Time for apple to get their head out of the sand, and start building 21st century devices. A proper desktop with touch, inking and folding hinge. A proper 2 in 1 MacBook pro with touch and inking included. a true ipad "PRO" with macOS onboard. Until then, NOPE. I do enjoy my ipad and iPhone. However, my wife is inheriting my ipad and I am moving to a surface go to replace it. Every app I use on my ipad is available as a website in the browser. I use the edge browser on my ipad more than any app.

You guys, thinking Apple will design every piece of hardware with just you in mind. These were designed with another market in mind.
Choice is good, good luck with your Sur-Face! And, really, browser apps???

Spoken like a true lemming. I use my browser on my iPad 99% of the time. Apps are really secondary since most are not that useful compared to real windows programs.

"Real Windows Programs", you mean the ones that aren't adapted for touch? The iPad has "Real iOS Programs", it's just that they're colloquially referred to as apps rather than programs.

You have got to be thick on purpose... (!?!)
Like I said, just not for you. Plenty of people find them very to extremely useful...

Does the 27" iMac have the door in the back for a user upgrade to the memory?

Looking at the gallery images for the 27" model it still does. Sadly, the 21.5" is not user accessible like the previous models. You still need to take the logic board out to gain access for them.

Ive needs to be fired and Apple needs to get someone in who isn't constrained by "Making things pretty". This obsession with thinness Apple has is beyond silly at this point and their Mac lineup is suffering because of it.

That's part of Apple's signature though. If their devices weren't thin/pretty, then you'd just be paying for the OS/Mac exclusive apps and support. Apple's thinness sucks more for the iPhone where I'd really like to see more battery life, but I'm not too concerned about the Mac line, however I would like user-serviceability. The butterfly keyboard is in its third generation, and I haven't heard any complaints about the reliability of the third generation one in particular.

The "Thin" mantra is new and just over done. We've moved on with the catwalk models being bone thin. We want healthy models showing the wares in Paris and thats true here as well! > Healthy Is In < Add the mm's so the systems have the needed space for the needed cooling. I'm sure the 3.6 GHz 8 core model is throttled like the MacBook Pro i9 is.

I hope you're wrong in that specific, but amen to the sentiment. Cooling should not be sacrificed in these things just to make them look good. Frankly, I'd be willing to pay the Apple Tax to get a beige tower that was designed to scream, stay cool, etc. and run MacOS without any of the headaches of a Hackintosh.

The thin mantra isn't really new at all, Apple devices have tried to be thin for a long time. The MacBook Air came out in 2008, which is over 10 years ago

Macs are selling just fine, whatever flaw you find in them is clearly not hurting their sales numbers. This just means they are not designed with you in mind, you are not their market.
Ive is one of the greatest designers alive, if you don't appreciate his designs just don't buy Apple's products.

The two cheaper 27" iMacs are 8th-gen i5 (i5-8500, i5-8600)

I just bought a new 4k iMac a couple months ago, it essentially is a 2-year old computer being sold as brand new. ( Now that I have said that, I note the absurdity of the Mac Pro being sold today as "new") I really wanted to wait for an iMac refresh from Apple, but based on recent experience, I thought it might be another 3-4 years before the iMac line would see something new. Now they have refreshed them, but they did it with year-old processors on the 4k line and current processors for the 5k line. I guess it was a good thing I did not wait for this new version, as it is only one generation newer than the one I bought.
I don't know what is wrong at Apple, but they just cannot seem to update and refresh their lines with current hardware any more. The fact they left off FaceID, TouchID, still have the HUGE bezels and ancient design just adds to the evidence that Apple design has been allowed to completely rot away.

Apple could have done this spec bump 12 months ago. To not use new 9000 series chipsets just means that Once again, you are giving Apple money for OLD tech. the 9000 series have been out for MONTHS already. The 8000 series is over a year old....
And some may say, "that's not a bid deal" but when I put together a system that costs near $4000 it better have the best parts possible. A 27" with a proc/ram upgrade and video card upgrade is just under $4000 and can't game at 2560x1440.... ( I know, macs are gaming PCs... blah blah blah. )At $4k, it should run macOS like a champ and be able to game at 1440p
This should have an nVidia 2060/2070 in it.
and my biggest peeve. using 5400/7200 rpm hard drives in 2019. seriously, a plain SSD is cheap enough to use now and they at least get 500MBs instead of 75MBs.
$1299 gets you a 5400 rpm 1 TB. pure garbage.