iMac Pro Geekbench scores begin to surface for the iMac Pro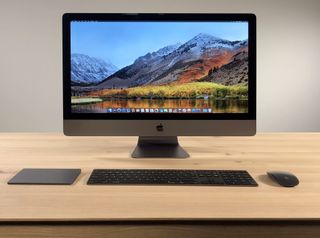 (Image credit: iMore)
As we all know, Apple released its most powerful (and arguably most beautiful) desktop computer yet, the iMac Pro, earlier this month. The machine can be outfitted with an up to 18 core Xeon processor — yes, really — making it capable of some serious heavy lifting in the data processing department. In addition, the iMac Pro boasts Turbo Boost speeds up to 4.5GHz, new AVX-512 vector instructions and a new cache architecture, giving it the capacity to handle all that data incredibly quickly (making it the perfect machine for creators). Now, I hear you — "but that information can all be gleaned from glancing at the iMac Pro's overview on the Apple website!" Okay, okay, fair. However, recently dropped Geekbench scores confirm that the iMac Pro pretty much lives up to the hype surrounding it.
When compared to the benchmarks of other Apple computers, the 10-core model of the iMac Pro definitely holds its own. Its highest single-core score is 5270 — nothing to sneeze at, certainly, but also a bit less than two other already-released iMac models (the late 2015 27" Retina iMac and the mid-2017 27" Retina iMac). Its highest multi-core score, however, is an extremely impressive 35412, which essentially blows all other existing Macs so far out of the water that they may never come back down again. To put it in perspective, the nearest iMac's multi-core score is a mere 19353.
If you want to get your hands on an ultra-powerful iMac Pro for all your creative needs, you can grab one starting at $4,999 from Apple's web store here (opens in new tab).
Thoughts? Questions?
What do you think of the iMac Pro's Geekbench scores? Give us a shout in the comments!
Get the best of iMore in your inbox, every day!
Tory Foulk is a writer at Mobile Nations. She lives at the intersection of technology and sorcery and enjoys radio, bees, and houses in small towns. When she isn't working on articles, you'll likely find her listening to her favorite podcasts in a carefully curated blanket nest. You can follow her on Twitter at @tsfoulk.