iMac Pro: Everything you need to know!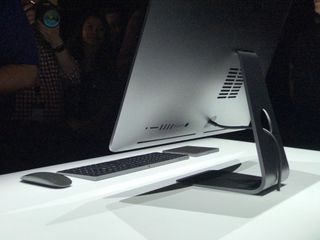 At WWDC 2017, Apple announced its first new professionally oriented desktop since 2013, the iMac Pro. Using the same basic design as the rest of the iMac lineup, the iMac Pro blows past its brethren with a massive boost in power, including Intel Xeon processors, AMD's upcoming Vega graphics chips, a 5K Retina display, and much more. Here's everything you need to know about the upcoming iMac Pro.
Read Rene Ritchie's review of the iMac Pro
December 14, 2017: iMac Pro available to order, shipping estimates 1 - 2 weeks
Apple made available for pre-order the iMac Pro today and shipping times are estimated at 1 - 2 weeks out, which will either get it to your door just before Christmas or just after, depending on your luck. Otherwise, you can check it out at Apple Retail Stores starting middle of next week.
Why do we need an iMac Pro?
Great question. In Apple's mind, this sits in-between for folks who want the iMac's all-in-one design along with powerful internal hardware. Not only will it theoretically fill a hole for graphics and video professionals, but the Mac's increased processing and graphics power will also make this the first VR-capable Mac desktop.
The iMac Pro is also Apple's first entry into its new line of professional desktop Macs: The company is also planning on releasing a Mac Pro redesign in 2018-2019.
Who is this for?
Currently, Apple is targeting this machine toward high-end professionals who need to do 4K video editing work, software development, and virtual reality development. In addition, it's the second desktop Mac that will be able to support VR headsets out of the box, joining the highest-of-high-end iMacs.
How is the iMac Pro different than the iMac or Mac Pro?
Apple is packing this computer full of professional-grade components: Intel Xeon Processors, AMD Vega graphics chips, more memory than an iMac's ever seen, as well as faster storage. In addition, the computer comes with its own Security Enclave, the T2 chip.
Processors & graphics cards
Apple is currently offering 8-, 10-, 14-, or 18-core configurations for its Intel Xeon W processors. All Xeon W processors feature Intel's Turbo Boost and hyper-threading; they also offer four slots for DDR4 ECC RAM, 1MB of L2 cache, 1.375MB of shared L3 cache, and support for AVX-512 vector instructions. This provides an extra boost to both performance and throughput for intense computing tasks.
Xeon W is based on Intel's Skylake chip architecture, rather than the newer Kaby Lake chipset: As a result, processor-accelerated HEVC (H.265) encoding and decoding is limited to 8-bit, not 10-bit. That said, the iMac Pro can still put its processors to work through macOS High Sierra: Those extra cores can help power software-based HEVC 10-bit much, much faster than a standard Kaby Lake iMac can through hardware alone.
Which iMac Pro processor should you get?
Apple has also opted to use AMD's new Radeon Pro Vega graphics architecture in the iMac Pro. By default, the iMac Pro will come with a Radeon Pro Vega 56 graphics processor with 8GB of HBM2 memory. You can bump this to a Vega 64 chip with 16GB of memory if you need the extra power.
[Which iMac Pro video graphics card should you buy: Radeon Pro Vega 56, or Vega 64?](/radeon-pro-vega 56-vs-vega-64-which-imac-pro-video-card-better)
Storage and memory
All iMac Pro options come with NVMe-based SSD (solid-state drive) storage — there's no Fusion Drive model to be found here. SSD storage is both faster and sturdier than a traditional spinning-disc hard drive, and allows you to access your projects faster, boot up more quickly, and run through massive number-crunching at full speed. Andlike its fellow upgrades, your SSD isn't user accessible on the iMac Pro: What you buy at launch is what you get forever.
That said, it's a lot easier to augment your storage space than your internal processor or RAM: The iMac Pro comes with 4 Thunderbolt 3/USB-C ports, which support connecting multiple RAID arrays; these are systems made up of multiple hard drives, and can be used either to help support network storage or as direct add-ons to your Mac.
Which iMac Pro storage size do you need?
It's also no surprise that Apple also offers a massive amount of RAM for the machine: The baseline iMac Pro ships with 32GB 2666MHz DDR4 ECC RAM (a true monster sentence of acronyms), but you can also upgrade to 64GB or 128GB when you configure your computer.
This is also the only configuration you can upgrade after the fact — though, due to the complications of adding components to such a small package, currently you're restricted to having it done at an Apple Store or Authorized Reseller. (The days of opening up your iMac yourself and swapping out RAM chips are gone.)
How much iMac Pro memory do you need?
Ports & Peripherals
The iMac Pro comes with four Thunderbolt 3/USB-C ports; there are also four USB 3 type-A ports for legacy peripherals, along with a 10Gb Ethernet port, SDXC card slot, and a 3.5mm headphone jack. You'll also get an extended space gray version of Apple's Magic Keyboard 2, along with the choice of either a Magic Mouse 2 or Magic Trackpad 2 (or both!).
Should you buy the iMac Pro's Space Gray Magic Trackpad, Magic Mouse, or both?
Displays
The iMac Pro features a 27-inch 5K Retina display with a resolution of 5120x2880. Like its iMac predecessor, it sports a screen with a 500-nit brightness rating and support for the P3 wide-color space.
You can also connect up to four external displays to your iMac Pro (depending on the resolution of those screens) via Thunderbolt 3; you can hook up four 4K UHD (3840x2160) displays, which will operate at 60Hz; four Cinematic or True 4K (4096x2304) displays, also running at 60Hz; or two external 5K displays running at 60Hz.
What else can you tell me about the iMac Pro?
All of the power in this machine creates a lot of heat, so Apple has created an all-new thermal architecture for the iMac Pro. It features dual blowers, extra venting, and a huge heatsink array
Can I buy one right now?
Yup! The iMac Pro is available now starting at $4,999 for the base model and no upgrades. If you go all in and max out the beast, you should plan on spending as much as $13,278 (more if you get both the Magic Mouse and Magic Trackpad), and that's not including copies of Final Cut Pro, Logic Pro, or AppleCare for your iMac.
Should you get AppleCare+ for your iMac Pro?
Shipping time is currently estimated at approximately 1 - 2 weeks.
Questions?
If you want to know more about the iMac Pro, be sure to let us know in the comments.
Updated December 21, 2017: Added buyers guides.
Master your iPhone in minutes
iMore offers spot-on advice and guidance from our team of experts, with decades of Apple device experience to lean on. Learn more with iMore!
Serenity was formerly the Managing Editor at iMore, and now works for Apple. She's been talking, writing about, and tinkering with Apple products since she was old enough to double-click. In her spare time, she sketches, sings, and in her secret superhero life, plays roller derby. Follow her on Twitter @settern.