iMore Editors' Choice: Beatdown, Stream, Track 8, and more!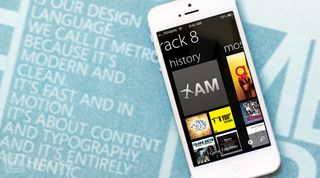 Every week, the editors at iMore carefully select some of our favorite, most useful, most extraordinary apps, accessories, gadgets, and websites. This week's selections include a bluetooth audio accessory, a fighting game, and apps for those looking to save a few bucks, buying movie tickets, listening to music, an ADN client, and an interactive children's bedtime book.
TuneLink Auto - Chris
This week I have gone for an accessory that was an absolute must after I upgraded my iPhone 4S to the iPhone 5. I listen to music and podcasts all of the time when I am driving around and my iPhone 4S had a kit that allowed the audio from the dock connector to be piped straight into my car stereo. Due to Apple' change in dock connector from the 30 pin to the Lightning connector, I could no longer use this when I switched to the iPhone 5; this is where the TuneLink Auto comes in.
The TuneLink Auto is a Bluetooth stereo audio interface that plugs into your car's 12-volt power socket and then into your cars AUX 3.5mm input. Your iPhone can then connect to the TuneLink via Bluetooth and it plays your music through your stereo all without wires. It also comes with a USB port so you can plug in your Lightning cable and charge your iPhone 5 if needed. The sound quality is fantastic and as soon as you start your car the iPhone pairs to the TuneLink and your music or Podcasts start playing without any interaction needed. It works perfectly every time.
If your car doesn't have an AUX input, fear not, the TuneLink also has an inbuilt FM transmitter included too so you can tune it to a free radio station and listen to your music that way; the sound quality using the FM transmitter is no where near as good as with the wired solution. The TuneLink is a top piece of technology and I love it!
Beatdown is a retro beat-'em-up game inspired by such classics as Final Fight, River City Ransom, and Double Dragon. The simple jump/attack/move virtual buttons keep things simple and allow players to focus on laying some fists into a variety of corporate goons. The game's protagonist was (in his opinion) wrongfully dismissed from his job, so he goes on a rampage of righteous fury, punching and kicking his way to the company CEO. Players build up a rage meter throughout each level simply by laying the smackdown, and when it reaches its maximum, the hero goes into a whirling, red frenzy. The evildoers are all hammed up in cute, tongue-in-cheek kind of way, and should resonate will with those that spend a lot of time in an office. Beatdown was made by the same guys that made the League of Evil games (among other titles), and as you might expect, the 16-bit-style graphics as both charmingly blocky and well-animated.
RetailMeNot Coupons - Chris Parsons
I'm kinda cheap. Incredibly so when it comes to buying things on the internet like web hosting or domain names. With so many online companies trying to win your business, there is plenty of coupons out there that can almost always offer you a deal if you take the time to look around. One site that lists a lot of coupons is called RetailMeNot. Recently, I've been checking out the RetailMeNot Coupons app -- the app is free to download in the iTunes App Store and has some nice features built into it such as the ability to browse hot coupons, categories and even save coupons for later use. It's not the best designed app in the world, but thus far, I've managed to save $20 just by having it on my device.
Stream is a new App.net client for iPhone. It has a simple, clean interface, and reminds me favorably of Tweetie before it was purchased by Twitter. Stream makes use of gestures in order ot perform actions such as reply, viewing a conversation, and reposting. Swiping a post in your feed to the right will bring up a reply window, while swiping to the left will let you view a conversation, reply, favorite a post, or repost, depending on how far you swipe. You can also simply tap on a post in order to perform all of these actions, if you wish. Cross posting to Twitter is supported through use of the iOS system Tweet sheet, which will copy the text in your compose window. Stream is a solid App.net client for iPhone, and if you're looking for an alternative to the apps already on the market, I highly recommend you pick this one up.
I'm a huge movie person and whenever we've got a night to head to the movies, we take advantage. If you've got AMC theaters around you, the AMC app is a great place to get information. If you're an AMC Stubs member, not only can you track your rewards but they actually support Passbook. Once you've entered your Stubs information into the AMC Theaters app, you have the option to add your Stubs card to Passbook.
I personally hate carrying around loyalty cards so any company that has loyalty cards with Passbook support is on my must download list. The AMC Theaters app may have a lot of the same information you can get from apps like Fandango but the Passbook support along for Stubs is what really sold me. If you're a member, make sure you check it out.
While some may think iOS is starting to get a little long in the tooth, even throwing around the "b" word -- boring -- the truth is, iOS is a blank slate in every sense of the word. Generation after generation, Apple senior vice-president of design, Jony Ive, works to make the iPhone, iPod touch, and iPad more and more about the screen and the content, and less and less about the chrome surrounding it.
For proof of that, look no further than Track 8 by Ender Labs, a music player app for iOS that wraps your onboard iTunes library in the Windows Phone design language and panorama interface. I've always been a huge fan of that look, once and to me always called Metro, but I do find it monotonous painted across an entire operating system. Painted across a single app, however, and it's awesome. And that's exactly what Track 8 does.
Andy Ihnatko made Track 8 his pick of the week a couple of shows ago on MacBreak Weekly and I've playing with it ever since. That's the advantage of an operating system where an overarching design language isn't highly encouraged (or lazily implemented) system wide. Every app can be something entirely new, something decidedly unboring. Whether it's Clear, Letterpress, or in this case… Track 8.
Nighty Night! HD - Winter Special - Leanna Lofte
Nighty Night! HD - Winter Special is a fun interactive bedtime story for children. It's about a town that's going to bed, except that all the lights at the farmhouse are still on. It's up to the young reader to turn off all the lights and say goodnight to all the animals. Once the lights are turned off, they cannot be turned back on which is great for parents who want to use this book a literal bedtime story because the child cannot prolong it. Once all the lights have been turned out, the narrator has also notices that "you" are still are awake and that's it's time turn off the lights and go to sleep.
I've helped my daughter say goodnight to all the animals these past few nights and she absolutely loves it. She'll even play with the app during the day on her own sometimes, but at bedtime it's something we do together and both have fun doing.
Your choice?
Now that we've chosen our favorites for the week, we want to hear yours! Did you pick up a killer app, accessory, or game this week? Let us know in the comments below!
Master your iPhone in minutes
iMore offers spot-on advice and guidance from our team of experts, with decades of Apple device experience to lean on. Learn more with iMore!
Former app and photography editor at iMore, Leanna has since moved on to other endeavors. Mother, wife, mathamagician, even though she no longer writes for iMore you can still follow her on Twitter @llofte.