iMore Editors' Choice for September 2, 2012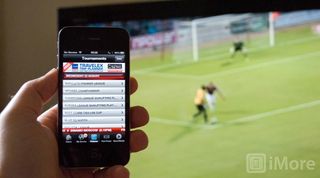 Every week the editors at iMore carefully select some of our favorite, most useful, most extraordinary apps, accessories, gadgets, and websites. This week's selections include apps for tracking weather, following football soccer, making reservations at your favorite restaurants, and a couple games.
I've always had a boredom issue with weather apps. Either they didn't provide enough information, or they provided too much information and ended up being cluttered and ugly. I then realized I barely ever utilize any features outside of daily forecasts and extended forecasts. When I narrowed my search to apps that provide that information in a more appealing way, I stumbled across WthrDial (WTHR for short). It not only has a beautiful layout, it just works. There's nothing to configure and no locations to add. It automatically polls your current location and provides the information. It will also switch between gorgeous themes to represent both night and day.
Sure I may switch to another more detailed whether app if there's a storm coming through or I want to view radar maps but all those are now buried in a folder and only WTHR has an official place on my Home screen now.
Jack Lumber was recently launched for iPhone and iPad, offerin a fresh twist on slicing things that are flying through the air. Fruit Ninja used to have that category of game on lock, but Jack Lumber adds a ton of complexity to the equation. Multiple logs are flung into the air at various speeds, angles, and rotations, and you have to successfully swipe through all of them along the grain within a certain time limit. Of course, Jack Lumber's time-slowing super-powers make that job a little easier, but there's still ample challenge and lots of variety - some logs need to be split multiple times, while others are spinning way faster than others. Ultimately, you want to get Jack to confront the vile spruce that killed his granny, and chop down any other insolent tree that gets in the way. Jack still has a soft spot for the local wildlife though, and over time accumulates a veritable zoo in his tiny cabin.
For $0.99, you get a fun and fresh familiar familiar physics game. Go get it!
Sky Sports Football Score Centre - Chris
The English Premier League football (soccer) season has just started along with most football leagues around Europe too and this weeks pick is an app which lets you keep up to date with scores as they happen. Sky Sports Football Score Centre covers just about every football league in Europe and the service is second to none.
If you want to know the latest scores in a game, who scored the goals, who's been booked or how long is left to play, this app has it all. Sky Sports Football Score Centre has all the upcoming fixtures, and can even be personalised to suit your favorite teams. Unfortunately, it is a UK only app.
If you want to keep on top of football, there is no better app!
I've been testing out iOS 6 a lot recently. A lot of it is still under a non-disclosure agreement (NDA), but Apple has shown off Siri's new ability to make restaurant reservations, and how Apple has partnered with Open Table to make that happen. So, while I can't tell you how awesome it is to have Siri book you a cozy dinner for two at your favorite get away, I can you that you can do it yourself right now with the Open Table app.
Simply share your location and search for any participating restaurants nearby, select a new location if you'll be traveling, or search by the name of the restaurant. (If you can't remember the name, a quick side-trip to Google can help immensely). Choose a date, choose the number of people, and you're good to go.
Well, mostly. You need to either log in with your Open Table account, or reserve as a guest, filling out enough information that you'll probably either make an account or abandon the whole process. There's also this added loyalty layer of Open Table points, which I'll never use and never have a use for, and honestly are more unwanted cognitive load than reward, but I realize I'm jaded and there's probably far more people who actually love that kind of gamification.
All that being said, I've really enjoyed using Open Table, and I'll enjoy it even more when iOS 6 launches publicly and I can simply let Siri handle all my reservations for me.
If you're already familiar with Disney's hit iPhone and iPad game Where's my Water (opens in new tab) (App Store link), then you already know how to play Where's My Perry which feature's Perry the Platypus from the cartoon Phineas and Ferb. Not only is Perry a Platypus, but he's a secret agent who saves the world and, in the show, he always gets to headquarters in strange ways. In Where's My Perry, Perry gets to headquarters via transportation tubes that must have water or steam to power the generators and send Perry on his way. It is your job to create paths that guide the water or steam to the correct place while picking up bonuses and avoiding obstacles.
Of all the cartoons out there, Phineas and Ferb is one of my favorites, so Where's My Perry is naturally one of my favorite time-killer games.
Your choice?
Now that we've chosen our favorites for the week, we want to hear yours! Did you pick up a killer app, accessory, or game this week? Tell us about it!
Get the best of iMore in in your inbox, every day!
Former app and photography editor at iMore, Leanna has since moved on to other endeavors. Mother, wife, mathamagician, even though she no longer writes for iMore you can still follow her on Twitter @llofte.
wow you guys really can`t take a hint into writing something better... I mean Jesus Christ himself is ashamed of you guys.... written from my iPad and yea I'm an iOS user so you guys should get some originality like apple.

The sky sports app is actually really basic and seems like a easy option as its easily the most well known app. I find the ESPN Goals app is far better, providing not only scores but stats, lineups, commentary but most importantly video highlights.

new app Scan to PDF available at itunes store.It iis highly useful for individuals or business use. http://itunes.apple.com/us/app/scan-to-pdf-scan-multi-page/id549095412?l...

Live score addicts is by far the best football app, sky sports fails on many levels, especially the push updates. A pity as its brilliant on the blackberry, terrible on iOS

HERE ARE MY SUGGESTIONS: - All apps from the Omni Group (except the graph sketcher), but they are expensive. Nothing compared to the Mac App Store prices. - Any app from Fourth Frame Technologies, though I don't have anything from them since the apps are redundant with OmniPlan from .... guess who? .... the Omni Group of course - Goodreader - 1password - Awesome Note - iThoughts / iThoughts HD - Drafts 2.0 / Drafts for iPad (a must in your dock) - inShort (mindmap, outline, powerpoint -- all in one) - Bento - Readiris (expensive OCR) - Apple's iWork suite - Keynote Zone (huuuuuge time saver for quality presentations) - Storyist - Notesplus - Antidote / Ardoise - Day One - Discvr Apps / Discvr Music (no spelling mistake here) - Flipboard (how can I forget this one?) - Copyit - Photogene - Procreate - Retouch - Screens - Kobo - Little Crane that Could & World Editor - Six Logic - System Status - Zinio Does anyone know here which app better explains, step-by-step, how to solve any particular algebra problem? I have all sorts of calculator apps but none do this. THANKS
Thank you for signing up to iMore. You will receive a verification email shortly.
There was a problem. Please refresh the page and try again.