iMovie 2.0 for iPhone and iPad review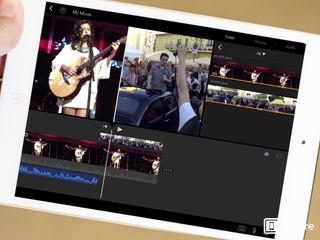 Apple has recently made some pretty big changes when it comes to its iMovie application for iOS. It recently got an overhaul for iOS 7, but perhaps more importantly for more people, iMovie went free – at least for anyone buying a new iOS device, anyway. That's particularly important because it opens up a whole new audience, those who might not have been willing to drop $4.99 on a video editor for their iPhone or iPad.
But iMovie is a great product for casual and more serious video editors alike, made even more spectacular by that zero price tag. It isn't without fault, and there's a lot to take in. Let's take a look.
iMovie for iOS video walk through
Video edited using iMovie 2.0 on an iPad Air
The interface
Like its OS X Mavericks counterpart, iMovie for iOS has undergone a visual overhaul. Apple pens it as "streamlined" and that's as good a description as any. It's very clean, with a simple layout and an overall design that is iOS 7 through and through. It's flat, black, and visually very appealing.
You get three main panes to work in, one of which shows the particular frame or photo in the selected clip, one which allows you to select the media you wish to import, and one which shows the full timeline of your project. Importing media is as simple as tapping the arrow and new additions will automatically be added next in line.
The best thing that can be said either about the iPhone or the iPad specific interfaces is that it works. However clichéd that might have become, it's entirely true in this case. The iPad layout takes full advantage of the extra screen real estate while on the iPhone the smaller screen isn't over crowded and is actually more usable than you might imagine.
Supported media
iMovie doesn't just deal in video clips. Besides these, you're also able to import photos and audio clips from the library on your iPhone or iPad to use in your projects. If you're using music it's important to note that iMovie will show your entire iTunes library, including cloud music. But you have to make sure the files are downloaded before using them, iMovie won't do that for you.
Pinch-to-zoom, swiping and Ken Burns
The touchscreen environment requires a much different method of control, and iMovie for iOS has gestures galore. For example, a swipe down over a selected video clip that's been scrolled to a certain point will split that clip at that point. Likewise pinch-to-zoom has been employed in cropping photos to aid or remove the Ken Burns effect, zoom in to crop video clips and expand or contract selected clips in the main editing timeline.
On the subject of the Ken Burns effect; all images inserted in a movie project will have it automatically applied. While you're able to customize or remove the effect, it's either a good thing or a bad thing that it's applied by default.
Editing tools - video
iMovie for iOS shares many of the basic editing functions with its Mac counterpart. While there's still many that didn't make the jump to iOS, for most of your basic video editing needs iMovie has you covered. One neat touch is the one-touch undo button that is always available and will remove the last completed action at any point. Here's a quick list of some of the other easily accessible and effective tools:
Clip trimming and splitting
Freeze - select a frame in the clip you want to stay frozen
Picture in picture - overlay one video clip on top of another
Zooming in to 'crop' a video clip
Split screen with two video clips
Transitions - various different transitions to choose from
The on-screen help prompts are also pretty clear and always accessible wherever you are. But largely speaking editing is an easy enough and pleasurable experience. Video editing software can become overly complex and daunting, but iMovie for iOS shines in the simplicity of its controls and interface.
Editing tools - audio
If you want to, some basic audio editing tools are also available. Right next to the undo button is a one-touch waveform button that will display the audio wave beneath the video clips. Audio editing tools are less involved than video, but you are able to adjust levels, detach and even delete audio clips from the video, fade and change the speed.
Besides editing what you've recorded with your camera, iMovie also allows you to record your own voice overs by tapping the microphone icon in the bottom right. Once recorded you get the option to review, retake or accept. So nothing's final until it's final.
The important thing about editing audio, as with video, is the relative simplicity with which it can be achieved. Nothing is tucked away in menus, everything is accessible with a couple of taps. And better still, everything can be undone even easier.
Exporting
As with the desktop version of iMovie, you're presented with a decent selection of sharing options once you're done editing. The two perhaps most important are YouTube and Vimeo, and by just logging in to your accounts iMovie will let you title, tag and upload your videos directly.
In addition you can also send to other iOS devices with AirDrop, CNN iReport, Messages, Mail, the new iMovie Theater, iTunes, Facebook or just export and save the video to your iPhone or iPad.
Exporting is surprisingly quick considering the relative hardware differences between the iPad and a Mac. The hands on video for this review was shot on an iPhone 5s and edited and subsequently exported on an iPad Air and not once was anything frustrating or slow.
The good
Simple yet visually attractive design
Undo button makes it easy to remove mistakes
Gesture control is intuitive
On-screen help is extremely useful for beginners
Plenty of audio and video tools to get creative
Exporting is surprisingly quick
Free with the purchase of a new iOS device
The bad
Picture-in-picture seems limited to videos, no overlaying images such as watermarks
No in-app importing from of videos from Mac or iPhone
No ability to edit exposure or colors of video clips
The bottom line
iMovie for iOS has always been a good product, and none of that has changed. It's a solid video editor, with more than enough features for casual mobile video editors to create some great looking movies. It's not got all the bells and whistles that more serious projects may require, but it's still very competent, easy to use, and best of all, for a lot of people it's now completely free. It's a good product for the asking price, it's a no brainer for free.
Get more iMore in your inbox!
Our news, reviews, opinions, and easy to follow guides can turn any iPhone owner into an Apple aficionado