iOS 4 device compatibility - can your iPhone and iPod touch be upgraded?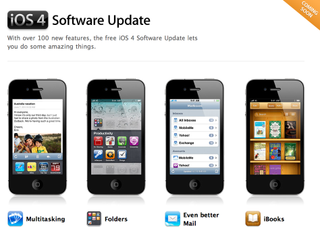 During yesterday's WWDC 2010 keynote, Steve Jobs announced that iOS 4 will be a FREE update for all devices, and the iPhone and iPod touch version will be released on June 21 (iPad version is still slated for fall). The main features include multitasking, folders, spellcheck, unified inbox with threaded messages, iBooks, Bluetooth keyboard support, and custom wallpaper. (Be sure to check out our iOS 4 preview for more details!)
iOS 4 is available for the iPhone 3G, iPhone 3GS, iPhone 4, and the 2nd and 3rd-generation iPod touch. On the other hand, the original iPhone 2G and 1st-generation iPod touch will not be able to upgrade to iOS 4, and as with every big software release, some devices will not get all the new features.
Multitasking, custom wallpaper, and Bluetooth keyboard support are only available for iPhone 4, iPhone 3GS, and the 3rd-generation iPod touch.
In the past, iPod touch users had to purchase big software releases for $9.99. Not this year. iOS 4 is a FREE upgrade for iPod touch. This is huge news for our iPod touch wielding users.
If you use an iPhone 3G or 2nd-generation iPod touch, do any of these missing features entice you to upgrade? If so, do you plan to go big and upgrade to iPhone 4; or do you upgrade to the iPhone 3GS at the new amazingly low price of $99? iPod touch users, are you thrilled to be able to upgrade for free, or do you believe it should've been free all along?
Let us know in the comments below!
[Apple iOS 4 page (opens in new tab)]
Former app and photography editor at iMore, Leanna has since moved on to other endeavors. Mother, wife, mathamagician, even though she no longer writes for iMore you can still follow her on Twitter @llofte.
I'll upgrade my 3G but plan to buy iPhone 4 later this year. No need to choose a contract, since I'm prepaid and the iPhone is being sold factory unlocked here in Italy.

I thought iPhone 3g would support folders and home screen background?

It does support folders. Not wallpaper though :( See the small print on Apple's website
http://www.apple.com/ipodtouch/ios4-software-update.html

I am currently using a first gen iPod touch and am not to pleased about not getting the update, maybe jailbreaking will solve it.

iPhone 4 for me. my 3GS goes to my sister to replace the 3G she got from me a year ago. 3G goes to my mom, to replace her POS flip phone.
just one more year, and I will have iterated my whole family through iPhones :)
and the upgrade being free for my iPod touch is sweet, but I'd have gladly paid the $10 again for the update.

I'm gonna be rockin my jailbroken 3G till 4.0 is jailbroken, all the features just slightly slower. Problem is I can't afford a new phone every year like others can.

is it only me or is it ridiculous that the main A+ upgrade features consists of ability to use wallpapers, folders, and multitask? where is the new notification system? or redesigned UI?

Does anyone know if iOS4 will enable 802.11n on iPod Touch 3rd gen?

Awesome that they are releasing IOS 4 for ipod touch for free. but it is crappy that the 3G iphone will not support background wall papers. i would be really upset if i still had my 3G but like it matters i am preordering my iphone 4 next tuesday.

How about the iPad? I haven't seen that mentioned anywhere.

Why the feck wouldn't the 3G get customizable wallpaper? Not a huge deal for me, but wtf. The hardware can't handle it or something? That's dumb. I'll be hanging on to my 3G until next summer when a) Rogers lets me upgrade hardware, and b) iPhone 4S comes out :)

iPhone 4 all the way! I regretted not waiting to get the 3GS but it seems that 4 is the business. Can't wait! =]

I have a hand-me-down 1st gen iPhone. My EDGE plan is on until March, but they are only charging me $6 per month in 2011 to go ahead and upgrade. $18 ETF for 3G coverage on the iPhone 4 is worth it to me!

Inizialmente tutti osannavano The Conduit perch gli atroui mostravano di avere l'intenzione di spremere fino in fondo le potenzialit grafiche della console : per la maggior parte degli utenti questo bastava a giustificarne l'acquisto, il gameplay, la trama e l'originalit non sono discussi nemmeno lontanamente in alcuno dei commenti qui elencati, il che equivale a dire "Purch non sfiguri graficamente, lo compro".Poi nel corso dei mesi, grazie ai vari trailer si iniziato a delineare un magior spessore della struttura narrativa, nonch del gameplay, il che un bene ma non comunque fondamentale: "The Conduit" sar un immenso successo commerciale su scala planetaria a prescindere in quanto non esiste un possibile rivale a contendersi i soldi dell'utenza (Metroid Prime 3 ha gi un anno e mezzo sul groppone e gli appassionati lo hanno gi finito in tutte le salse), inoltre il 2009 si sta rivelando avaro di sorprese Insomma, faccio il tifo per High Voltage nella speranza che non deluda le nostre aspettative ma, siamo sinceri, in un contesto normale in cui i giochi di qualit non si facciano desiderare, probabilmente non lo avremmo desiderato a tal punto

This link has a pic which shows that iPhone 3G has got custom wallpaper!!
http://www.apple.com/iphone/softwareupdate/
So it's just 3G misses on Multitasking and Bluetooth support!! Do anyone of you noticed 3G missing any other feature?

I can't find Accessebility in the general settings. I don't know how when my friend's iPhone has the same update and has Accessebility.. But I don't... Help? :(

erps, never mind. Seems that it's "late summer/early fall" - my bad!

iOS, cisco is a nice company, multitasking? lol

My 3GS is free. But I'm gonna bug a iPhone 4 black 16gb on pay as go in the uk in July!

The iPhone is too fragmented. You have the 4 with full iOS 4, the 3GS and 3G not getting all of the features of iOS 4 and then the 2 and 2G won't get it at all. Then you have the 4 with twice the screen resolution as the others and the iPad with a totally different sized screen. Then the iPad doesn't have iOS 4 yet. Its just too many platforms for a developer to target and to confusing to consumers.

I have a 3G and the only thing I want is multitasking. As soon as I can afford it, I'll probably just get the 3GS for 99 bucks. None of the iPhone 4 excites me. Of course if some one gave me one, I'd gladly take it, but not worth 200 to me.
JUST GIVE ME MULTITASKING!

I will definately upgrade, i really like the video chat feature!...is the price listed on apple.com 299.99 as the regular price? or is that only if you subcribe to a plan?

Did they make the iPhone 4 thinner, as opposed to keeping the same size with even more battery, so that everyone would be forced to buy new cases and much more money would be made?

Complain, complain, complain. I challenge u do do it better. Why cant we b happy with what we do have?

3G better get wallpaper. False advertisement if not, lol

Anyone know if iPhone 3G will have local notifications?

I now need Apple to release a Touch with a Gyroscope and GPS and then I won't need the new iPhone!

il mio "spettacolare" inteso come "qualit ritstpeo alla media", non so se mi spiego e poi certo ceh ho visto grafiche spettacolari, posseggo anche una 360 e con GOW e Bioshock so benissimo di che parli. MA spettacolare pu essere una FOTO IN BIANCO E NERO, ritstpeo ad un pi moderna FOTO A COLORI DELLO STESSO SOGGETTO, che non ha lo stesso impatto visivo ritstpeo alla prima. Io stesso nella vita da FOTOGRAFO amatoriale, mi trovo spesso a dover applicare filtri B/N o seppia ai miei scatti, per renderli pi appetibili.Ergo per avere una grafica aspettacolare e suggestiva non detto che debba avere 1600 px, ma pu averne anceh solo 640 px, l'importante il come

@Blaque it is actually the least fragmented platform when you consider iphone gen 1 can still use almost all apps. Sure newer hardware does more that is a given.
@Shirley Whitecotton there was huge pressure for apple to change form factor and they did with staying true to the roots of the iphone lets keep in mind they still all sport 30 pin connectors but of course you would have to get a different case but apple doesn't benefit from that case makers do.
@ other complaints for older devices just jail break you will get some of the features but it will be noticeable slower and less battery life i have a 3gs and performance aint bad but battery life is noticeably lower. i think Apple has struck a nice balance here and other then that the only downer i have to agree with @islandboi we need a new notification system boxcar is great but with mail and text messaging i would like to see a more elegant solution, which i am sure they are working on.

I'm so upset that my 2g iPod touch that I just got back in September will not have any of the cool features that I was looking forward too... Looks like jailbreaking is going to be my next upgrade after I try ios 4 to confirm none of the features I want are on it.... It looks just like the 3g iPod why do they clasify it differantly!!!! Gay

Why can't the iPod Touch 2G use custom wallpaper or bluetooth keyboard? I understand multitasking but it seems like there's no reason for not having wallpaper support, and we have a bluetooth chip too you know. So, will the 4th generation iPod Touch get the new form factor?? Hopefully the 32GB iTouch gets cheaper, I skipped the 3rd.

Is nobody else as disappointed as I am that there is still no homescreen or a screen that aggregates all the notifications we get? I really hope that it's a secret feature that Apple decided not to tell everyone until the day of...

This new iPhone has made up my mind for me. I have decided to make the switch from Verizon to AT&T. The dropped calls won't be a big deal because I mostly text and I don't get good service in my house with Verizon anyway. I also have a iPod touch and I am glad the update will be free.

Darn! I just un-jailbroke my 2nd gen iPod touch! Hopefully a hack install allows all features for the 2nd gen comes soon!

I have a 3G and i was waiting for this. I'm not happy with the iOS4. It's missing stuff I want sooo. Android here I come. :(

you cant put custom wallpapers on the homescreen for 3g? that blows. Maybe ill have to upgrade :(

It seems like not until the iPhone 4 is fully optimized (jailbroken and becoming the super iPhone it can be) that I will get i., for now my jb 3gs is more likely to have more rich features and the extensive customizarion that I desire. Let tweakers and hackers really get a hold of this magnificent hardware. In time, they can and will make the changes that we want on the UI. Let the games begin!

The iPhone is so personal to me, I just can't see how some people still have a first gen or 3g iPhone and won't consider upgrading.
Especially considering your battery life must be half of what it was when you purchased the phone 2-3 years ago. For $199 you get the latest and greatest and a 1 yr mfg warranty.
Stop being cheap people, if you're posting on tipb, you probably love your iphone as much as we all do.. Treat yourself already!!

Look's like I will be picking up the new iPhone 4 as soon as my free Internet has finished September on my 3g.
I will skip the ipad this year get one next year.
What I have found with apple it's best to skip a year if you can hold out they only do big update's every two year's so I will pick up a new MacBook pro and ipad next year and get the new iPhone 4 this year but skip it next year

Is there still a black background option for normal people who don't want an ugly interface?

If you guys go to the iphone link.. instead of the ipod link.. it doesn't say anything about no wallpapers for the 3g.. I'm guessing that was just for the 3g ipod..
http://www.apple.com/iphone/softwareupdate/

custom wallpaper not available on the 3g is ridiculous. Its not like the phone cant handle that. Even multi tasking you can do on the 3g with JB...oh well, after seeing iPhone 4 I might actually make the switch

2gen touch here. Multi task I really do not need. Wallpaper would have been nice, but mostly for fun. Bluetooth keyboard I really wanted, but will not go for a new unit just for that. Folders I really need. At least I will get that, and a free upgrade.

Everybody here seriously need to get a life. This new iPhone and the update are A+ and keeping up with the competition. You guys expect wayyyy too much from Apple. I remember last year, everybody was upset that there was no 5+ megapixel camera and HD video recording, Flash, Front-Facing camera, etc etc. Apple heard the complaints, and delievered the biggest leap in iPhone history. And yet, people here still complain about the big new update Apple announced yesterday? Wow, seriously. Just suck it up and take it or leave it. Go with Android if you'd like, I'm sure Apple wouldn't care anymore of your thoughts after their achivement they've finally got through with this update over the past years that they've been trying. Just be glad of what they now have to offer.

Hey I have a question about iOS 4... Will we be able to put folders inside of other folders? Being able to store only 12 apps per folder kind of
sucks in my opinion. Anyone else feel the same?

@dr strangelove: No, although Apple did mention that you can now fit 2,000 apps in the iPhone now with the new folders feature. That's if all the applications were in a folder. A.k.a - You have nothing but folders on the home screen.

Oh yea, reading the small print, it said multi tasking will only work for apps developed for iOS4. So not all apps will work unless updated to iOS4? It is also sad my crappy palm T2 can do wallpaper, and keyboard.

Apples web site says over a hundred improvements on the iOS4 yet they only list twelve ?? WTF. What happened to the other 88 ?? and what are they ??

@Edie thanks. That sucks. 12 apps is just not enough for me. I guess I will be rejailbreaking after my purchase to get categories!

@Adamant: Apple only highlighted the ones that would probably attract most people. Like multi-tasking, the new acellerometer, unified mail box in e-mails, etc. The other hundred features are hidden in the OS that people will soon notice when the iPhone is released to the public. They did mention a few in April like, Keyboard/bluetooth support like iPad, new search option in notes (and I believe in SMS also.) And much more. Don't worry, you'll see a few changes after June 24th. And as for Apple's website, they only list the features that most noticeable in the iPhone. Like the Digital Compass, Voice Memos, Accessability, and other apps/features they've added.

Yeah SOME of us aren't from the US. I'm from Japan and upgrading to a 4 here will cost us about $600 with NO ALTERNATIVES

jgllo says:
June 8, 2010 at 2:47 pm
Does anyone know if iOS4 will enable 802.11n on iPod Touch 3rd gen?
It will not. If the hardware isn't there, and in this case it isn't, then no software will help you.

How hard is it to let the 2g ipod touch have custom backgrounds... It can already do it if it's jailbroken, which I don't support. If only I waited 2 weeks when I bought my ipod touch, I woudl have had the 3g one, and twice as much gig...

iPhone 4, baby, all the way!

Justin
I'd say time to buy a new ipod, you can't just expect everything for free Apple is a company run to make a profit not your best buddy.....

Let me it! I want it now! Apple Inc are so groundbreaking I know it will be amazing.

Ok, I'll accept excluding multitasking, but why they don't add custom wallpapers for iPhone 3G?

Because its got a crappy processor, iOS 4 is really for the iphone 3 iphone 3gs ipod touch 4g and 3g all mc modals

i got a new itouch 2 weeks ago thinking it was a 3rd gen,
1) i should be able to get a wallpaper im pissed off now!
2)apple should do some better advertising with there generations, it clearly says, (current generation)

This is a disappointing announcement. I purchased my iPod touch 8gb brand new last week and I jailbroke it basically just to have the ios 4 features. I really don't want to keep it jailbroken, but I fear it's the only way to have my folders and wallpaper.
What a bummer, I would be willing to pay the 9.99$ just to get all of the features.

So if you already got an Ipod Touch you just download the software on or have to get a new one I'm confused???

I for one, am a little dissapointed with this update. Most of it's good, but i see only one flaw. The custom backgrounds. I understand the multitasking not being availabe for 3g iPhone and 2g touch, but the wall papers? I own an iPod touch 2g, 8gb, and love it. The free update is awesome, but the 2nd gen is notthar far behind in technology, seeing as I could jailbreak my iPod and do that anyway. This is just another way apple is trying to convince their customers to upgrade. But still, it looks pretty interesting. I mean it's not like were losing everything.

if you jailbreak your ipod touch 2nd gen with iOS 4.0, you can get both the multitasking and the wallpaper by editing a plist.

Regarding Michael's comment from June 8th: Ars Technica had an article that shows that the iPod 3g DOES have the hardware for 802.11n. See:http://arstechnica.com/apple/news/2009/09/ipod-touch-teardown-reveals-80...
So lack of hardware does not provide reason to think iOS4 doesn't bring 802.11n to iPod 3g. Does anyone have any further comments on this?

"Regarding Michael's comment from June 8th: Ars Technica had an article that shows that the iPod 3g DOES have the hardware for 802.11n. See: http://arstechnica.com/apple/news/2009/09/ipod-touch-teardown-reveals-80... So lack of hardware does not provide reason to think iOS4 doesn't bring 802.11n to iPod 3g. Does anyone have any further comments on this?"
-----> No, iOS 4 doesn't enable it.
I tried to join my AirPort Express after putting it into "N-Only" mode; the network is now visible vs. not showing up at all in "N-Only", like before, however beyond being able to view the network now, Apple did not enable the 802.11n capability on the 3rd Generation iPod Touch :/ ----it just says "Unable to join the network _______" .....as usual.

I have a Iphone 3G and upgraded to IOS 4.0 this weekend. Not to bad except now i can not send photos as a SMS. Lame

I`m gonna upgrad to generation 4. Who knows what kind of software Apple will release in the next two years and i dont expect the 3GS or the 3rd Gen iTouch to support all these fetures in iOS 5/6. I think, the 4G with 512 MB and the A4 will ´be enough powerful to support it.

Problem with ios4 and 3G iPhones. If you don't have a 3GS or an i4 most apps will
Crash and fail. There is a major issue with compatibility and unfortunately apple seems to not want to deal with it. I don't have 600+dollars to grab up an i4, so now I just have a pretty useless iPhone.

For India it really is said like rainbow that will colors the infinite heavens, India paints the globe with her magical hues.

Skyfire stinks and is certainly not worth the money they are charging for it. My advice is do not w aste your time or money like I did! I give it a 1 star rating!These will drain your battery life just look at the pre it dies in 4 hours at the longest a phone does not need to mutitask to the extent of a computer, not yetI already updated and it is great. Look if I don"t spend 2 bucks on that it would be something else. Pack a lunch for one day and then get the app. Stop crying.

Well if they were upgradeable that sure would help us out... but apple probably not. good points you mentioned also.

O.O Sick!! Things are NOT meant to go in that hole!!!!! lol

I have a 2010 Escape with Sync (non touch variety). I just bought an iPhone 4s through Sprint. I cannot get the system to recognize the phone. Help!

Hi there, You have performed a fantastic job. I will definitely digg it and personally suggest to my friends. I'm confident they'll be benefited from this site.

Hey there, You've done a great job. I'll certainly digg it and individually suggest to my friends. I am sure they will be benefited from this site.

I like the helpful information you provide in your articles. I will bookmark your blog and check again here regularly. One more thing, welcome visit my live cameras website:inurl /view/index.shtml

Yo!. Definitely loved your post. It was especially educational and useful. I hope you do not mind me blogging regarding this article on my personal website. Will definitely link back to you. My blog is:index of games

I don't even know the way I ended up here, but I assumed this post used to be good. I do not recognise who you might be but defin