Game Center will not support iPhone 3G and 2nd generation iPod touch?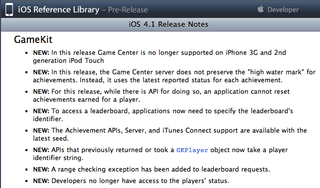 Earlier today, Apple released iOS 4.1 beta 3 for developers. Included in this release is the removal of Game Center support for the iPhone 3G and 2nd generation iPod touch.
Game Center is one of the big features that we have been waiting for since the announcement of iOS 4 and now it appears that Apple is stripping it from older generation iOS devices. Why? Is Game Center so complicated that it needs the improved hardware of the newer devices? Keep in mind, this is only a beta release, so it is possible for Game Center support to return in the final build.
However, if Game Center support does not return to iPhone 3G and the 2nd generation iPod touch and you own one of these devices, does it entice you to upgrade?
[9To5Mac]
Former app and photography editor at iMore, Leanna has since moved on to other endeavors. Mother, wife, mathamagician, even though she no longer writes for iMore you can still follow her on Twitter @llofte.
I never saw this app on my iPod touch 2G on iOS4.0... Was it supposed to show up?

@luis, nope it was in the IOS4 GM build and betas only, official final builds have never had it as its an unfinished feature

Nice! I tought that upgrades are for adding features not to taking them out - Apple always special... ;-)
Hopefully they will not dissable phone call feature on iPhone 3G too...

This is the last straw. THIS is fragmentation. I bought the 3rd generation iPod Touch, so I should not be unable to multitask, use game center, or put pictures in the background of my home screen (how much power does that take?!?), because I bought the 8 GB model. I'm seriously considering upgrading to the 4th gen now. I'm seriously considering it.

So your anger at Apple: "This is the last straw. THIS is fragmentation", will make you go out and buy another Apple device?

This is rather disappointing. If they do remove the iPod Touch 2G.... I will just wait for jailbreak. :)

@Luke... Dude. It says 2nd gen iPod....

@Luke
Please don't bring that fragmentation bs over here. Not like Android that has taken phones/devices off of updates and you've only had the phone for 4-6 months. The 3G has seen two years of updates, and they pushed out 3 w/iOS 4 (which I think was a mistake). In this case, I see why Apple dropped some devices. I would too, because the hardware can't handle it properly, and coming from a 3G to an iPhone 4, I think that I can speak for myself and say that the iOS killed my 3G and shouldn't have been allowed for the 3G in the first place. If you look at the 3G and the original iPhone, some exact hardware except the radio's differ.

why would an app like "Game Center" be too resource intensive to run earlier models?
some applications i can see being too resource intensive, but "Game Center"? essentially a social networking app? they weren't able to optimize that for older devices at all?
curious to hear apple's justification for this.

I doubt it is the game center itself but rather some of the games that will be associated with it that sloth out the older hardware. Just my opinion but all generations of hardware are not equal

I am just waiting for the iPod Touch G4 in september 8 because apple's free ipod with mac deal ends then. I love to say what Apple has under their sleeves for this itouch. So ya i will upgrade but not to ipod touch g3

I have an iPhone 4 and want game center already!

Good news is ios 4.1 will include fix for bluetooth AVRCP which was limited despite thousands of complaints received Apple.
They only had play/pause for Bluetooth audio but on 4.1 users will be able to rewind and forward tracks just like any other bluetooth phones!
There is still a big shortage in wireless connrctivity as iphone still dont support file transfer to other bluetooth devices except iphone. Also they don't have DLNA ( Digital living network alliance ) which is bit shame as most TV's, notebooks, PS3, Bluray players integrated and media can be exchanged between them without wires. I am sure Apple will realise one day when someone shows this cool features to their CEO and says your phones cant do that!! LOL
It took Apple months to get AVRCP right and i am rather pleased as i can now use my Nokia BH905 without having to get the phone out of my pocket everytime. Lets hope they do it well and add useful features than just wall paper or multitasking which is nothing like i expected. The voice thing arrrgggghhh useless come on keep up Apple!

The bluetooth thing is a bit of a pain, but I don't really see why it's such a big deal when there's services like filesdirect or dropbox out there...

This is the first apple device I've owned, a 2G Ipod Touch. I'm used to using a device until I feel like upgrading, not being coerced into it. I downloaded Ios4 and now it's nearly unusable. Well, it was nice for about 6 months.
If this is the way Apple does business, guess I'll go buy something from another company that doesn't make my purchase junk. Thanks Apple, I won't make the mistake of buying from you again.

so i upgraded to 4.1 jb with redsnow b5 and when i opened my activated my iphone the wifi camera mic and phone function are completely missing. all i can do is send texts. anyone help????

add me at Game Center: jojo15
Get the best of iMore in in your inbox, every day!
Thank you for signing up to iMore. You will receive a verification email shortly.
There was a problem. Please refresh the page and try again.