iOS 6 bugs: What problems are you having? Wi-Fi? Passbook? Apps? Media?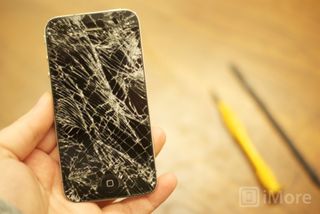 So iOS 6 is here -- and you really have to read our epic iOS 6 review! -- and that means, just like any brand new release, bugs are here with it. Some of you can't install, some can't get to the App Store, some can't get Passbook working, some are having Wi-Fi issues, some aren't able to sync media, music, photos, tones, or more, and the list goes on and on.
We're trouble shooting over in the iOS 6 Forum so if you want to work on it with us, jump on in, tell us your problem, tell us what you've tried, and tell us what's worked and what hasn't so far.
What Apple did not squash, iMore shall crowd source out! So get with the complaining, and the helping!
Senior Editor at iMore and a practicing therapist specializing in stress and anxiety. She speaks everywhere from conferences to corporations, co-host of Vector and Isometric podcasts, follow her on Twitter @Georgia_Dow and check out her series at anxiety-videos.com.
Wi-fi is not working on my iPhone 4s. Worked fine with iOS 5. Now it seems to connect for a second, then loads a log in page at www.apple.com and says it cannot be found. Wi-fi works great on my laptop, as well as my "new" iPad, which is running iOS 6.

I have exactly the same issue, with iPhone 4S. Now the iPad 3 popped the window up however it just showed the message "Success" and now access my network normally. My iPhone 4 (still on iOS 5) continues to access the network normally as well. Seems iPhone 4S is the only suffering at this time. That gave me an idea, since my iPad is not the 3G version, it could never open "apple" website without the WiFi working... so I went on Settings, Disabled WiFi, then Cellular, and disabled Cellular data. Then I enabled WiFi again and it connected without issues. Re-enabled cellular data and all is working well right now.

I had the exact same issue on my 4S as well. Did the disabling/re-enabling of Wifi and Cellular and it worked and is now working just fine. Bit of a hassle, but it is what it is.

I had this issue as well!! I got it working by resetting the router...

I had the same issue. I fixed it by plugging my phone to iTunes . Now my phone wi-fi is working.

I had the same issue and I just hit the "wps" button on my router and haven't had any issues!

WiFi worked fine on 4S but had the same issue on iPad 2...plugging into iTunes did not resolve it..about an hour later, it connected and now is working fine....

Had same issue and went to reset and push reset network settings. That fixed it. Also had issue when pushed passbook it would give me a message that read it could not connect to iTunes and this was before the wifi issue and I had to reset phone and restore from my backup. That fixed that issue.

I had to reset my router.

I had the same problem with Wi-Fi and solved it by going to settings, Wi-Fi, click on Wi-F->,click on your network (blue>) icon, near the bottom click on Renew Lease.

Happen to me too just remove the wifi connection name and then type it in again and it should work.

Seems to be an issue for many: https://discussions.apple.com/message/19621292#19621292

Found a fix, thanks to the Apple discussion board. Reset the device by holding down power and home button at the same time until screen goes blank. Then restart it. Now it connects just fine.

i've got your problem to mmihalek, but does re-setting it mean anything is being deleted?

When you hold down the Power and Home buttons down together until the phone restarts (Apple logo appears) is called a HARD RESET, no it does not delete any of your settings, apps, etc.

No, it does not lose any of your data.

Trying to access Passbook, keep getting "Cannot access iTunes store" error.

I had the same issue. Go into settings- General- Date and Time. Change "Set Automatically" off. Then change the date to November. Go back into Passbook and you should be able to access the store. Once you have you can go back into settings and change it back to automatically set date and time. Hope this helps. It worked for me

Strange fix... but it worked for me! Thank you!

you are good! thanks!. one issue down, 80 left to go.

I don't know why that works but it did thanks now ios6 is fully operational..

Thx, i did what you said and it worked. ;-)))

Did not work for me. Any other ideas? My battery life is also terrible. Went from 99% to now 75% within a couple of hours. Most of which I was doing nothing.

Thanks I don't know why but it works strange an useful, how did you figure it out

Having same issue driving me nuts.. Trying to understand the problem. Everything is on.. But it's the only problem I have so I guess I should be happy

update to iOS 6 in less then an hour... later in the night though is when it started acting buggy... it doesnt want to connect to wifi and when it does it pops up a log in screen that directs me to apple.com where it then says "page not found" iMessaging goes in and out seems like every other ends up as a text. finally when i download something and trying to put it into a certain folder it acts all buggy and has a mind of its own moving to different screens moving apps around etc and then crashes and reboots. (dont seem to have an issue as long as i dont move any apps around!! All together the negatives out weight the positives with this update!! Apple needs to send out a fix ASAP!

My Wunderlist app was affected. The edit and share buttons are now large and the print in the add a new task window is fuzzy.

After upgrading to iOS6, my tethering stopped working. Contacted my carrier and had them re-provision it, no luck.

The WiFi issue should be fixed now... try turning Airplane mode on for 30 seconds or so, then back off and it should reconnect to wifi.

Wi-Fi fix (for me after trying a million other things). Go to Settings > Wi-Fi > choose a SSID (blue arrow button). Scroll to bottom - HTTP Proxy. Mine were set to Off. Change to Auto. For each. I can now connect to my wireless networks at home (I have 3).

I have tried everything on my 4s to get wifi with no luck. I go to settings and wifi is off. I tap the arrow to the right of the word off and then try to tap the button off FOR wifi to on and nothing. I also try to open apps I have always used and they blink on for a second then right back to my home screen we go. HELP!!!!!!!!

I have exactly the same problem!!!

when ever i click the app store button in passbook it say's cannot connect to itunes store.

I had the same issue. Go into settings- General- Date and Time. Change "Set Automatically" off. Then change the date to November. Go back into Passbook and you should be able to access the store. Once you have you can go back into settings and change it back to automatically set date and time. Hope this helps. It worked for me

I spoke to Apple, they said Passbook only works with apps that are compatible with it, you figure most of these developers (American Airlines, Starbucks etc) would have made their apps compatible with Passbook by now.

i get the passbook cant get to itunes error.

I had the same issue. Go into settings- General- Date and Time. Change "Set Automatically" off. Then change the date to November. Go back into Passbook and you should be able to access the store. Once you have you can go back into settings and change it back to automatically set date and time. Hope this helps. It worked for me

also fyi os 10.8.2 is out. says right in the log about all the facebook integration but its not showing in notifcations etc after install? did get imessage working over the cell # now though. same for face time

I was having problems at first with my 2 iPads and 3 of my iPhones. Only my iPhone 4S was working. But out of no where, all my devices are connected to my wifi network at home. Hopefully that means Apple fixed it behind the scenes somewhere.

Don't know if this qualifies as a "problem" but is there anyway to avoid the "fisheye" distortion in the new panorama picture feature?

Apple changed the default search engine on my phone to Yahoo! I knew they were ditching Google but didn't think they'd change the search engine for someone that already HAS an iPhone and has it setup. I immediately changed it back to Google (personal preference). Much to my surprise, the next time I used Siri to "search" it again launched a Yahoo search in Safari, despite Google being my default search engine. The workaround to this it to tell Siri to "google" instead of "search". [shrug] I don't like it but it's not the end of the world.

It has been flawless for me so far.

Called Apple and asked them about adding an Apple Gift card into Passbook since I looked in the Apple Store App, etc and there was not a way to add it into Passbook. Apple support rep explained that Passbook was not designed for Gift Cards, but only for Loyalty Cards, coupons etc... Then why does their website say this: No more hunting through your wallet for gift cards, coupons, passes, or tickets. Passbook keeps everything organized — and handy. Uhhhh.... Duh!

My iPhone 4 keeps crashing when I move icons around. Someone else on the forums has the same problem.

For the wifi just turn the phone off, then back on. Worked for me on both my iPhone and iPad

The only thing that is not working is passbook and i have a iphone 4s.

Am I the only one whose brightness gets turned up when I launch Passbook? The brightness returns to its original intensity once I leave the app.

My auto- brightness no longer functions. Really annoying at night being blinded by the display. Didn't notice any connection to passbook, though.

The passbook brightness issue is a feature. It does this so your screen can be scanned easily by the readers.

I got the passbook problem fixed but how do you download the apps? Ive tried United, and Target and I can not figure out how to get them into the passbook! This is driving me crazy! Thanks!

@ Georgia Looks like you finally got your wish. The App Store doesn't close after purchasing an app.

I'm not experiencing any problems YET, but I did notice that my battery dropped quickly... but it may be where I was on Maps, etc.

The song info is no longer displaying when I connect via Bluetooth to my car's stereo and I also can't change the track with the buttons on my car anymore. Gonna do some troubleshooting with the stereo manufacturer.

I am having the same problems with my car it no linger displays info I cant change track and I have to press play on my phone everytime I get in the car as it no longer automatically plays the music everything was fine until downloading ios6

Wifi bug explained from Twitter: Apparently ios6 checks this URL to see if a network requires login
https://www.apple.com/library/test/success.html#mn_p this URL was a 404 - causing problems.

Passbook is not working and every time I go into the App Store or iTunes Store it says cannot connect to iTunes Store

Bluetooth problems! Can pair with my car, but continues to disconnect and have to pair AGAIN. Not sure if its an issue with my car or phone, but it worked perfectly prior to updating to iOS 6!!!

go into wifi settings for your access point
click on forget this connection do a reset where you hold the power and home buttons at the same time let it sit power on go to settings, wifi choose your wifi and click on put in you pass word and you should be good to go

The only "bug" if you will that I've been experiencing is that iTunes and the App Store are not "new" anymore. When I first loaded iOS on my phone are 1pm EST this afternoon iTunes was new and redesigned, same with the App Store and now they are bordered in the new black but the same old looking stores that we've seen in previous versions of iOS. It's kind of frustrating because I was enjoying the new look and feel of the stores and now I can't get them back....

Figures that right after I post this it works again...

Everything working on my side.. I did the hard reset on my iPad and iPhone, just in case though..

Ipad 3: Lost all Safari bookmarks and cannot save new ones. There were there once done and then gone after opening Safari the 3rd time after update. Sync with cloud does not work. Also lost all playlists. Terrible mess as I need now to recreate bookmarks if ever possible but fortunately can sync with iTunes.
iPhone 4 and 4S: awfully slow on upgrading to iOS 6. About 90 minutes on wifi vs 20 with iPad. Ugh!

New features seem to be working great but my new iPad has been unresponsive. I've had to re type keys a second time on several occasions since the OTA update. I've never had this problem. I don't know if the new iOS could effect that or not. It's a new unit, I just got it last week. Anyone else having this problem?

So I downloaded ios6 and when I text certain people it re routes my text to someone random and have no clue who it is. I also lost my YouTube app

Apple got rid of google maps and the YouTube app. But you can download a standalone YouTube app in the apple store!

Auto-Brightness not working. Laying in bed, instead of auto-dimming in the dark, it's still pumping out photons like it's high noon. Anyone else noticing this (besides my wife complaining next to me?). Hard reset, toggling brightness and turning on/off auto brightness in settings have no effect.

same for my ipad 3. I suspect that is why I am also seeing the battery drain faster than normal.

Twitter is ablaze with people having this same issue.

yeah i have noticed that same issue also and i just had to turn it down. so thats a big issue for me also.

My wifi didn't work, works now though!
Deleting twitter account doesn't work and there are some more annoying bugs!

Early in the day, several apps, especially the iMore app, we're crashing randomly and the iPhone seemed really slow. Realized that after OTA update my phone was syncing to iCloud. Most problems resolved now, except passbook does nothing but pop up the "can not connect to iTunes Store" message when I click on ANYTHING in there. Overall an underwhelming update. Now that the cloud sync is done, at least the phone isn't crawling anymore.

iPhone set up smooth. Passbook problems, but that has been addressed in several post. My problem with it, will it go the way of ping, if developers do not work with it. Right now it seems like a app you may not use much. iPad set up a little problem. Would not recognize WiFi, but finally got it set up. Wish google had an iPad YouTube app developed, but can use it in safari. Works great on the iPhone, but still could be better.

I am having multiple issues and no matter what i tried nothing works. any tips would be really helpful, thanks!! :) 1) passbook doesn't work-tried a hard reset and turned and changed the date to November for the time and date and that did not work. 2) keep getting can't connect to itunes store errors when i open the app store and passbook. 3) cant sync using wifi but yet wifi works in my house..(checked firewall settings etc and still can't figure it out) 4) all the sudden my car charger won't charge phone and i get an error about the accessory not being supported.

If I go to App Store and click the genius option at the bottom and then attempt to look at or install an app it crashes, also if I go on contacts and press the Facebook bit, it opens my mobile banking app!

The " +" button that should show up in the photo stream tab used to set up a shared photo stream is not present on my 4S. Anyone else having this issue? I am unable to set up the feature so that I can share photo streams with my fiance. Please help. :)

iPhone 4 text messages are not making any sound about 60% of the time. Volume is up, phone isn't on silent, do not disturb is off, text sound is on chime. What is the problem? Tried resetting the phone and still no remedy.

Lost the ability on iPhone but not iPad to use the silent switch to lock the screen. Very disappointing now that we have do not disturb!!!

My 4S freezes on remind me in hour feature on the phone. My iPad 2 has wi-fi connection problems and the app store puchased section just spins and crashes.

Overall I have not seen many bug myself but I've noticed many others are having a lot of issues... This is probably because I try to stay away from major software updates from any company so I did a fresh install... The cartography has worked fine for me on one trip with the rerouting working fine... I did notice when I was using Passport that the screen brightness went to 100% while in-app but don't know if this is a feature rather than a bug... Also, I noticed the Maps app went very dim and was unresponsive... then it crashed and closed and I had to re-open it... maybe another feature of handling unresponsive apps... idk... Overall I have not had too many issues but that's prly because I havn't had time to really test every thing like I would like. I would recommend that if there are issues PLEASE ALSO POST THEM TO APPLE DIRECTLY @ https://www.apple.com/feedback/iphone.html#mn_p this way Apple at least can quantify the issues to see which major ones need fixin' first...

I am unable to view my video playlist in my iPod after upgrading to ios6. However, I can still view the music playlist. The video playlist title are under the playlist in the iPod but when opened it, it is blank. When I connect the phone to my laptop & click on a particular playlist in the ipod, the videos in the playlist are there. Help!

I just installed iOS 6 on 2 iPad 2's and an iPhone 3Gs. The installs went well with all three. One iPad was updated using WiFi - after the install the WiFi no longer connected to my home network. I did a soft re-boot, then a "hard" re-boot. Still no success. At one point it prompted me again for my password - still nothing, just the spinning wheel. Then after about 45 minutes of fussing around, it just reconnected on its own. The only other issue I have had is on the iPhone, I cannot connect to iTunes through the new Passbook app (yes, I have tried the "change the date" method to no avail). One more comment, while I like the new proprietary maps presented in the Maps app, when you try a "hybrid" or a "satellite" view, the quality is gawwwd awful. Where I used to be able to zoom in on my house and see the cars in the driveway, now I am presented by a pixalated blob of a cloud!

After upgrading my bosses 4s with 6.0, the earpiece volume is very low even at the highest setting, there is no screen protector on the device. The speaker phone is functioning normall. I do not have the same issue on my iphone 4, both are Verizon however I wouldn't think that hould make a difference, however after a few years in IT I'm not going to rule out mundane details.

Small quirk.... But I noticed that you can't "flag" emails that are part of an Exchange account. Or maybe I missed a setting....

I updated my phone last night and now i can't hear anything on my phone. the volume bar is missing,doesn't make the lock noise when i lock it. It pretty much is silent except for when i get a phone call. I've restored multiple times reset it but nothing seems to work. If anyone has a suggestion on how i might fix this problem please help.