iOS App Store now shows a 'Get' button for its free apps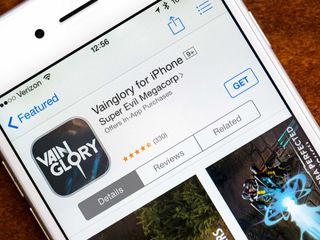 Apple is now displaying a "Get" button for all free apps in its iOS App Store, replacing the "Free" button. Apple made this change quietly so there's no official word on exactly why it has decided to make this cosmetic alteration in the App Store.
The "freemium" business model for apps has been a controversial subject for Apple in the past. In 2013, Apple settled a class action lawsuit that had the company offering compensation for in-app purchases by minors without the permission of their parents. Early in 2014, Apple entered into another agreement with the US Federal Trade Commission over the same issue.
Apple still has a "Free" apps category in the App Store and it also still shows when a free app has in-app purchases. Make sure you check out our own parental guide to the App Store and in-app purchases for more information on this topic. You can also read our recent
Via 9to5Mac
Get the best of iMore in your inbox, every day!
I have been writing professionally about technology and gaming news for 14 years.
Haha was JUST rushing over here to see if iMore noticed too. I HATE it. Don't really see the need for the change. Looks tacky personally, but whatever. Sent from the iMore App

I'm not really a fan either, but I don't have strong feelings either way. I do think it's likely due to the whole free-to-play phenomenon (which I DO have strong feelings about).

I guess my feelings aren't *strong* but I just think it's change for the heck of it. No real grounding for why the change was made. Don't fix it if it ain't broke lol Sent from the iMore App

What would be the point of this? 'FREE' means just that and 'GET' implies available and not necessary free. Why make the (initial perhaps only) confusion? Shaking my head. Sent from the iMore App

Wth, I know it's a minor change but it looks horrible.

Brought to you by the people that caused the caution hot warning to be put on your morning coffee.

Saw this seconds ago and came over to see if you guys have noticed Sent from the iMore App

And the new button means it's now a two step process! When u press "Get", the button changes to "install", whereas before u just had to press the free button once. Smh Sent from the iMore App

No..I'm pretty sure that was with the 'Free' era too because you still had to input your Apple ID password (or use Touch ID). Sent from the iMore App

Now it's a two step process. Press get and then press install. Smh Sent from the iMore App

The ONLY way this makes since is if they are about to allow demos and call them FREE as a way to allow developers a new catagory

Agreed. Sent from the iMore App

Hopefully this is the direction lol

Not a fan. "Free" makes more sense to me, considering that it would instead say the actual price when it's referring to a paid application. "Get" is so fragmented and juvenile lol but that's just preference, I don't mind it much.

If you're using iOS for the first time, though, it makes more sense that "GET" will get you the application, rather than "FREE." Do wish, though, that they would use a word other than "GET." Agree that it sounds juvenile.

"FREE" looks better and makes more sense to me. I don't even understand why they would change it, but it's not going to affect me, so it doesn't matter to me. Sent from the iMore App

I don't really mind it beyond the fact that it changes the size of the box. OPEN, FREE, and $X.99 had the same size box so it looked more uniform when looking at a list of apps. It's always been a two step process to download Free apps (click on FREE, then click on INSTALL), so it hasn't changed any functionality, but it does seem like a bad choice for uniformity.

Good point. Didn't think about that.

I think it looks pretty bad. It would look a lot better as "Get" instead of "GET." I like the change, though. On android, it doesn't say free, it says "install." Obviously when there's a price, it will show the price, but I think it's good for first-time users who are still learning how to use the operating system; makes it a lot more clear what you're actually doing when you hit a button that says "FREE."

seems like a pointless change. this is only going to confuse and mislead people.

These days "Get" means "Screwed with IAPs!"