iOS in the Car becomes CarPlay, high profile demos at Geneva Motor Show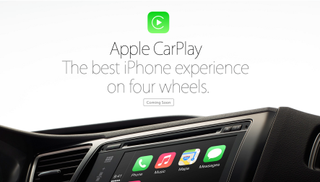 CarPlay is the new name for Apple's iOS in the Car feature, which today gets its formal introduction. Previously rumored to be headed to the forthcoming Geneva Motor Show, Apple in a press release confirmed this and that demos will be carried out by Ferrari, Mercedes-Benz and Volvo. Apple also announced a bunch of other partners for the venture, including BMW, GM, Ford, Hyundai and many others.
CarPlay enables iPhone owners to make calls, access navigation and media content from their cars dashboard, with Siri available for an eyes-free interaction available via a dedicated button on the steering wheel. It also interfaces with the cars own controls to keep distractions to a minimum.
Apple's new CarPlay page on its official website (opens in new tab) shows us a glimpse at just how things will look inside your car. The interface looks familiar, yet simplified. App support will be expanded beyond just Apple's own core apps, with Spotify, Beats Music, iHeartRadio, Podcasts and Stitcher all initially namedropped.
CarPlay will be available to iPhone 5, 5c and 5s owners in a future update – probably iOS 7.1 – and in selected cars shipping in 2014. As a car fanatic, I'm really excited about CarPlay. We've seen a bunch of efforts from the likes of GM and Ford already to deliver the connected car, but so far none have really wowed. Will CarPlay be the answer? Only time will tell. Check out more at the source links below. Who's going out and snagging a new Ferrari then? BMW maybe?
Source: Apple (1) (opens in new tab), (2) (opens in new tab)
Apple Rolls Out CarPlay Giving Drivers a Smarter, Safer & More Fun Way to Use iPhone in the Car
CarPlay Premieres with Leading Auto Manufacturers at the Geneva International Motor Show
GENEVA―March 3, 2014―Apple® today announced that leading auto manufacturers are rolling out CarPlay, the smarter, safer and more fun way to use iPhone® in the car. CarPlay gives iPhone users an incredibly intuitive way to make calls, use Maps, listen to music and access messages with just a word or a touch. Users can easily control CarPlay from the car's native interface or just push-and-hold the voice control button on the steering wheel to activate Siri® without distraction. Vehicles from Ferrari, Mercedes-Benz and Volvo will premiere CarPlay to their drivers this week, while additional auto manufacturers bringing CarPlay to their drivers down the road include BMW Group, Ford, General Motors, Honda, Hyundai Motor Company, Jaguar Land Rover, Kia Motors, Mitsubishi Motors, Nissan Motor Company, PSA Peugeot Citroën, Subaru, Suzuki and Toyota Motor Corp.
"CarPlay has been designed from the ground up to provide drivers with an incredible experience using their iPhone in the car," said Greg Joswiak, Apple's vice president of iPhone and iOS Product Marketing. "iPhone users always want their content at their fingertips and CarPlay lets drivers use their iPhone in the car with minimized distraction. We have an amazing lineup of auto partners rolling out CarPlay, and we're thrilled it will make its debut this week in Geneva."
Apple has led consumer technology integration in the car for more than a decade. CarPlay brings your car and iPhone together for a thoughtful experience that lets drivers focus on driving, while also tapping into everything they want to do with their iPhone.
Once iPhone is connected to a vehicle with CarPlay integration, Siri helps you easily access your contacts, make calls, return missed calls or listen to voicemails. When incoming messages or notifications arrive, Siri provides an eyes-free experience by responding to requests through voice commands, by reading drivers' messages and letting them dictate responses or simply make a call.
CarPlay makes driving directions more intuitive by working with Maps to anticipate destinations based on recent trips via contacts, emails or texts, and provides routing instructions, traffic conditions and ETA. You can also simply ask Siri and receive spoken turn-by-turn directions, along with Maps, which will appear on your car's built-in display.
CarPlay gives drivers access to all of their music, podcasts, audiobooks and iTunes Radio℠ with easy navigation through listening choices from the car's built-in controls or simply by asking Siri to pull up what you'd like to hear. CarPlay also supports select third-party audio apps including Spotify and iHeartRadio, so you can listen to your favorite radio services or sports broadcast apps while driving.
Pricing & Availability
Apple CarPlay is available as an update to iOS 7 and works with Lightning-enabled iPhones, including iPhone 5s, iPhone 5c and iPhone 5. CarPlay will be available in select cars shipping in 2014.
Apple designs Macs, the best personal computers in the world, along with OS X, iLife, iWork and professional software. Apple leads the digital music revolution with its iPods and iTunes online store. Apple has reinvented the mobile phone with its revolutionary iPhone and App Store, and is defining the future of mobile media and computing devices with iPad.
Get the best of iMore in your inbox, every day!
Apple's webpage about CarPlay
https://www.imore.com/e?link=https2F2Fc2F4...

Which is linked at the bottom of the post :)

And you even linked the 'official website' text in this revision.
I like that.

Apple need to roll this out to aftermarket manufacturers as well as brand new models. If you could pick up a high end JVC or Kenwood unit to shove into ANY car this could be HUGE.

Absolutely :) iOS in all of the things!

I agree! I'd love to pick up a Sony, Pioneer, Alpine, etc with CarPlay to install in my car. OEM systems usually suck! Don't make me buy a new car to use a feature... Instead, partner with quality aftermarket system makers so more people can utilize the technology in any car they please, new or old! Sent from the iMore App

I agree. The issue is that this involves more that the head unit. It involves how all the parts in the car work together. I am sure that plays a big part. Sent from the iMore App

While it might be good to switch to a third party system, the problem is that in-car audio systems are usually so tightly integrated with the car these days that changing it isn't practical. There was a time when you could take out the car radio and put in an identically sized third party unit of a higher quality, but those days are over for many cars. The thing that manufacturers must bear in mind is that as it's no longer easy to switch to a different in car entertainment system, the one that's installed absolutely must be truly excellent or otherwise if it's flawed in some way, the user will always resent it and buy another manufacturer's car next time.

iSRS and Alan, I agree with it being difficult on many newer cars these days, but why not buy the car you like with the basic system, not the fully loaded one. Those are often easy to swap out still. It's usually cheaper to go that route too. Also, I was thinking more about older cars. Sent from the iMore App

Yes please. Hopefully this is successful enough that Apple will do it.

Do you think in time we'll see CarPlay MFi car kits for older car models?

Can we jailbreak it to load google maps instead of apples maps???? ;)

It will be awesome to start developing IOS Apps to work with car features. VVVRRROOOMMM!!!

Did they name it CarPlay so that when Google comes out with car stuff and names it Play Car, Apple can then sue?

I'm still kind of shocked that Apple is doing this since they have no direct control over the hardware (and thus the whole experience). It'd be one thing if they were basically sticking an iPad in the dashboard but we all know the hardware in cars is not the greatest (although it's probably better in a Ferrari, MB, or Volvo than it is in my Chevy). Apple has kind of been known for their complete control over hardware and software, ensuring the two work effortlessly together. Putting CarPlay on non-Apple hardware seems kind of like Apple licensing iOS to Nokia to make a phone. Just seems odd to me.

Having taken part of navigation system development for Ferrari, I sadly have to say that you're wrong about the hardware part. It is only marginally better - if at all - than what you get in a standard Chevy. It is actually amazing how low end even the reference config is, and I expect them to try reducing that to the bare minimum in the final production models. How and why they make us put up with such crap in such premium cars is beyond me.

I imagine this is only for iPhone though right? That sucks. With android being the dominant OS for the world I wish this experience was available to them as well, but it seems like a nice experience for iPhone users. I wonder what happens though if you either switch OS's while you own the car or if you don't own an iPhone, if they will over a different car model with just as many bells and whistles minus the car play. Should be interesting. I for one don't like the idea of feeling locked to using my device as long as I have this car especially if I grow tired of it and wish to switch.

I think it's a great idea, but sucks for people who are not able to go out and purchase a new 2014 vehicle. I currently just financed my maxima last year so i still have a handful of years with my car and I would love to be able to take advantage of this. The maxima currently does have the iPod/iPhone integration for music but this would be great to be able to use Siri for calls and never really have to take my phone out from the center console. I'm hoping they do provide owners with older vehicles some sort of option as we'll.

Ughh that name. Not a fan. The tech on the other hand very exciting.

Interesting, Apple need to add this option to VW and Audi. Sent from the iMore App

So you can't use your in car navigation system unless you have your phone with you? That seems stupid.

hmm... reading closer, it appears Apple had to scale back from what they promised at WWDC. A bummer is the requirement of a lightning cable (as opposed to bluetooth). It looks like Car Play is just an app/feature that runs on top of an existing car OS instead of a actual OS that resides in the car. It's unclear if the voice recognition uses the cars microphones or the phones. I also think the WWDC mockups looks much better than the new interface that is shown.

The whole idea of connecting the iPhone to your car's dash is not an entirely new idea (pioneer had attempts), but I don't see it being that groundbreaking. It WOULD BE and COULD BE, if Apple decided to make the hardware as well, but the current iteration is dumb and is basically just a standard head unit with an option for iOS to share some of it's apps and a UI. The dash is then either completely empty without an iPhone - which wouldn't make sense from a manufacturer standpoint - or will run their own system. Which is QNX based in most cases. I don't say putting iOS on stuff is a bad idea. But the execution only works if they have the hardware to back it up. Since AAPL has no control over that, it's pretty much doomed to fail (I mean pioneer's app radio concept was wrecked after the first new firmware and took about a month to fix...)

Yeah it's realized that this CarPlay still requires an embedded real-time OS like QNX in order to run. Apple is a strategic partner for QNX in automotive. I wouldn't be too surprised if soon it's announced that QNX will be running this.

Looks interesting, except the predictable onslaught of Siri timeouts driving through rural areas will render it not just useless, but dangerously counterproductive much of my time. On-board voice processing, at least for device commands, is years overdue, and all the more necessary in the car. Sent from the iMore App

on board voice processing has been in cars for about three years now but more options from another vendor is always a good thing.

Right ...that's kind of my point that Siri would be a big step back unless it has its own on board processing Sent from the iMore App

Ah. It was unclear what you meant from years overdue. And I didnt realize you were talking about siri.

Are people seriously gonna depend on apple maps to direct them. Really?

I would love iOS in my car but apple maps, no thanks. I use maps all the time in work. Google maps will almost every time have where I'm looking but apples don't. Pity I much prefer the look of apple maps Posted via the Android iMore App!

This is going to be great and again something that people are familiar using. Can't wait to see this implementing or at least you have the option of adding to your new car purchase with all vehicles. Sent from the iMore App

I really like the sound of this feature, but until it becomes more widely available I'll continue using "Harken For iPhone" in the car. It's much easier to use than Apple's music player (bigger text, large buttons/touch areas). There's also "Harken" on the iPad but I need a new cradle for my iPad so I can't use it at the moment.

I just bought my new car in October and it's a Hyundai and they're one of the partners so hopefully this is available for my car once it's out, maybe through a software update on my current navi system. I hope :/

I hope BMW makes a retrofit pack for my 2013 335i.

http://n4bb.com/apple-carplay-infotainment-runs-blackberrys-qnx/