iOS Help: My keyboard shortcuts aren't syncing after updating to iOS 8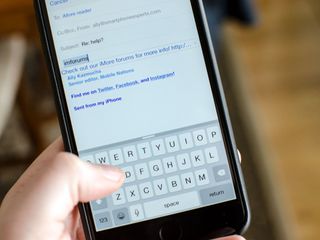 This how-to is part of our iOS Help feature, where every week I try and help you fix the problems you're having with your iPhones and iPads. If you have a question or need help with something iOS related that you just can't figure out, I encourage you to drop a question in our iMore forums or email ioshelp@imore.com!
This week's question comes to us from William:
William, you definitely aren't the only person having issues with keyboard shortcuts, particularly after updating to iOS 8. Whether they're just not syncing or you find them disappearing from a particular device altogether, here are some suggestions on how to get them back in working order again!
1. Turn off predictive text
Some folks have had luck simply turning off the predictive text feature in the Settings app. It's more of a workaround than an actual solution, but it's the easiest one to rule out first. To turn off predictive text, just follow these steps:
Launch the Settings app.
Tap on General.
Tap on Keyboards.
Turn Off the option for Predictive.
Reboot your iPhone or iPad and try using keyboard shortcuts again.
If keyboard shortcuts are back to normal, you're good to go. If not, continue on.
2. Toggle Documents & Data on and off
If you don't have iCloud Drive turned on and you're not on iOS 8.1 or above, you will still see a Documents & Data option under iCloud. If you are on iOS 8.1 or newer, you will not see Documents & Data, so skip to step 3 now.
Launch the Settings app on your iPhone or iPad.
Tap on iCloud.
Tap on Documents & Data.
Turn Off the option for Documents & Data.
Reboot your iPhone or iPad and turn the option back On.
Test to see if your keyboard shortcuts are now working.
3. Toggle iCloud Drive on and off
If you are using iCloud Drive already, complete this step.
Launch the Settings app on your iPhone or iPad.
Tap on iCloud.
Tap on iCloud Drive.
Turn iCloud Drive Off.
Reboot your iPhone.
Turn iCloud Drive back On and test keyboard shortcuts.
If they still aren't working, continue on.
4. Sign in and out of iCloud
A last resort is to completely sign in and out of iCloud. You'll want to do this on all devices linked to your iCloud account, one at a time.
Launch the Settings app.
Tap on iCloud.
Scroll all the way to the bottom and tap Sign Out.
Tap Sign Out in the popup menu.
Tap *Delete from My iPhone** in the second popup menu.
Type in your password to disable Find My iPhone if you're prompted and tap Turn Off.
Once you are signed out of iCloud, reboot your iPhone or iPad by holding down the power and Home button until you see the Apple logo.
Sign back into iCloud in the Settings app.
What worked for you?
We hope one of these suggestions gets your keyboard shortcuts working again William. And for anyone else out there having issues with keyboard shortcuts, give these a try and let us know in the comments what worked for you!
iMore senior editor from 2011 to 2015.
I made a new shortcut and then deleted it. That worked but scared me...

Hello, Suffering with a converse issue - I set up some jokey shortcuts on my wife's phone to annoy her and for laughs. Now, I can't delete them - they seem to periodically reappear! How do I delete the entire previous iCloud backup and stop old shortcuts, presumably from backup, reappearing? Sent from the iMore App

My problem is the ones that I have deleted keep showing back up. Would these steps help in my case?

It should. But like the previous commenter, I've had some particularly stubborn ones I've had to delete multiple times. Eventually, they stayed gone.

I figured it out a day or so ago. When I delete the shortcuts on both my iPhone and iPad they stayed gone.

I have the same problem with the shortcuts reappearing and also a different problem.
In Palm OS I had the date and time shortcut and got very used to using on a daily basis.
On iOS, for example, for the month of February, I use "ddd" shortcut for the following text: "Dated: 2/". if the month of March came, now I have to edit the text to reflect the month change. I edit the desired text to be the following: "Dated: 3/" ( Note that the only change in the edited text is the number 3)
What happens next is I will now have two "ddd" reflecting both months. Eventually, I will have twelve "ddd".
I have deleted them all and still come back. spent two hours with apple on the phone and nothing.
I have three iPhones and an iPad and happens on all four devices. I have put all on airplane mode and deleted all the unwanted shortcuts and then turn off the airplane mode simultaneously an all devices at the same time and no change, they still come back.
I have gone to Settings, General, Reset All, Reset Dictionary, and nothing....
Next I think I will shoot myself.
Can anyone shed any ideas?....

Neither of these worked for me. Bought a new iPad and none of my shortcuts are showing up.

Try adding a new one on your iPad. See if that triggers them to come down.

This did not help me at all....my shortcuts will not sync over to my ipad or Mac. Very frustrating since it was all fine before updating! I reset my phone and did a clean update/install.

None of these techniques helped me. My shortcuts worked fine on all devices. After upgrading to iOS 8 they work on all devices except my 5S. The three methods suggested had no effect. Making new shortcuts or deleting some had no effect.

Yeah, absolutely no joy with any of these options, nor creating a new shortcut. Although I haven't tested the second option as there's no "Documents & Data" option in iOS 8.3! (I tried "Notes" instead?)

None of these shortcuts did anything but frustrate me. What did work however was to delete all of my shortcuts and then re-enter them then they worked a kind of a hassle but not that bad I only had about 20 shortcuts

Hello , nice Tutorial.
unfortunately didn't work on my iPad Air 2 iOS 9.2
I did all above and still not fixed
This happened after resetting all settings of iPad without deleting apps
My same iCloud account on iPad mini has everything correctly on ..
Strange...

Lost them with the iOS 10 upgrade yesterday. Guess I'll try these steps again.

Any success yet? Same issue here.

Thanks for the post! What worked for me was a) log out of icloud
b) reboot
c) log in again
d) open keyboard shortcuts and *keep them open* I forgot about my phone and suddenly the shortcuts were synched.
Thank you for signing up to iMore. You will receive a verification email shortly.
There was a problem. Please refresh the page and try again.