Someone turned the iPhone alarm into a beautiful piano score and you need to hear it
Your alarm never sounded so good!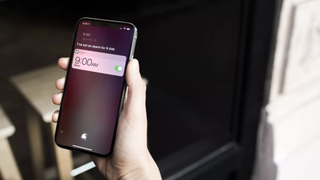 (Image credit: iMore)
It's 7 am, and your iPhone alarm goes off as you cautiously open your eyes looking for your glasses. You can't find your glasses and the blaring sounds of the iPhone's "Opening" ringtone pierce your eardrums. Been there? So has musician Tony Ann, who decided to turn the infamous alarm sound on your iPhone into a stunning piano ballad.
In a video posted to Instagram, the sounds of the iPhone alarm build to a beautiful crescendo that sounds more and more impressive with each individual playback. Ann, a pianist and composer from Toronto, has seen his reel viewed over 18 million times and it has 1.3 million likes on Instagram.
Whilst we've all heard Opening before, it's actually not the default iPhone alarm in iOS 16, that title goes to Radar. Radar has been the default iPhone ringtone since the best iPhone was the iPhone X. I'd happily switch Radar for Ann's musical masterpiece remix of Opening every morning. Just hearing the Instagram reel had me tapping my feet and bopping my head, ready to tackle today's ups and downs.
An iPhone history lesson
Radar replaced Opening, which had held the crown as the most annoying sound on your iOS device from the release of the iPhone 6. If you really want to get retro, the original iPhone ringtone was Marimba which is famously known as the ringtone that disrupted a New York Philharmonic Orchestra concert back in 2012. Marimba was the default ringtone until its final appearance in the iPhone 5S.
Apple has never revealed the creator and origins of Marimba, although in a 2013 article by Forbes (opens in new tab), Brian Roemmelle notes the huge similarities between Marimba from the original iPhone and Orchestra Marimba digital instrument from GarageBand Jam Pack 4: Symphony Pack Instruments, a software package released in 2005. This led Roemmelle to make the conclusion that GarageBand software developer Dr. Gerhard Lengeling could be the original creator.
Get the best of iMore in your inbox, every day!
John-Anthony Disotto is the How To Editor of iMore, ensuring you can get the most from your Apple products and helping fix things when your technology isn't behaving itself.

Living in Scotland, where he worked for Apple as a technician focused on iOS and iPhone repairs at the Genius Bar, John-Anthony has used the Apple ecosystem for over a decade and prides himself in his ability to complete his Apple Watch activity rings.

John-Anthony has previously worked in editorial for collectable TCG websites and graduated from The University of Strathclyde where he won the Scottish Student Journalism Award for Website of the Year as Editor-in-Chief of his university paper. He is also an avid film geek, having previously written film reviews and received the Edinburgh International Film Festival Student Critics award in 2019.

John-Anthony also loves to tinker with other non-Apple technology and enjoys playing around with game emulation and Linux on his Steam Deck.
In his spare time, John-Anthony can be found watching any sport under the sun from football to darts, taking the term "Lego house" far too literally as he runs out of space to display any more plastic bricks, or chilling on the couch with his French Bulldog, Kermit.