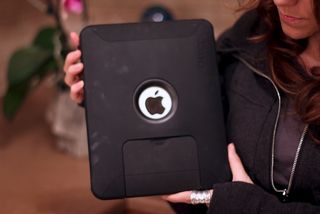 When it comes to iPad 2 cases, everyone has an opinion on which type is best -- hard, soft, waterproof, leather, or skin case
Apple has sold 55 million iPads to date, including a ton of iPad 2s, and all I can think about is all those beautiful, breakable screens, and elegant, scratch-able aluminum backs in need of the best iPad 2 case possible to protect them. We've reviewed a bunch of iPad 2 cases here on iMore already, and we'll be reviewing a bunch more in the coming weeks, and the sheer variety of iPad 2 cases is staggering -- from the thinnest of skins to the strongest of hard shells.
There are advantages and disadvantages to all styles of iPad 2 case. Do you value form or function? Style or security? Gloss or grip? Protection or low-profile? A lot will depend on what you do with your iPad. A construction site has different iPad case requirements than a vacation on the lake or a trip to a trade show. And now that all the basics have been covered -- how many little black iPad cases can one girl or guy own? -- manufacturers are getting more creative with materials and molding. iPad cases can now be about fashion and fun as well. Cool colors, terrific textures, and niche needs are all being covered now. And the very best iPad 2 cases bring all of that together, and more.
iPad 2 hard case: Otterbox Defender
People who love iPad cases love Otterbox. It's a perennial favorite. With triple layer protection, it's the ultimate iPad case for those who need their iPads ruggedized for work, travel, or just for kids. It even comes with a shield-like front cover that can double as a typing or movie-watching stand.
$59.95 - iMore store link
iPad 2 soft case: Hive Honeycomb dermaSHOT Silicone
Incipio has been experimenting with new and unusual textures in their iPad 2 cases lately, and with the Incipio Hive Honeycomb dermaSHOT Silicone it's really paid off. They've added extra grip to both sides of the Hive Honeycomb to make it more comfortable to hold onto while gaming, and it manages to avoid being both slippery or tacky at the same time.
$29.95 - iMore store link
iPad 2 waterproof cases: Overboard
Until Lifeproof comes out with an iPad 2 case, Overboard is my go-to companion for everything from baths to beaches. The Overboard not only has room for your iPad 2, but you can keep some cash or credit cards in there if you're traveling, and if you drop it in water, it'll even float.
$44.95 - iMore store link
iPad 2 keyboard cases: ZAGGfolio
The ZAGGfolio is an iPad 2 case that packs in a keyboard and is best suited for road warriors, or anyone who needs to pound out some serious productivity on the go. When not in use, it protects your iPad from harm, but quickly folds out into full on work mode.
iPad 2 leather cases: Pad & Quill Contega
Pad & Quill's Contega case for iPad 2 takes the now familiar hipster moleskin style to a new level, incorporating a hidden pocket and cover that can fold up into a stand. It's lacquered Baltic Birch, finely bonded Italian leather, expertly handcrafted for your iPad 2.
iPad 2 luxury cases: White Diamonds
Okay, the White Diamond iPad cases aren't all about protection -- they're about stunning good looks. With amazing artwork and glittering Swarovski crystals, these cases are only for those who want to deck out their iPad 2 with serious bling.
Variable - White Diamonds link
iPad 2 film cases: BodyGuardz
If you want a lot of scratch protection with as little bulk as possible, BodyGuardz for iPad 2 has you covered. Literally. We've taken nails, stones, and children to it and almost a year later, BodyGuardz have kept our iPad 2s sensationally scratch free. BodyGuardz won't stop drops or bumps, but it will kill scratches dead.
$19.95 - iMore Store link
Master your iPhone in minutes
iMore offers spot-on advice and guidance from our team of experts, with decades of Apple device experience to lean on. Learn more with iMore!
Senior Editor at iMore and a practicing therapist specializing in stress and anxiety. She speaks everywhere from conferences to corporations, co-host of Vector and Isometric podcasts, follow her on Twitter @Georgia_Dow and check out her series at anxiety-videos.com.