Will iPad 2 cases and accessories work with the new iPad?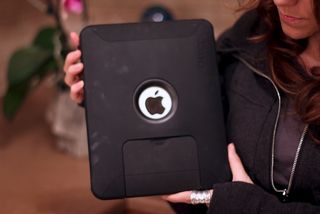 One of the questions we're being asked most often these days is whether or not our existing iPad 2 accessories -- particularly cases -- will work with the new iPad when it arrives on Friday. Of course we're wondering about that -- we love our accessories! While we may complain when Apple doesn't change a design, we complain just as much when they do and we have to buy new cases!
The short answer is -- it depends on the accessory or case. Some of them will work just fine with the new iPad, and some won't. Let's break that down.
The new iPad vs the iPad 2: tale of the tape
Based on the front plate size alone, the new iPad and the iPad 2 look virtually identical (with the screen off, of course). They're both 9.50 inches tall and 7.31 inches wide. The new iPad is slightly thicker, however, at 0.37 inches vs. 0.34 inches thick. It's also slightly heavier, at 1.44 pounds vs. 1.33 pounds for the Wi-Fi version, or 1.46 pounds vs. 1.35 pounds for the 3G/4G version. The new iPad also has more tapered edges than the iPad 2.
While the weight won't make a difference for most accessories, the thickness and the different tapering around the edges definitely will for many of them. That could also alter where the camera hole (if any) and headset, dock, and other button cutouts are lined up
Sleeve/pouch cases
iPad 2 Sleeve cases might fit the new iPad. They're typically cut with enough room for an iPad 2 to easily get in and out, and the more pouch like style has a far greater chance of handling the extra thickness. The difference in edge taper shouldn't be a problem for them either. Whether they're leather cases or fabric shouldn't matter. If they have specifically molded parts designed to fit tightly around the iPad 2 backplate, however, you'll probably have a problem.
Hard/protective cases
iPad 2 hard cases are usually manufactured to wrap snugly around your device to offer the most protection possible, while keeping bulk down at the same time. Unfortunately, that means both thickness and the difference in edge taper, perhaps even cutout positions, will probably be show stoppers for any of them when it comes to fitting the new iPad.
Smart Covers
iPad 2 Smart Covers, if that's what you swear by, look to be totally compatible with the new iPad. Since they only cover the identical front plate, that stands to reason.
Skins, films, and screen protectors
iPad 2 Skins, films, and screen protectors will probably fit if they're only intended and designed to cover the front of the device. Again, the new iPad looks to have an identical faceplate to the iPad 2. If they're design to cover the back and edges, because of the difference in thickness and tapering, I imagine there may be issues lining up everything perfectly around the buttons, speakers, and ports.
Weatherproof cases
iPad 2 weatherproof cases, if we're talking exclusively about the big bags designed to keep your device safe in a pool or on a beach should be perfectly fine for the new iPad as well. They're generally cut quite generously with lots of room to spare, so while it might be slightly tighter, it should be workable.
Headsets, speakers, and speaker docks
iPad 2 Bluetooth wireless headsets and speakers should work just fine with the new iPad. While the new iPad also supports the new Bluetooth 4.0 technology, it still supports the older versions as well, so no problem there.
iPad 2 wired headsets and speakers should likewise not have any problems fitting into the identical 3.5mm headset jack.
Speaker docks, however, might cause issues due to the difference in casing. Some companies might provide adapters or new connection modules to fit the new iPad, but others might not.
Keyboards and stylus
iPad 2 wireless keyboards should work just fine with the new iPad for the same reason other Bluetooth accessories "just work" -- it's the advantage of being wireless. However, if they're built into a case or a docking stand, they could definitely have problems fitting the new iPad.
iPad 2 styli should "just work" as well. Even though the new iPad has a Retina display, it's still capacitive and still works the same as the iPad 2 screen.
Chargers, cables, and stands
iPad 2 chargers and cables might be compatible. The dock connector on the new iPad is identical to past iPads, so your white Apple dock cable should work just fine, as should any other, similar cable. Apple also lists the their dock as being compatible with both the iPad 2 and the new iPad. However, other docks may not be. It will again come down to thickness and taper.
Apple doesn't list their iPad 2 10w charging cable as compatible with the new iPad 3, nor are several others listed as compatible, so there may be issues with these.
Need more help?
We're going to be keeping track of new iPad accessories and compatibility in our iPad accessories forum. If you come across any accessories that list themselves as compatible, or find any that definitely aren't, or if you simply have more questions and need some extra help, jump on over!
Get more iMore in your inbox!
Our news, reviews, opinions, and easy to follow guides can turn any iPhone owner into an Apple aficionado
Senior Editor at iMore and a practicing therapist specializing in stress and anxiety. She speaks everywhere from conferences to corporations, co-host of Vector and Isometric podcasts, follow her on Twitter @Georgia_Dow and check out her series at anxiety-videos.com.