iPad mini installed in the dash of a VW Jetta as an in car entertainment front end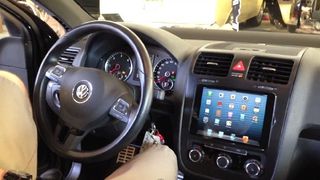 The guys from Soundwaves of Tampa are renowned for always looking to install the latest in car entertainment systems. Thankfully with the release of the smaller iPad mini, staying at the forefront has become much easier. The iPad mini is the perfect size and fit as a front end to a top of the range car audio system.
The iPad mini is integrated with a Sony audio system and controlled via the Sony App on the iPad mini. It is certainly a very nice system and not that expensive to put the components together. The Sony system costs around $200 and the iPad mini from $329. Of course you will have to allow some install costs for the guy's at Soundwaves; but even then a system that can offer all of that functionality along with full GPS capabilities inbuilt in your car would cost a lot more from a car manufacturer as a pre-installed option.
Personally I think this is a great option and one that car manufacturers should offer themselves. We already have Siri Eyes Free that allows you to control your iPhone from your in car entertainment system so offering full iPad support shouldn't be that hard to do. Of course there is always the danger that having an iPad in your car dashboard may be very distracting for drivers and very interesting to thieves!
Source: YouTube
Get the best of iMore in in your inbox, every day!
UK editor at iMore, mobile technology lover and air conditioning design engineer.
How cool would it be if Apple got involved at the OEM level to get iOS into car infotainment systems?! Still, Soundwaves did a great job, really well thought out.

RIM is already in car infotainment with their QNX OS. Their systems are installed in cars made by Audi, BMW, Acura/Honda, Land Rover and Porsche. QNX is also at the core of BB10 which will power future BlackBerry phones.

Am i the only one here wondering how the hell he got the Google map app on the iPad?

What? You're probably the only one, the new google maps showed up last week on the App Store as a universal app.

Google Maps for iPhone works on the iPad mini with LTE (and built-in GPS). As you can tell, when he pulls up the keyboard in the app shown in 2X, it's the blown-up version, not the native iPad version.

I would love to have an iPad installed like this. First I need an iPad lol!

This is the original iPad mini install. These guys have been installing iPad's for years. They do great work and are very funny.
http://www.youtube.com/watch?v=zDThVZzVtqw&feature=share&list=UU_ojrdK0j...

And if your iPad Mini has music in it, you should download Harken from the App Store. Ideal for car mounted iPads. https://itunes.apple.com/app/id540251190?at=10l3Vy
Thank you for signing up to iMore. You will receive a verification email shortly.
There was a problem. Please refresh the page and try again.