iPhone 11 Pro Max is the new king of Consumer Reports' smartphone rankings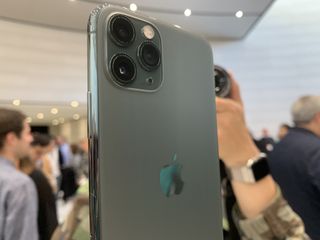 (Image credit: iMore)
What you need to know
The iPhone 11 Pro Max topped Consumer Reports' smartphone rankings.
The iPhone 11 Pro took second place.
Consumer Reports praised the iPhone 11 Pro Max's battery life, cameras, and performance.
Apple's newest lineup of iPhones have earned praise far and wide, and now Consumer Reports is chiming in. The iPhone 11 Pro Max topped the publication's smartphone rankings, with the smaller iPhone 11 Pro earning second place.
Consumer Reports highlighted the iPhone 11 Pro Max's battery life and also praised the device's triple-camera setup.
Consumer Reports also said the iPhone 11 Pro models earned the top spots thanks to more durable designs, brighter displays, and improved performance.
Despite Consumer Reports declaring Apple's latest iPhone models as its top picks, it said the devices barely edged out the competition.
"Just six points separate our first- and 10th-ranked phones," the report said. Consumer Reports added that some categories are separated by just fractions of a point.
Be that as it may, the iPhone 11 Pro and iPhone 11 Pro Max are the best smartphones you can buy right now, according to Consumer Reports.
I will take this recommendation with a grain of salt. CR has been known to be paid off by certian fruit flavored companies in the past. And not those great tasting microsoft or google fruits. I am going today to have a look at a new 11 pro for my wife and I, I will see if I feel its' worth the upgrade from our 8's or will we wait for the next phone to be released.
Thank you for signing up to iMore. You will receive a verification email shortly.
There was a problem. Please refresh the page and try again.