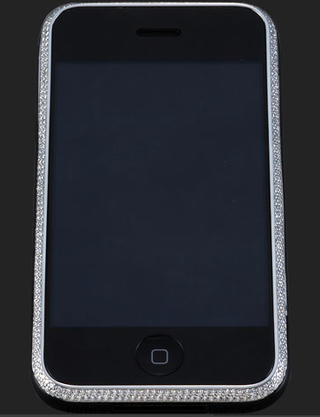 Think your iPhone 3G needs some sprucing up? Hate that the chrome bezel of the iPhone 3G scratches too easily? Well, for those who are wealthy beyond even the most wildest dreams, you can now get the diamond edition of the iPhone 3G. With only 50 being made worldwide, it'll cost $10,000 for the first 10 customers with the other 40 being priced at a later point.
Here's the lowdown on the diamonds:
475 Diamonds
Brilliant Cut
Color: F
Clarity: VVS
Carat 3.75ct
Oy! Talk about excessive, at least the diamonds rock. So, who's going to be the first to team the $10,000 iPhone with the $1,000 app? Any takers?
Get the best of iMore in in your inbox, every day!
How piss would a customer be if he bought one and it didn't power-on the first time? Or if the electronics died a couple weeks after use? They'd end up with a $10,000 paperweight.

...or there ends up being a recall.

A person that can afford this phone I dont think he or she really cares if it breaks in a couple of months. Its a symbol my D*** is bigger than yours. By the way where would one go and get one of these?

must be nice to have money to piss away
Thank you for signing up to iMore. You will receive a verification email shortly.
There was a problem. Please refresh the page and try again.