iPhone 3g Steals the Show - Makes Cover of Best Buy Circular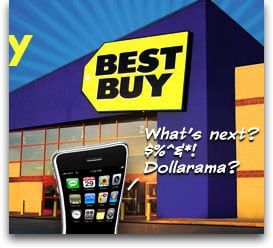 A few weeks back Rene reported that starting September 7th Best Buy would be selling the iPhone 3g. Well that day is rapidly approaching and look what has landed on the cover of next weeks Best Buy's circular.
(opens in new tab)
AppleInsider reports that Best Buy is having a promotion for customers who purchase one of four accessory packages. Packages start at $106 all the way up to $234. What great deal have they cooked up for you? Free phone and email setup! As Rene would say... ZOMG! Last time I checked, this is something that any Apple store will do for you for free.
Come on Best Buy, surely you can do a better than that?
I still don't understand what Best Buy will be offering that AT&T or Apple can't supply.

Nothing honestly, they will be offering less I'm sure. The only plus out of this for Apple that I see is simply another outlet to sell their product. And that is a huge outlet to do so.

More phones!! Better experience than at att stores. I hate them all!! Buncha idiots.

Best Buy is offering a free email set-up with the purchase of an accessory package valued 99.99 and up. Regular cost of this Geek Squad service is $29.99. As you know, ALL iPhones must be operational before they leave the store, and purchasing one at Best Buy is no exception.
If you want to wait for a free email set-up through AT&T, then you are more than welcome to take your new iPhone home, and let them walk you through it. If you want to have it done in the store and have all your questions answered while an Agent is doing it for you - right in front of you - then that might be a service some new owners would be interested in having. Not everyone who owns an iPhone is as tech savvy as we are.
Unlike AT&T and Apple, Best Buy does offer its customers the option of purchasing iPhone insurance that does cover accidental damage for only 14.99 a month.

@AmandaBBY
$14.99 a month!? No chance...

AT&T offers a replacement insurance for a flat initial charge of $75 or so for a 2 year period, which would be about $3 a month and some change. so unless you are planning on breaking your phone initially and then cancelling your insurance with best buy, the at&t coverage is much better, and probably easier to get a new phone quick, just FYI!

AdrianIPHONE3GOWNER
at&t does not provide any coverage for the iphone whatsoever
Get the best of iMore in in your inbox, every day!
Thank you for signing up to iMore. You will receive a verification email shortly.
There was a problem. Please refresh the page and try again.