iPhone 3GS Jailbreak purplera1n Updated to Support Vista, Windows 7, 64-bit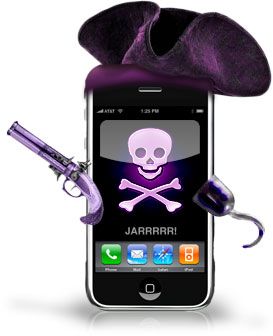 OH (original hacker, yo!) George Hotz has posted the RC2 version of his iPhone 3GS jailbreak tool, purplera1n. Along with other improvements, the new version supports Vista, Windows 7, and supports 64-bit.
If any of the above interests you, and you're a responsible adult who understands the risks involved, hit the link below and check it out. Jarrrr!
Get the best of iMore in your inbox, every day!
Rene Ritchie is one of the most respected Apple analysts in the business, reaching a combined audience of over 40 million readers a month. His YouTube channel, Vector, has over 90 thousand subscribers and 14 million views and his podcasts, including Debug, have been downloaded over 20 million times. He also regularly co-hosts MacBreak Weekly for the TWiT network and co-hosted CES Live! and Talk Mobile. Based in Montreal, Rene is a former director of product marketing, web developer, and graphic designer. He's authored several books and appeared on numerous television and radio segments to discuss Apple and the technology industry. When not working, he likes to cook, grapple, and spend time with his friends and family.
Are there any bennifits of rejailbreaking with this version

@Patrick many of the most important apps don't yet work with 3.0, like backgrounder.. :(

Backgrounder does work with 3.0...

I'm not jailbreaking now that 3.0 is out but if I was, I think I would wait for the Dev-Team version. They are always very careful and are taking precautions to make sure Apple isn't going to release software that will kill your jailbreak. I'd stick with them if it was me.

@Adam ya a lot of apps do work. Background, Winterboard, SBsettings, etc. I'm wondering the same as Patrick though.

Just wondering if there is any changes to the jailbreak I would re do it can't wait for trucker 3g to work

I jailbreaked my new shiny 3G S.
and now i can say 3G S definitely Rocks.
Even this comparison says soPalm Pre vs. iPhone 3.0 3G S vs. Windows Mobile 6.5 - Feature Comparison Showdown

I have 3.0 jailbroken with redsnow for the following. BossPrefs Cycorder xGPS xGPS will be replaced once I can find a pay per use/day navi system.

Ah crap, I have 3G, not 3GS so yea Cycorder wouldn't count for those with 3GS.

All you have to do is run the new purplera1n again. It will just write the needed patches and stuff while leaving all your data intact. Freeze will not install again and you will see no more code signing errors in Cydia or MobileTerminal. It is so easy that there is no reason no to just run purplera1n again.
I love the Dev-Team and their cautious approach to the whole jailbreaking scene, but geohot felt the need to release his jailbreak. For his first public release, I am thoroughly impressed. The whole process took 3 minutes from start to finish with no problems whatsoever.
THANK YOU GEO!

By the way, the major benefit of rejailbreaking is Winterboard. The new version of purplera1n added the needed patches for Winterboard. As soon as Saurik updates it, it will be available. So if you want Winterboard then re-run purplera1n, its stupid easy and no restore is needed.

I'm using it now jailbroken on windows 7.
One big problem, Winterboard does not work at all. It constantly puts the device into safe mode.
Is there any reason why this would be happening?

Now I gotta upgrade to the 3gs!

I have my 3GS synced with itunes on my leopard install... if i boot into windows to do this jailbreak will it work, since it will be a different iTunes (one that isn't synced)?

Geohot's jailbreak is impressive, no question about it. However, there is still no hacktivation to activate the phone if you don't have an sim card and account from an official apple-authorized carrier. Also, although you can carrier unlock the phone with ultrasn0w after the jailbreak, it is very flaky for many users (including me) who are getting both carrier signal and wifi dropouts and wild fluctuations. So, I'm back to my unlocked 3G until the dev team or someone else comes up with a fix for the ultrasn0w issues.

iBluetooth needs a major update to be compatible wit 3.0!!! NOW come on meDevil!!!

wat dies Backgrounder do exactly? does allow programs to update like the PalmPre?

wat does Backgrounder do exactly? does allow programs to run while not open like the PalmPre?

Don't really see any reason at all to Jailbreak a 3Gs...

Here is a few reason to jailbreak 3GS: ...just a few.
-Safari Download Plug in - to download certain files off of safari and stream audio from certain sites like cNet.com ...you'll also want to have dTunes to save the files.
-BackGrounder (it does work, just not full features but I just need it for Pandora)
-sbSettings - for quick controls like brightness and Fast notes
-Intelliscreen
-Talert - text message handler
-Elert - email message handler
... and these are just a few of my Favorites...so I will keep jailbreaking as long as its possible just for these apps.

I dont really want to jailbreak now as its kinda buggy, and you cant really install that many apps on cydia, so i think i'll wait 4 a offial realease from the dev team.

@jackiee ...yep I second the wait for the Dev-Team. I'm reading there are a few problems with the jailbreak right now...glad I decided to wait and see.

If you can deal with slight lagginess with this JB and unlock (via ultrasn0w), then i say go ahead and do this JB.

I too respect the dev team and everything that they do for the JB community. Even though on this 1 I have to side with GeoHot. This JB only took me 5 minutes at the most and it's running just as smooth as my wifes 3g running off the dev teams break. Thanks gh

i have a 3gs jailbroken with purplerain, winterboard crashes my phone. How can u get complete themes with out useing winterboard?????

I'm using it now jailbroken on windows 7.
One big problem, Winterboard does not work at all. It constantly puts the device into safe mode.
Is there any reason why this would be happening?

anyway to get themes without winterboard?????

This is state-of-the-art.

The new jailbreak (purplerain) works, but has a bunch of problems. For whatever reason it seems to be functioning better on some phones than others. I'm not kidding. Me and my roommate both got 3gs on the same day, and both jailbroke our phones with purplerain. My roommies phone hasn't had a problem. Mine will not stop crashing, freezing, and needing complete restores. I'm on my 8th restore. Winterboard screws up on a regular basis. The Video backgrounds glitch and freeze the phone when you come out of larger applications like games. Changing things around in Winterboard has froze my phone twice and caused restores. Sometimes installing a new app that worked fine on my roommates phone freezes my phone and causes it to need a restore. I've been doing resprings in between all my activities to be safe and sometimes just re springing the phone manually will freeze the phone and I'll have to restore. I've restored my phone and I'm waiting for the Dev team JB. This current one is full of bugs and issues I can't seem to overcome. My roommates phone still works fine after he JB it.. makes no sense at all.

Hey I am new to jailbreaking I only really want it for themes and keyboards I used Geohot's purple raine to unlock and I am not sure what app I down gives it to me but I get these hidden icons that say 999 with pink wallpaper and a ripped man powdriving a shark. Is my phone hacked? Seconed I really want to use different keyboards and no matter how many times I download them can seem to install any tips???

I can't get any keyboard themes any clue y??? I believe I downloaded purple raine on the 8th

hey, i've jailbroken my iphone 3G 3.0, but i cant watch videos off any website using safari? it comes up with a massive page of what could be script coding or something??? any solutions?

as i want to jailbreak my 1st version phone but its making problem and i am unable to do so......i am using windows 7 ultimate..............

i can't seem to download purplera1n i get up to where it tells you to choose from windows or mac.when i click on windows it does nothing what can i do about that problem?

i have a problem when trying to get purplera1n from any site it just doesnt begin to download ?!! ... i tried using xp windows and windows 7 i get nothing in both ..any solutions plzz ??

Can you unlock the itouch?

I have tried to jailbreak my 3gs 5 times and it just freezes and requires restoreing with itunes.... all i want to do is change the sms tones :(

forgot to mention i used blackra1n and ran both rock and cydia first seperately and once together

I did have my iPhone 3GS jailbroken, until I downloaded the update which is 3.1.3. It removed everything that was downloaded with jailbreak from my iPhone. Now I am trying to download purplera1n but there is only a message to use blackra1n at the bottom and it won't do anythin. What can I do.

i need a website to unlock a ipod touch on pc i did it on mac and it work but i am no where around my computer

Great goods from you, man. I've be mindful your stuff prior to and you are simply too magnificent. I really like what you've obtained right here, certainly like what you're stating and the best way by which you say it. You make it entertaining and you still care for to keep it sensible. I cant wait to read far more from you. That is really a great web site.

Magnificent issues altogether, you simply received a new reader. What could you suggest about your submit that you just made some days ago? Any certain?