iPhone 6s teardown confirms smaller 1,715mAh battery, heftier display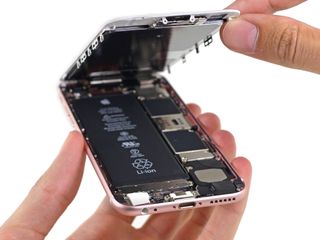 The folks at iFixit have torn down the iPhone 6s, confirming a 1,715mAh battery that's comparatively smaller to the 1,810mAh battery in the iPhone 6. The likely explanation for the decrease in battery capacity is the introduction of the Taptic Engine and a thicker display.
The display assembly comes in at 60g — 15g more than what was seen in the previous generation — on account of the new capacitive sensors that make up 3D Touch. Here's a look at the hardware powering the iPhone 6s:
Apple A9 APL0898 SoC + Samsung 2 GB LPDDR4 RAM (as denoted by the markings K3RG1G10BM-BGCH)
Qualcomm MDM9635M LTE Cat. 6 Modem (vs. the MDM9625M found in the iPhone 6)
InvenSense MP67B 6-axis Gyroscope and Accelerometer Combo (also found in iPhone 6)
Bosch Sensortec 3P7 LA 3-axis Accelerometer (likely BMA280)
Toshiba THGBX5G7D2KLFXG 16 GB 19 nm NAND Flash
Universal Scientific Industrial 339S00043 Wi-Fi Module
NXP 66V10 NFC Controller (vs. 65V10 found in iPhone 6)
Head over to iFixit from the link below for further details, and images from the teardown.
Source: iFixit
The clumsiest man in tech.
Wonder what the battery life will be like Sent from the iMore App

This is my first year not to upgrade and its because of the battery and the way the didn't mention it in the keynote. New iPhones look nice but I'll wait til the 7. I'm actually happy with my ip6 except for the battery. Sent from the iMore App

You didn't upgrade because of the battery? What if the iPhone 7 has the same sized battery as the 6S? Apple seems content to optimize the hardware to get each gen iPhone in the same real world use for how long the iPhone can go. With the 6S and its various speed and chipset optimizations you're getting more "bang for the buck" and will little to no hit on battery. Sent from the iMore App

There will be real life usage by then to determine if there is a problem. Seems logical to me.
Get the best of iMore in in your inbox, every day!
Thank you for signing up to iMore. You will receive a verification email shortly.
There was a problem. Please refresh the page and try again.