iPhone 8 FAQ: Everything you need to know!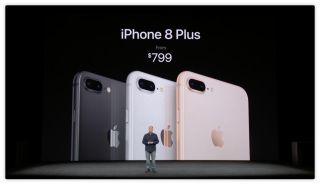 Last year we were treated to the iPhone 7 and iPhone 7 Plus, so this year brings us the iPhone 8 and iPhone 8 Plus — along with the iPhone X.
Whether you're looking at new software updates, camera features, or design changes, here's absolutely everything you need to know about the iPhone 8 and iPhone 8 Plus.
What's the difference between the iPhone 8 and iPhone 8 Plus?
Besides their size, not much! Think of them as being in the same wheelhouse, like the iPhone 7 and the iPhone 7 Plus: the biggest differences between them are camera-related.
The iPhone 8 Plus has two new lenses with a 1.8 and 2.8 aperture. Sharper details and more lighting options for portrait mode for iPhone 8 Plus and something new called Portrait Lighting are brand new features. Portrait Lighting will adjust lighting in real time to get better light for your photos. You can even swipe to pick different lighting effects while composing the picture!
Specs
Glass in both front and back
Aluminum band that matches the finish
Available in silver, space gray, and new gold finishes
Made from aerospace-grade aluminum
7-layer color process glass
50% deeper strengthening layer (glass is more durable than any other smartphone out there)
HD screen with True Tone that automatically adjusts white balance to match the light around you
4.7-inch 5.5 Retina HDR display with True Tone tech and dual-domain pixels for better viewing in any environment and at any angle
Two performance cores that are 25% faster than the A10 Fusion
Four high-efficiency cores that are 70% faster than the A10 Fusion
Apple designed GPU that's 30% faster than the A10 Fusion
Faster image processor
Improved pixel processor
New stereo speakers that are 25% louder than iPhone 7 and boast deeper bass
iOS 11
12MP camera
Deeper pixels
Now color filter
Optical Image stabilization for greatly improved low light capture
83% more light
Better color saturation
Wider and more dynamic range of color
Lower noise in your photos and videos
Improved portrait mode for sharper foregrounds and more naturally blurred backgrounds
Newly-added Portrait Lighting effects
Optical zoom
Digital zoom (10x for photos, 6x for videos)
Video encoder with faster frame range
Better image and motion analysis
1080p 240FPS support, which is double frame rate of previous devices
The Augmented Reality (AR)
Each phone is custom-calibrated
Immersive graphics up for 60FPS
Real-time lighting estimation on the ISP
A11 bionic chip for powering AR
New glass back works well with wireless charging!
Uses Qi wireless standard
Mophie and Belkin already announced to have wireless chargers for iPhone 8
When will it be available?
Preorder Sept 15. Available Sept. 22 with an iOS upgrade coming on September 19th.
How much will it cost?
What colors will it come in?
Silver, space gray, and a new sharp gold finish!
Will the iPhone 8 & iPhone 8 Plus come with iOS 11?
Yes! They both will.
Will I need to buy new cases?
Nope! Sizes stay the same as the iPhone 7 and iPhone 7 Plus!
What do you think?
Are you someone who's going to stick with their iPhone 7 for a while longer, upgrade to the iPhone 8, or just skip the middle step and go straight to the iPhone X?
Let us know why the iPhone 8 & iPhone 8 Plus seem appealing to you, or why you're going to have to pass on them!
Get the best of iMore in in your inbox, every day!
Cella writes for iMore on social and photography. She's a true crime enthusiast, bestselling horror author, lipstick collector, buzzkill, and Sicilian. Follow her on Twitter and Instagram: @hellorousseau
You're missing the most important question of all: who is this phone for? It's lacking features compared to the X and 8 Plus, and is too big for the SE fans. The only people I can see buying it are those that really want an X but can't afford one.

Or don't think it's worth paying so much more for the X. There's a huge segment of the population still using a 6 or 6S, or even a 7, that will want to upgrade and keep a similar form factor and similar function without coughing up a couple hundred extra dollars.

I agree. I have an iPhone 6S and it suits me just fine.

My wife still has a 6S and I have a 7, and in some ways I still prefer the 6S.

Apple NEEDS a 4-inch iPhone 8/Xc.

I can afford the X, but don't see a reason for it. The 8 will be an upgrade, just like the 7 was over the 6S. I'm not sold on Face ID (already saw it fail during the demo) so I'll likely upgrade to an 8 if the monthly price is similar to what I pay now through Apple Upgrade.

I'm in the same boat, except I'm using a 6+. I think I am going with the 8+. The tech in the X is cool, but Touch ID works great for me, and I don't have a need to use the new emojis.

FYI it failed because the phone had been rebooted. Just like with TouchID, you have to use a passcode the first time after a reboot

On every other iPhone I've owned, if the phone restarts it says on the screen that a restart requires your PIN. Has this now changed for ios 11, because the message on the screen looked the same as when touch ID doesn't work.

Agreed. I actually don't _want_ the face recognition. I like being able to use my thumb/finger print to unlock my phone. I'm also not a huge fan of the bezel-less design. I don't hate it, but just don't like it more (or even as much) as the 8 appearance. I've got a 6 Plus and all I actually want are the better chip and wireless charging. The better graphics are nice, but not something I'd pay more for. There is literally nothing on the X that I want that isn't on the 8, and there are features I want that I'd lose. IMO, the 8 is actually the better phone and I'd pick it over the X, even if the price was identical.

I'll be moving to the 8 from the 6s Plus, I need something smaller now. I'm all for wireless charging. I think the iPhone X is proof of concept though, it's next version will be worth a look.

Just a little correction on the FAQ When will it be available?
Preorder is September 15, Launch is September 22, you listed it as September 27 The X is intriguing, but I think that FaceID fail is going to cost them some sales. I am not a big fan of the notch on the side of the video and photos. I am thinking I may upgrade from the 7 to the 8 Plus and am considering the cellular watch, just want to see the monthly cost on that.

Don't think many people will care about the first fail. Just like touch ID was the first time took some getting use to. Plus FACE ID will work more often because it will not care if your hands are wet or have gloves on.

Will the new feature of wireless charging work through a case, or does the phone need to be "naked"?

I would bet it will work with a case since Apple will still be selling cases.

Having used Android devices with Qi charging, it will work through cases. In the time I have owned my S5 and S7, I have had plenty of cases and only 1 didn't work and that was due to it being too thick. It has worked with Otter Box and other name brands, so it won't be an issue.

Ill be going from a 6 to the 8 plus.

Actually considering going from a 6+ to a Watch 3 / SE combo. Could be more versatile and easier for EDC.

I'm going from a 6s + to an 8 + . The X is very nice looking, but I'm not to excited about the notch. The notch isn't a deal breaker for me. The price is. I wonder how Steve Jobs would've felt about the notch back in his time. Anyways...The X is just too expensive & won't give me more of what I really want on a day to day basis than the 8 + will ...It sure is cool looking though.

The X is pretty pricey and it's not worth it in my opinion. I'll like the 8 plus better it's more appealing and I don't care about face ID or animoji I have Snapchat for that.

I know they don't have it because it degrades the long term battery life, but fast charging might be something that Apple should consider bringing to the party, sooner or later.

If you watched the slides closely yesterday, they wrote that they all supported fast charging :) https://www.imore.com/e?link=https2F2Fc2F4...

I'll be upgrading for one simple reason well couple. I don't see paying same on my bill now that people with new phone will pay.
I don't need 128gb always wanted plus but 32 wasn't enough and 64 is more then I need without paying a lot more for something I'll never fill.
And I'll still be paying what I do now at most maybe 1$ more month.

I am so excited to pre-order this baby! I was going to not and stick with the 7+ but I absolutely cannot keep myself from buying this!!!

The 8 will still have touch ID right? Im re-reading the article to make sure I didnt look over it and im not seeing it

I know I'm in the minority here but I have a 6s Plus and just ordered a 7 Plus. I don't want the glass back of an 8+ and I'm not thrilled that on the 8 there's no 128g option. I will keep the 7 Plus for a year and see what's available next year. I needed the add'l gigs or I may not have upgraded at all.

I'm still on 6 plus, actually. I'm on the fence on whether to stay with Apple this round or go back to Android. Now don't flip out, I've gone back and forth several times and probably will several times more, and unless or until Surface phone becomes a thing that's viable, I'll probably just stick to the "fruit to robot and back" dance pattern for the rest of my natural life. I will say this though: I'm pretty blown away by the X, and though iterative, I'm also quite pleased with the 8 plus. On the Android side, it'd be between the Note 8 and the upcoming Pixel 2 XL (the LG-made "taimen" one, not the HTC-made "walleye" one). Note 8 is a seriously impressive phone, and I love the display and the size, and the all of it. But I am so not warm at all to the idea of going back to Samsung and its interminable waits for updates, with the final product being so vastly different from the "vanilla" Android look and feel that I would prize. And adding software layers with Google Now Launcher is just such an inelegant solution. So the Note is definitely the least likely way that I'll go, stopping just this side of saying "it's completely off the table". I guess I won't be able to make my final decision until we know exactly what we're being offered in the "Taimen" Pixel. It's probably gonna have to be something really impressive, though, in order to steal me back from Apple this round. Apple's offerings are very compelling. But their offerings also create a problem for me in and of themselves: I'm rapidly approaching end of life on this 6 plus. It's getting drastically slower and more buggy (don't ever let Apple people tell you, Android people, that iPhones are bug-free), and I'm rightside up on it, making it a worthwhile trade-in. So I don't want to wait much longer to upgrade. November seems like an awfully long time to wait. Also, Verizon "deprioritises" heavy data users (like me), and after switching to unlimited, our speeds have just TANKED! Trying to watch the keynote yesterday was such an exercise in frustration as I spent more time watching it load than I did watching it. Also, since fastest carrier is a "city-to-city" proposition with different answers in different markets, I looked to see which was fastest in Des Moines, and to my surprise, it turned out to actually be T-Mobile, so I want to jump carriers as quickly as possible. T-Mobile is also GSM and unlocked friendly, meaning I should have no problems in 2019 when (assuming it's viable, or even available), Surface would be my target. Thus, I want to jump carriers as fast as possible, and I want to ditch the 6 plus as quickly as possible as well. Enter the conundrum: I can jump pretty much right away if I decide to settle for the 8 plus. The 8 plus is a very very nice phone, and I think I would be able to be very very happy with it.......had it not been for the fact that the X is also coming out, and it seems to me to be so much cooler and more desirable than the 8. I'm afraid that it'll feel like I'm rockin' last year's phone when there's this super premium phone coexisting with it that may very well cause me great dissatisfaction living in its shadow. And there aren't any viable options for short term solutions to tide me over til November besides just sucking it up and riding out Verizon and my 6 plus. So that sucks. On the other hand, while I vastly prefer the look of OLED displays over LCDs, I worry about burn-in and fade over time. LCDs just seem so much safer and more practical. Also, while all the new tech in that phone is amazing, it's also brand new, and perhaps there's wisdom in waiting a generation for them to iron it all out. Sometimes living on the bleeding edge is, well, bloody. Also, I've been sternly warned by my wife that should going for such an expensive phone as the X cause our monthly bill to go up too much, I'll have to front the difference out of my free money pool. That's my money for toys and fun, I don't want to do that! :-) So, not only am I still on the fence about iPhone vs Android this round, but I'm even on the fence within Apple's own ecosystem between the 8 plus and the X. And since one of the Androids on my list is out now, and the 8 plus will be out next week, there's a strong temptation to just not even wait for X or Pixel, and just jump right in - but I think I'd regret that very much in a very short while if I did. .....I'm all sorts of conflicted here! What have you done to me, Apple?! :-( Cheers!

I have a 7S Plus with 128GB, and if I upgrade it will be to a 10. I'm disappointed that there is no 128GB option as that is the perfect size for me. But, the tech they packed into that thing is just amazing and I just can't pass it up. I'll make a decision on the 27th. If you have a 6 and are happy with it, keep it. It's a great phone and the iOS 11 upgrade will be like getting a new one. For me, I would upgrade to the 8 for wireless charging alone. Just an opinion.Either way you can't go wrong.

So you thought it was more important to compare the iPhone 8 to the iPhone 8 Plus than to compare the iPhone 8 series to the iPhone 7 series?

I would be very happy with upgrading from my 6S to the 8, but the biggest issue is that the dual lens/portrait mode didn't make it into the 8. Therefore, if I want to take portrait mode, I have to go with the bigger 8+ (which I don't want do bc of size) or with the X. I don't feel that the X warrants the price tag (especially at the 256GB point). So, as much as I want the 8, I may not get it because of the lack of the dual lenses and as much as I don't want the 8+ because of size or the X because of the price tag, I may have to choose one of them.

You are reading my mind....... Why is it so difficult to find out more specific information on this. Above, they make it sound like the cameras are basically the same. Another site said that both 8 and 8+ were able to have the portrait lighting. I was hella confused, but now that Apple has on their own site "-" marks for the feature on the 8 compared to the 8+, I've lost hope : ( I hate the size of the iPhone +'s....too big and easy to drop. I really want the 8 but don't want to give up the portrait mode either :(

I know... it sucks... I guess it comes down to picking too big or too much... With the X, it'l be about $400 more than the 8.

I've been holding onto my Note 4 for a while now. I was waiting for Apple's announcement. I already pre-ordered the 8 Plus in space gray. I am really excited to be getting it. I've been waiting to make the switch to iOS for a while, but I'm finally making it happen. I wanted the 8 Plus over the X because I think TouchID will still be the best way to unlock phones for the foreseeable future.

I am hoping to get the iPhone 8 through trade in at Target. I have the iPhone 7 now. I also just bought the EVO SP PRO Gen 2 https://www.evogimbals.com/products/evo-sp-pro-gen2-smartphone-gimbal-st... and I'm hoping it will work with the iPhone 8. It sure did wonders to my videos on the iPhone 7.

I am strongly considering getting the iPhone 8 Plus. I have been going back and further on getting the iPhone X. I like the bigger screen, 256GB capacity, price $949 and Touch ID on the iPhone 8 Plus. I am hesitant on iPhone X price of $1,149 price for 256GB model. I am also concerned with availability and Face ID. Also, there may be a need for Apple Care which is an additional $149 and $199 respectively. I know a lot of people say, upgrading is not necessary. The carriers offer interest free monthly payments. I feel it is best to stay up to date with the latest model, because they retain a higher value for future trade in. For example, if I buy an iPhone 8 Plus, the trade in value will be about $400 after a year. Next year I can get the iPhone Xs.
Thank you for signing up to iMore. You will receive a verification email shortly.
There was a problem. Please refresh the page and try again.