Best iPhone apps and accessories for running and jogging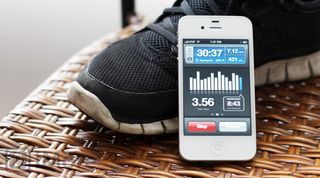 "Whether you're new to jogging or are a seasoned marathoner, there are tons of great iPhone apps and accessories will help you to be the best runner you can possibly be."
The iPhone is the perfect companion for those looking to get into jogging or running, or those looking to keep their long-term training fun and fresh. Since it's health and Fitness month here at iMore and the Mobile Nations network, we're going to take a look a the very best accessories and apps that'll help you get the most out of your experience.
One important thing to remember before getting started is to always keep yourself properly hydrated when going on a run. Keeping a water bottle with you is a great idea, but if you can't, make sure to get a good amount of hydration during your warmup and cool down periods. The fact is, when you run, you sweat. A lot. Whether it's just a quick jog or a long, 10-15 mile run, proper hydration is absolutely essential to keeping your body going without over-stressing your cardiovascular system.
Tune Belt Sport Armband for iPhone 4 and iPhone 4S
The Tune Best Armband is the best armband out there for both heavy running and light jogging. It features a protective window cover and washable material, with support for right side up or upside down orientation to match every type of workout you can imagine. Attach it to your arm or even your thigh with the EX3 length extender pushing it beyond the default 9-17 inch adjustment options if needed (EX3 sold separately). The dual-orientation also makes for a more convenient way to access your iPhone without requiring you to remove it from the armband. Just extend your arm up to eye level, and you can navigate through your iPhone without the hassle of stopping, removing it from the case, and tapping through to what you need.
The great thing about the Tune Best Armband is the stretchable form-fitting material, which supports newer iPhone models as well as the older, bulkier iPhone 3G and iPhone 3GS. You'll never have to stress about your iPhone being exposed to water damage if you're running out in the rain or snow with the water-proof design, and the protective front cover ensures a scratch-resistant environment in case you happen to slip or fall while you're out on a jog in less than ideal weather.
For safety nuts, the Tune Best Armband includes a highly reflective logo for night jogging, and you won't have to worry about your earbud cord getting in the way with the built-in cord organizer. Just wrap your earbud cable around the flap for a tangle-free experience! For runners, the Tune Belt Sport Armband is definitely the way to go.
Protective cover with waterproof design
Earbud cord organizer for tangle-free running
Form fitting to older iPhones
Reflective logo for safety
Polk Audio UltraFit sports headphones
There's nothing worse than headsets that fall or flop out of your ears when you're running. It completely takes you out of the zone and leaves you fumbling for your music rather than focusing on your run. Enter UltraFit, a range of high performance headsets specifically engineered to stay in your ears, even if you're running cross-country (or jumping on a trampoline!)
Polk offers both cheaper and premium alternatives, and because of the design, the UltraFit don't block out all noise -- so you can hear cars getting close or friends complaining when you leave them in the dust. The hire end models also include remote controls on the cables to easily control your audio apps without fussing with your iPhone.
Tangle free, planar cables
SecureFit to stay in place
Moisture shields
Two cable choices, 14 and 41-inches
$49.95 - $99.95 - Buy Now
RunKeeper
RunKeeper is quite possibly the best app out there for runners. RunKeeper uses the GPS included in the iPhone to measure distance, elevation, duration, speed and pace of your run, and more. It also follows your routes on a map and gives you the ability to plan your route ahead of time, giving you a much better overall idea of how easy or difficult your run will be -- all before even getting started! RunKeeper also comes with the following features:
Social Network Sharing
Personalized Dashboard
Target Pace with built-in coaching (via headphones)
Interval workouts/runs
The app also includes full iPod integration, so you won't have to jump out of the app and into music library in order to change tracks or switch to another playlist.
In addition, RunKeeper includes audio prompts that cycle through your headphones to give you information and updates on your run without any user input required. If you're new to running or if you've been running for a while, RunKeeper is definitely the first app you'll want to look into.
Get Running (Couch to 5K)
Get Running is an app for new runners. This little gem of an app will get you running for a full 30 minutes, non-stop, by integrating three daily workouts over a nine-week period, starting slow and building up to the ability to finish a full 5K run!
Social Sharing
Set up a personalized plan
iPod integration for working with or without your music
Full activity and achievement log
Get Running is the only 5K running app that coaches you up like an actual human coach would, so you'll feel more motivated to keep progressing as you go through the program. By encouraging you to keep moving forward, you'll be able to run a full 5K stretch in no time!
If you're new to running and want to make the process a bit less scary, Get Running is the app for you!
iMapMyRun+
iMapMyRun is a more basic running app that does exactly what the title implies. It maps your run and gives you information related to your run, such as pace, distance, caloric output, nutrition information, elevation, heart rate stats and features a live route map update in real-time as you go.
The app offers great social integration as well, so if you're into building up your bragging rights amongst fellow runners, iMapMyRun+ offers an always up-to-date list of the latest runs you or your friends have been on.
Just like RunKeeper, iMapMyRun+ features voice prompts to update you with all of these stats on-the-go so you don't have to stop and check the app to see how you're doing. You also have the option of posting bragging rights to Twitter and Facebook if you want to keep your friends up to date on how you're doing. It also includes full iPod integration with a GPS camera. The free app comes with ads, so you'll have to purchase the full app if you don't want that to become an annoyance for you.
Now get running!
Whether you're new to jogging or are a seasoned marathoner, there are tons of great iPhone apps and accessories will help you to be the best runner you can possibly be. I've been using these apps and accessories to help get in shape, and I couldn't have picked a better device to assist in the process. The iPhone -- paired with these apps and accessories -- is the perfect solution for running and jogging.
If you have any additional accessories or apps that you consider the best-of-the-best, make sure to mention them in the comments below. And if you're joining us for Mobile Nations Fitness Month, and running or jogging is your exercise of choice, jump into our Health & Fitness Forum and work out with us!
Get the best of iMore in in your inbox, every day!
Andrew Wray is a Salt Lake City, Utah based writer who focuses on news, how-tos, and jailbreak. Andrew also enjoys running, spending time with his daughter, and jamming out on his guitar. He works in a management position for Unisys Technical Services, a subsidiary of Unisys Corporation.
I recommend RunKeeper...it's free and it's awesome. I use it myself.

I use Endomondo Pro to track my daily walks and other exercises. I was surprised to not see this great app in your list today. It works wonderfully on the iPhone, and with the web-based feature you can follow the workouts of friends and family.

Yup, best one out there is Endomondo!

Ive been Endomondo Pro for years, used it on my Blackerry Storm and it's even better on the iPhone. It does everything the Runkeeper will do and it wil even intergrate with a Bluetooth heart monitor as well... GPS is very accurate and the routing options are endless. Another cool feature is the social aspect - your friends can see you (if you allow it) out and can send you "pep talks" that the app will therefore read aloud to you. Outstanding app - would love to see a good review on it as well... They have a free version as well.

Runmeter is expensive but it is the best app out there by far from what I have seen with interval training, heart rate monitors, etc.

Try MiCoach from Adidas. Is the best I guess

Rubitrack on the Mac to keep track of activities, and Rubitrack recorder on the phone to both keep track of and record. Integrate the Wahoo fitness sensors, and you've got more information and stats than the average runner will want or need

I use MotionX, it's GPS works well and you can get audio feedback at intervals duing your exercise.

If you like zombies, then also check out an app coming to the app store called Zombies, Run! I just got a beta copy for preordering (not sure if they are still doing it). It's a game and run info tracker that will work with Runkeeper.
As you run you automatically pick up random items to build your base when you get home and play the game. As you run a mission, you hear the base break in over your music to tell you that zombies are chasing you! It rocks!
http:www.zombiesrungames.com
Search "ZR Advance" in the app store to read up too. I'm don't have anything to do with this site or company. I'm just a huge zombie and running fan!

Zombies, Run! looks like it might be fun... Think I will wait till it drops from the $7.99 intro price though.
Currently stuck to running on a treadmill, while in Afgh, and unsure how they've tied that into all the program, despite saying it was.
From your experience... is it a time based interaction (Between songs) or a GPS distance based interaction?
Thanks.

What about the Nike+ Fuelband and app? Anyone heard much about that?

are you kidding, that is THE app, i cant think of how there would be a better app for running, i'm talking about the Nike+ GPS that tracks all your data, routes, makes great statistics and keeps you interested to easy motivation.

The bad part about using the Nike apps is that if you want to export/import your runs to another program it is nearly impossible.

Anyone used both the Get Running App as well as the Couch-to-5K "official" app?
Preferences???

I have used RunKeeper for awhile now. It is a great tool for my daily walk.

Any other suggestions then the armband? I think a belt clip might be better for me. Any suggestions? Thanks.

I have a Tuneband (top result on Amazon if you search iPhone armband). It is a silicone case, with a separate armband that you can use. I absolutely love it, and it has worked way better than the other 3 armbands I've used.

There is a couple recommendations that have been overlooked. MiCoach is an exceptional app for running. It will set a whole plan up for what you want to accomplish. It will create intervals for cardio training/heart rate to enable stamina build up. Also it has a shoe mileage tracker that makes it less work wondering when you need to replace your shoes.
As far as gear. Yurbuds are great. Very comfortable. Will not fall out and are cheaper than what is shown above. Not only that, the silicone cover can go right over the headphones that come with the phone. I use them on 10+ mile runs and no discomfort. They start at about for $25 just for the ear bud covers. $35 for entry level buds. These things are tough too. Mine went through the washer and still worked and I am still using them today and the washer incident happened in September. I believe there is a yurbuds app for sizing them on the app store. Hope that helps some out.

Digifit is the only way to go with running...heart rate and gps

I just downloaded DigiFit to use with my Polar H7 Bluetooth HR transmitter.
I need a belt for my iPhone 4S rather than an arm band because I have small arms.
Any suggestions?

Pedometer is great app. I been using for a while now.

Used iMapMyRun just Saturday. If you are looking for something without all the frills, then this app is perfect. Saves your routes, keeps your calories, and provides your time per mile.

I have used RunKeeper for over a year, and now use iSmoothRun... it exports to RunKeeper, so I still have the benefit of using RunKeeper's great website, plus it also exports to DailyMile, RunningFreeOnline, TribeSports and TrainingPeaks, and GPX/KML. It uses ANT+ sensors, tracks shoe/bike mileage, has a great interval/workout editor, and great audio feedback during the run.

MiCoach with the heart rate monitor (Connect) is hands down the best in my opinion. Just wish the heart rate monitors were more easily available in Canada.

If you own a Nintendo Wii gaming system, you perhaps are amazed featuring a capability to read your own movements and translate them into in - video game movements of characters in different Wii games.

I tried it in the gym and it didn't count the miles correctly?! Need something desperately for my upcoming first half! Don't want to buy a watch! And I switched from nike to brooks!

Hi guys, I have got an iphon 4 with ios 4.3.3. I've tried to install ultrasnow 1.2.3 to unlock my iphone. But, i couldn't install it. Please help me get out of this trouble...

I had no idea you could do this, good to know

There's a new running app that people might want to check out. It is called Sociercise Real Time Running Races and lets users compete in real time against other runners in set distance races. Very motivating to actually race someone in real time. It also has a mapper for your route, individual workouts, and goal setting and tracking. Check it out (http://www.sociercise.com/).

I found a new App called "Run Practice" (www.run-practice.com). It has some features I have never seen before. It has more or less the same statistical data like time, distance, pace, speed, avg. pace (but no calories burned, but I never used that before). The new amazing feature is this: You can race against yourself. Nothing new you say? It is in the way it is done in this App! You can run against as many "Ghosts" as you like. You always see your current ranking, your distance to the best ghost, to the next best ghost and to the next ghost behind you. The other very cool feature is the automatic start/stop mechanism. When you have recorded your "Mastertrack" the App recognizes the start and finish line and starts and stops recording automatically. After running you can analyze your run(s) with the Replay mode, or even more comfortable with Google Earth. Everything for only 2 Bucks. No Ads, no restrictions, no InApps, no Pro Version. It is absolutly worth the money.
Thank you for signing up to iMore. You will receive a verification email shortly.
There was a problem. Please refresh the page and try again.