The iPhone Blog Week in Review for January 5, 2009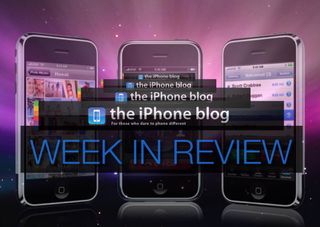 Every week I will be bringing you what I think are the week's biggest stories and articles. Let's get started, after the break!
Vaja to have iPhone Nano case?
These pesky iPhone rumors! However, what might give some credibility to the rumor is Vaja, a prominent case maker, lists the iPhone Nano on their website. Things that make you go hmm?
Use Twitter instead of SMS on your iPhone
Rene posted an excellent article by Dieter (LOL) about why you might want to use Twitter instead of SMS. I am a believer! The trick is getting people to use Twitter. I have to admit though, it works. Rene (our editor) live in Canada, so I can "txt" him with Twitter and it works great!
iPhone "Pro" slider concept
Do you want one? I don't. I just want screen rotation available for the apps that I want. Can't Apple just build that into Settings?
iTablet coming in late 2009?
Man, I hope this is true? Rumors around the Internets are saying so. TechCrunch says they have a few people that have held the device, etc. Perhaps it will be announced at Macworld 2009?
MobileFiles Pro brings Excel edit functionality to iPhone
Man, I saw this the other day and said to my self, the dawn of office apps is upon us (hey, maybe Microsoft will announce their app at Macword?)! Bummer though, it is just for Excel, no Word or PowerPoint functionality... yet... I already use the free app. i am debating if I should get the Pro version.
2008 TiPby Awards
Well, we have started our annual awards. What did we pick this year? Read on to find out!
In our continuing series for iPhone 101, we discuss how the silent switch works on your iPhone.
Apple apps to become web-i-fied?
Well, that is what people are sayin'. iWork web client and maybe even iLife? I say it is possible for MobileMe subscribers. I can easily envision a "basic" client added to MobileMe. Will it happen when the current iteration of MobileMe is not perfected? We will have to see.
iGloves patent
If you have ever tired to use your iPhone with gloves on, it doesn't work since the iPhone's touchscreen works off of electric feedback from your fingers. Curiously, this patent was applied for back before the first iPhone launched in June 2007.
Google App Easter Eggs
I love the Google App for iPhone, even if it is not 100% accurate, it is still cool. So for Google to announce extra features, makes chadman very happy! What does it give you? Different colors and the ability to keep webpages inside the Google app among some others. Very cool Google! Now where is my native Google Docs app...
TiPb at Macword 2009
Oh yeah, we are there. You can follow our editor @reneritchie and editor-in-chief @backlon on Twitter! WE apologize in advance if we get a little off schedule next week, at least you know why!
The Phone Different Podcast 32 is now up!
Listen to our latest podcast for all the weeks news and info!
AT&T making EDGE even slower?
Well, for 2G iPhone owners, this rumor might be troublesome. As you may know, poor AT&T's network is a little over burdened with the number of iPhone 3G's requesting service. To compensate, the rumormill is saying that they are moving EDGE bandwidth to another spectrum to allow better connections for iPhone 3G. What does that mean for iPhone 2G users? Read on to find out!
Managing your iPhone's music
It is all about playlists in iTunes! Brian gives us some great examples of how to get the music you want to your iPhone!
Get more iMore in your inbox!
Our news, reviews, opinions, and easy to follow guides can turn any iPhone owner into an Apple aficionado
Software trainer, blogger and mobile technology enthusiast living in the suburban Midwest.