The iPhone Blog Week in Review for November 10, 2008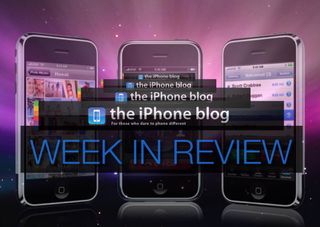 Every week I will be bringing you what I think are the week's biggest stories and articles. Let's get started, after the break!
TiPB Interview: Interface Innovation
If you are interested in how a developer looks at the iPhone's unique interface development, this is a very interesting article, click to read. They range from how simplicity is important to how to work within the confined canvas of 320x480!
Opera Mini on the iPhone, Nah...
Hogwash I tell you! It was an internal project and never left the confines of Opera. Ah, the joys of the blogosphere!
Marware Sport Grip Case for iPhone
In the never-ending drive to find the perfect case, Casey looks at the Marware Sport Grip Case for iPhone in the weeks case review. This case looks good and covers your iPhone. Does it grip well? Does it look good? Read on to find out!
iDisk on the iPhone!
With MobileFiles from QuickOffice. This app is really, really cool. You can access your MobileMe iDisk directly on your iPhone and even store files locally for convenience! When is Apple going to implement items like this? I love that developers are doing it (and that Apple is allowing them), but I would think that Apple would want to supply their own solution.
Apple on par with PSP and DS?
Can the iPhone/iPod Touch 1-2 punch be enough to topple the gaming juggernauts of Sony and Nintendo? Business Week seems to think so, and with some compelling reasons. I have to sit and think that many moons ago, there were rumors about Apple buying Nintendo. Perhaps these rumors were just slightly misguided, and in fact, the discussions were actually centered around making the iPhone/iPod a gaming device. Hmm...
They are both cool! Need to know the name of a song playing on the radio? Then this app is for you! But who will win? Read on to find out!
Firmware 2.2 Speculation Continues!
What? OTA podcast downloads? iTunes and App Store makeovers? Craziness I tell you! I sure hope this update comes out soon, I am eager with anticipation!
Apple was going to buy Palm! No Way!
Ahh, this is very interesting to me. I loved Palm before I ever fell in love with Apple (I know, I was a late-comer to Apple Luv) but I did not know that Steve Jobs has offered to buy Palm after canceling the Newton. Wow. One has to wonder what would have happened with Apple's design and innovation at the helm of Palm...
iPhone Tethering Coming Soon?
Well, not soon enough if you ask me. Perhaps it will be part of the next firmware? Who knows. I was at my local AT&T store this weekend and I was discussing this with them. They said it would probably be another $30 a month. I sure hope not. I would be willing to pay $10 more a month. I think AT&T is getting a little too bog for their britches...
We just can't get enough of those iPhone cases! This week we also have Brian reviewing the iSkin Revo Case. Brain REALLY likes this case! Read on to find out why!
How Awesome is the iPhone? J.D. Power and Associates tells us!
Hmm, not pad for a device that is not even a year and a half old yet, eh?
External Keyboard for the iPhone?
Oh, how I long for thee. And is a reality for you if you are into homebrew for the iPhone. Will Apple ever release an official keyboard? I don't think so, but you never know.
Phone Different Podcast
Ah and finally our beloved bi-weekly Phone Different Podcast What do Dieter and Mike have to discuss this week? Click to listen and read the show notes!
Master your iPhone in minutes
iMore offers spot-on advice and guidance from our team of experts, with decades of Apple device experience to lean on. Learn more with iMore!
Software trainer, blogger and mobile technology enthusiast living in the suburban Midwest.