iPhone and cycling: How to have fun and stay fit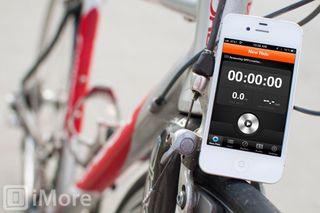 My iPhone is the perfect cycling companion. It entertains, informs and keeps track of where I go and how long it takes me to get there.
February is Health and Fitness Month at Mobile Nations, and my exercise program for most of my adult life has been cycling. Living on Cape Cod, I am treated to some beautiful vistas, ocean views and a fair share of challenging hills. During the warmer months, I can be at the ocean in about seven minutes and then continue for 20 – 30 miles along the coast.
My rides would be far less enjoyable without my iPhone as my entertainment/navigation system and ride recorder. I use the heck out of my iPhone for pretty much every ride. Seeing as though we have pretty much avoided "winter" this year, I can continue my outdoor rides - even on a February afternoon!
Monitoring your general health
I have been pretty fortunate for most of my life in that I have stayed at virtually the same weight for the last 15 years (as long as I stay active.) I do have some fluctuations and occasionally use apps like the Fitter Fitness Calculator to keep track of things.
Fitter - $0.99 - [Download now](http://itunes.apple.com/us/app/fitter?at=10l3Vy&ct=UUimUdUnU13315 -fitness-calculator/id441849779?mt=8&at=10l3Vy&ct=d_im)
Getting the right music
While riding with earphones is not always the smartest thing to do on a bike, most of the roads I travel are pretty empty; so I usually "plug in" when I ride. Often I will just put in one earbud and let the other hang so I can still hear the traffic.
I need to have the right tunes – especially on a longer ride – so I have a few options. I have a standard "Bike Riding" playlist that I made in iTunes, which usually does fairly well for me. There is nothing worse, though, than landing at the base of a hill and having a slow ballad come on. I try to keep all the music at a good beat to keep me motivated.
I also use Pandora stations and Spotify playlists on occasion. Everyone's musical tastes are different, but for me, the Led Zeppelin station on Pandora usually suffices.
Free - Pandora - Download now
Free - Spotify - Download now
Keeping Track of the Ride
I like to monitor my progress through the riding season. I set goals for distance, speed and calories burned. Fortunately, there are two great apps that I use to help me with this.
Strava Cycling is a great app and provides lots of useful data. It keeps track of where I am and where I go, how fast I'm going and what my average speed is. At the end of the ride, the path and stats of the ride are uploaded to their server, for easy reference later.
Another great feature is the Explore button that shows you other rides uploaded in your area by Strava users.
The other app I use is Road Bike Cycling Computer. It keeps track of each "Session" you ride and adds calories burned and rpm's to the data. You can touch the History button to see your rides. One nice feature with the Road Bike Cycling Computer app is that you can input data for weather conditions and the type of surface upon which you were riding to help monitor your progress.
Get cycling!
My iPhone is the perfect cycling companion. It entertains, informs and keeps track of where I go and how long it takes me to get there. While there are certainly days where I leave the phone at home and ride with friends – most days you can see me pedaling along the shore, plugged in and monitoring my ride with one of the apps listed above.
Remember to jump into our Health and Fitness Forum and let us know your goals and how you are doing. You can even enter to win an iPod nano, and IOU for an iPad 3, or an XBox 360 Kinect!
Get the best of iMore in in your inbox, every day!
congrats on your first entry!
great ideas and easy to follow, gary!
is there an app like that for those of us that like to walk for exercise? i wonder if i'd be more motivated with all that info to help me.
keep the inspiration coming!
jude

The Nike plus app is pretty good for running/walking. It tells you what route you took and your best times. You can also play your music right from the app.

Jude,
Strava also has a run/walk app. I use it, and LOVE it. There is also imap my run and the Nike+ which is already installed on ur phone ( go to the bottom of ur settings app and open Nike+) I prefer te strava the best and I have used all three extensively.

Also RunKeeper app does the same thing and you can set it for running, walking, cycling. Its free in the app store!

no MapMyRide for an app?
most importantly, where is Queen's "Bicycle Race" for riding music???????

cyclists who listen to music and ride are damned idiots. the gps capabilities of iPhones just isn't that great. while mr mazo does a great job of offering he doesn't ride much in traffic and likely doesn't ride in areas with much elevation change, cycling-related apps are imo contributing to accidents waiting to happen for most of us. at the least, users of apps like this should be held liable for accidents they're in.
i'm a cyclist of 35 years, and an iphone user. like any automobile operator - cell phones should be used when stationary, and gps devices should be used safely (there isn't one bike manufacturer in the world that offers gps standard - for a reason). i can't count the number of tools riding bikes even on separated trails that just aren't paying attention to their surroundings. gary, how many wrecks do you think you're causing - hold it, you're busy listening to music to hear the carnage you've just caused. man, you're irresponsible.

Great article. I want to get back into cycling soon. Now I just need an overview of good iPhone bicycle mounts...

Hello there, just turned into alert to your weblog through Google, and found that it is really informative. I'm going to watch out for brussels. I will be grateful should you continue this in future. Numerous people will probably be benefited out of your writing. Cheers!
Thank you for signing up to iMore. You will receive a verification email shortly.
There was a problem. Please refresh the page and try again.