iPhone and cycling: How to have fun and stay fit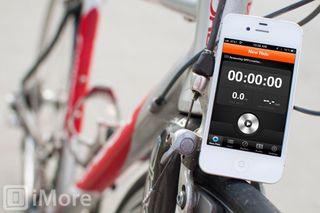 My iPhone is the perfect cycling companion. It entertains, informs and keeps track of where I go and how long it takes me to get there.
February is Health and Fitness Month at Mobile Nations, and my exercise program for most of my adult life has been cycling. Living on Cape Cod, I am treated to some beautiful vistas, ocean views and a fair share of challenging hills. During the warmer months, I can be at the ocean in about seven minutes and then continue for 20 – 30 miles along the coast.
My rides would be far less enjoyable without my iPhone as my entertainment/navigation system and ride recorder. I use the heck out of my iPhone for pretty much every ride. Seeing as though we have pretty much avoided "winter" this year, I can continue my outdoor rides - even on a February afternoon!
Monitoring your general health
I have been pretty fortunate for most of my life in that I have stayed at virtually the same weight for the last 15 years (as long as I stay active.) I do have some fluctuations and occasionally use apps like the Fitter Fitness Calculator to keep track of things.
Fitter - $0.99 - [Download now](http://itunes.apple.com/us/app/fitter?at=10l3Vy&ct=UUimUdUnU13315 -fitness-calculator/id441849779?mt=8&at=10l3Vy&ct=d_im)
Getting the right music
While riding with earphones is not always the smartest thing to do on a bike, most of the roads I travel are pretty empty; so I usually "plug in" when I ride. Often I will just put in one earbud and let the other hang so I can still hear the traffic.
I need to have the right tunes – especially on a longer ride – so I have a few options. I have a standard "Bike Riding" playlist that I made in iTunes, which usually does fairly well for me. There is nothing worse, though, than landing at the base of a hill and having a slow ballad come on. I try to keep all the music at a good beat to keep me motivated.
I also use Pandora stations and Spotify playlists on occasion. Everyone's musical tastes are different, but for me, the Led Zeppelin station on Pandora usually suffices.
Free - Pandora - Download now
Free - Spotify - Download now
Keeping Track of the Ride
I like to monitor my progress through the riding season. I set goals for distance, speed and calories burned. Fortunately, there are two great apps that I use to help me with this.
Strava Cycling is a great app and provides lots of useful data. It keeps track of where I am and where I go, how fast I'm going and what my average speed is. At the end of the ride, the path and stats of the ride are uploaded to their server, for easy reference later.
Another great feature is the Explore button that shows you other rides uploaded in your area by Strava users.
The other app I use is Road Bike Cycling Computer. It keeps track of each "Session" you ride and adds calories burned and rpm's to the data. You can touch the History button to see your rides. One nice feature with the Road Bike Cycling Computer app is that you can input data for weather conditions and the type of surface upon which you were riding to help monitor your progress.
Get cycling!
My iPhone is the perfect cycling companion. It entertains, informs and keeps track of where I go and how long it takes me to get there. While there are certainly days where I leave the phone at home and ride with friends – most days you can see me pedaling along the shore, plugged in and monitoring my ride with one of the apps listed above.
Remember to jump into our Health and Fitness Forum and let us know your goals and how you are doing. You can even enter to win an iPod nano, and IOU for an iPad 3, or an XBox 360 Kinect!
Master your iPhone in minutes
iMore offers spot-on advice and guidance from our team of experts, with decades of Apple device experience to lean on. Learn more with iMore!