iPhone lens kits for under $10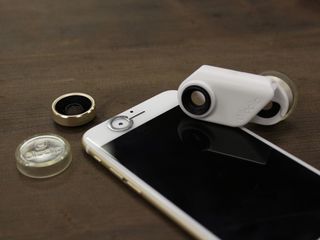 iPhoneography is a great option for people who want to shoot amazing pictures but don't want to spend a boatload on all the pricey bells and whistles that DSLR cameras and kits have to offer.
Even some phone photography gear can get pretty expensive. BitPlay's SNAP! 6 Series is beautiful to look at and shoots stunning photographs but costs nearly $300, while other cases with their external lenses can run well over $100.
What if you wanted to practice some iPhone photography on a budget? There's no need to spend a ton of money on your lenses, so we break down four iPhone lens kits for under $10 that can take your iPhone photographs to the next level.
Ailun 3-in-1 clip on
High-quality, professional HD lenses with advanced lanthanide optical glass ensure that your $6.99 Ailun 3-in-1 clip on lens kit captures your memorable moments like a true professional.
Detachable and portable clamps with soft rubber protect your iPhone from being scuffed up from the clip if you're using the lenses without a case – but if you do want to use a case, the Ailun kit is versatile enough to accommodate even some of the bulkier cases available. Although, for the best quality photos, you want your external lens as close as physically possible to your camera's lens.
Like most standard iPhone lens kits, the Ailun comes with a wide-angle, macro, and fisheye lens (the macro comes attached to the wide-angle lens and needs to be unscrewed to work properly).
Noemigal universal lens
Simply slip and clip on Noemigal's $6.99 universal cell phone lens, and you're ready to start shooting with your iPhone!
Compatible with most types of mobile phones, this universal lens comes with a wide-angle and a super-detailed 13x macro lens to let you get up close with the small things in life. An aluminum alloy construction assures your lenses' durability, while the engineering plastic clip secures tightly to your iPhone.
Unlike other clips on this list, the Noemigal cannot be used with a bulkier iPhone case, though the slimmest of cases and screen protectors won't impede its low profile design.
iKross 3-in-1 universal
Wide-angle lens? Check! Fisheye lens? Check! Macro lens? Check! All for $1.99? Double check!
The iKross 3-in-1 universal lens kit features all your standard iPhone lenses for a fraction of the price of other lens kits that virtually do the same thing. Like most inexpensive lens kits, this one works with a clamp that secures your lenses to your iPhone's camera.
The fisheye lens captures a 180-degree view sans the black circle, while the wide-angle is perfect for when you're looking to capture that extra field of view. The macro lens is perfect for making small details pop and the best part about the iKross? The lenses can also be used with your iPad, MacBook, and other Apple computers, so forget all those standard, basic Photo Booth filters – get creative and attach a lens!
What's your favorite inexpensive lens kit to shoot with?
Do you prefer using magnetic lenses or something that clips on? Are you a fan of the three standard lens types or is there something more unique you like to shoot with? Let us know what inexpensive iPhone lenses you love to shoot with in the comments below and we'll be sure to check them out!
Master your iPhone in minutes
iMore offers spot-on advice and guidance from our team of experts, with decades of Apple device experience to lean on. Learn more with iMore!
Cella writes for iMore on social and photography. She's a true crime enthusiast, bestselling horror author, lipstick collector, buzzkill, and Sicilian. Follow her on Twitter and Instagram: @hellorousseau