Step up your iPhoneography game with these iPhone lens kits for under $25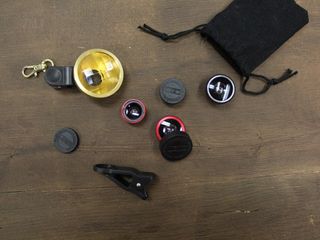 We're not saying that iPhoneography will be replacing photography anytime soon, but there are less expensive alternatives to spending hundreds or thousands of dollars on pro photo equipment.
In this guide, we break down five iPhone lens kits for under $25 that'll have you shooting like a pro without breaking the bank.
Neewar iPhone lens kit
The Neewar iPhone lens kit goes above and beyond your standard lens kit: for $10.99, you get three lenses (fisheye, wide-angle, and macro) with their lens caps, a microfiber lens bag, plus a flexible tripod with a universal adjustable phone holder to line up all your iPhoneography snapshots!
The lightweight Gorilla Grip-style tripod can be folded up and stored in a snap, while the lenses are quick to install with their clamp-on design. These Neewar lenses can fit over and around most iPhone cases – even the really bulky ones – but for the best quality phone photos you'll want to try to get your external lens as close as physically possible to your phone's camera.
COMSUN universal lens kit
Manufactured with superior grade glass optics and strong aluminum for enhanced durability, the COMSUN universal lens kit delivers five amazing lenses for your iPhone for around $13.99.
Whether you're snapping selfies, portraits, panoramas, large group shots, concerts, hiking trips, vacations, cityscapes, or anything else you can imagine, COMSUN's easy-to-use design is perfect for the beginner iPhoneographer yearning to shoot with the crystal clear precision and detail of a pro. In total, you get five different types of lenses in this kit: the super fisheye, the macro lens, the super wide-angle lens, the EXT barlow 2x lens, and the CPL polarizer.
Discover 2.5x more landscape with their super wide-angle lens, and get up-close and personal with the 19x macro lens. Meanwhile, shoot the world with a completely different point of view with the 235 degree fisheye lens. The possibilities are endless with this lens kit in your arsenal!
Mpow lens kit
Following the trend of clip-on iPhone lenses, the Mpow 3-in-1 lens kit is an iPhoneographer's best friend. The tiny detachable lenses work with both your iPhone as well as your iPad or Macbook, so you can get creative with your photobooth selfies for around $21.99!
Built with high-clarity glass, the Mpow ensures you get that crystal-clear clarity in every shot, while their fisheye lens promises no dark circles or obstructions like other products. In this kit, you get a fisheye, wide-angle, and macro lens — the standard bread and butter of iPhoneography lens options.
It's worth noting that your flash may be blocked once these lenses are on your iPhone, but you'll be so enamored with your snapshots you probably won't mind all too much!
Mozeat Lens 3-in-1 kit
Turn your iPhone into a DSLR-quality camera with the Mozeat 3-in-1 lens kit for only $15.99. With it, you can start shooting your iPhoneography pictures with stunning fisheye, captivating wide-angle, and hyper-detailed 10x macro lenses.
Your flash will be covered by the lenses, but you won't necessarily need it to shoot amazing pictures. Instead, use the Mozeat's soft, rubber detachable clamp design to secure your lenses in place and snap your photos without ever worrying about the quality of your pics.
Professional HD glass reduces glare and reflection, while the macro and wide-angle lenses promise minimal distortion, and no dark circles with your fisheye.
EEEKit 4-in-1 kit
The EEEKit is another iPhoneography kit that goes above and beyond your standard lenses. For $21.99, you get a telephoto lens, an adjustable tripod holder, a bluetooth remote control shutter, a macro lens, a wide-angle lens, a fisheye lens, and a portable pouch for all your gear.
The EEEKit's wide-angle lens, paired with their macro lens, will increase your view range by about 50%, while the 8x zoom telephoto lens grants you new freedom to snap shots from quite a distance.
The tripod stand is perfect for setting up your iPhone for steady shots, while the remote shutter control allows users to shoot their iPhoneography without the stress of a timer.
What's your pick?
Is there a lens kit for under $25 that you simply cannot live without? Let us know what and why in the comments below!
Master your iPhone in minutes
iMore offers spot-on advice and guidance from our team of experts, with decades of Apple device experience to lean on. Learn more with iMore!
Cella writes for iMore on social and photography. She's a true crime enthusiast, bestselling horror author, lipstick collector, buzzkill, and Sicilian. Follow her on Twitter and Instagram: @hellorousseau