How I use my iPhone for police work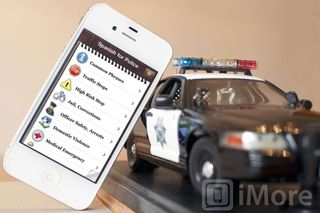 David is a technology enthusiast, iPhone user, and Texas-based police officer. This is how he uses iOS at work
Unlike most traditional jobs, I don't have an office where I can spend 8 hours a day sitting at a computer doing work. My office is a Ford Crown Victoria, and it is constantly moving from one location to the next. I need to have access to varying forms of information on the go to effectively get my job done. That's where my iPhone comes into play.
Lifeproof case
Being a police officer is a dangerous job; I know that's probably shocking news right? We get into car chases, foot chases, fights, and occasionally worse. My point is, knowing it's a dangerous job, I need to have my iPhone on me at all times. It can literally me a lifeline. So I need to protect it from the dangers of my job. The solution I have found to work for me is a Lifeproof case. Lifeproof cases will protect your iPhone from all the elements; water, dirt, snow, and shock. It's waterproof up to 6.6ft, and can withstand a drop from 6.6ft. These are all important factors for me in my daily use since a majority of my time is spent outside in the elements. The Lifeproof case has already saved my iPhone more than once.
Spanish for Police
Working in Texas this is a must have. I took four years of Spanish in school, and I'm pretty good without this, but I am nowhere close to being fluent. The Spanish for Police app helps me bridge that gap with words and phrases that I may have forgotten or never learned. It covers subjects from traffic stops, to domestic violence, DUI's, and much more. The great thing with this app is when you find the phrase that fits the situation you are in, just press that phrase and you will hear it read outloud.
Pill Identifier by Drugs.com
The war on drugs isn't just about the typical illicit drugs that everyone thinks about. It also now involves prescription medications being abused. Often times suspects are arrested and found to have a baggie of pills on them. Of course there is no label on that bag, so we have to use the identifying information imprinted on the pills to identify what that pill is. Pill Identifier by Drugs.com allows you to enter the imprint number from the pill, and then it pulls up every pill in its database with that number and tells you what that pill is, and usually has an image of the pill also for further verification that you have the correct pill identified. It's important to know if someone is just carrying a bag of tylenol versus a bag of hydrocodone.
Wiser
Wiser is an easy to use version of the Department of Transportation - Emergency Response Guidebook. The purpose of the app is to identify hazardous substances. For instance, if we respond to a collision and it involves a tanker truck on fire or leaking, we obviously don't want to get too close until we know what substance is in that truck. With a good set of binoculars we can look at the placard on the truck, read the number on the placard, enter it into the Wiser app and figure out what substance the truck is carrying, and what safety precautions need to be used for the first responders, and for the surrounding bystanders.
White Pages
The White Pages app is probably pretty common on most people's iPhones. You can search for people, businesses, or do a reverse phone lookup. All of these things come in handy when looking for someone. It's scary how much public information is available on the web, but it useful when looking for a bad guy.
iMessage and ActiveSync
First and foremost, I use my iPhone as a communications tool. As a street level supervisor I receive several phone calls throughout the night from troops about how they should handle a particular call, or to brief me on things that require they notify a supervisor. For the times when a phone call can't be made, we rely on sending iMessages or text messages back and forth to relay important information. Lastly, I take advantage of ActiveSync to have my Microsoft Exchange email and calendar information pushed to my iPhone. This keeps me up to date on the go of all important department-wide crime bulletins that are sent, as well as keeps my appointment schedule at my fingertips.
Safari
If I have a question about the penal code, code of criminal procedure, or even the transportation code, an answer is just a quick search away via the Safari web browser. There are plenty of apps available, but I guess I'm too cheap to buy them. I think the browser on the iPhone and the information provided on the State of Texas website fulfills my needs.
Conclusion
I know that there are many more apps out there that could be of use, but these are the primary ones I use on a day to day basis. If you work in emergency services and know of some great apps that may help others in the field, sound off in the comments with what you have so we can all get a look and benefit from what iOS has to offer.
*You can read more of David's posts at
Get more iMore in your inbox!
Our news, reviews, opinions, and easy to follow guides can turn any iPhone owner into an Apple aficionado