iPhone SE 2: What happened to it and why?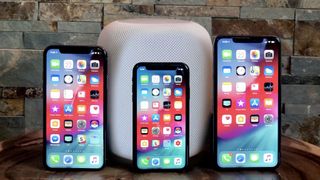 (Image credit: iMore)
Rather watch than read? Hit play on the video above and subscribe for more.
I wrote this way back in January of 2015, when I first started thinking that, what became iPhone X and iPhone XS, were the next inevitable steps forward in iPhone evolution:
The crux of the idea was that people kept asking for a more modern 4-inch iPhone, but it occurred to me it wasn't the smaller screen size they really wanted, it was the smaller phone size, and if the screen went edge-to-edge, they could have both.
So, now, almost four years later, we have the regular-sized iPhone X and XS with an iPhone Plus-sized display, and the plus-sized iPhone XS Max with an even bigger display.
But what we don't have is that original, still beloved by some, 4-inch iPhone device size with what was previously the "regular" 4.7-inch iPhone screen.
We had the SE. We still haven't gotten the [SE] X.
The History of SE
In September of 2014 Apple announced the big and bigger iPhone 6 and iPhone 6 Plus. The reasons were simple. Once upon a time, Apple had sold an iPhone to pretty much everyone on AT&T or willing to switch to it, it moved on to Verizon, NTT DOCOMO, and China Mobile. It annexed the nearest neighbors to keep growing the business. Same way, Apple has sold an iPhone to pretty much everyone who wanted or was willing to put up with a 4-inch or smaller iPhone, and the business that was left was all… bigger.
But, while Apple introduced the 4.7-inch and 5.5-inch iPhone, and left the 4-inch iPhone 5s on the market, it didn't make a new 4-inch. So, people who liked the form factor were left to choose — stick with the older model or go up to a size they liked less just to get a processor and camera they liked more.
And it stayed that way throughout 2015, past the introduction of the still big and bigger iPhone 7, right up until March of 2016. Then, Apple announced the iPhone SE.
It had better internals than the iPhone 5s in same the form factor — equivalent to the iPhone 6s… but not to the then flagship 7. And it was emblematic of a deeper problem: Apple didn't nail the demand forecasting — the market research is does to figure out what people want in an iPhone. Demand for the SE, at least initially, far outstripped supply.
Apple seemed to think people only wanted a new 4-inch iPhone because of the lower price. But a significant number were buying it for the smaller size. But again, because it was still essentially a year old device, customers again had to choose between sticking with the older guts or go up to a size they liked less just to get a processor and camera they liked more.
When the next big change came, though, Apple seemed to have learned from the past: It introduced iPhone X but also updated the previous form factors with exactly the same, top-end processors and cameras. If you didn't want the next generation you could stick with the previous one without giving anything else up.
Apple even kept the iPhone SE on the market as well, at very bottom of the lineup. At least until this year.
The Killing
When Apple introduced the iPhone XS, iPhone XS Max, and iPhone XR, the iPhone SE had to die. There were a few reasons for that.
Apple didn't just kill off the iPhone SE this year, it killed off its entire processor generation. Everything built on the A9 processor, including the iPhone 6s, iPhone 6s Plus, and even the 9.7-inch iPad (5th generation). Apple's A8 is still sold in the iPad mini 4, iPod Touch, Apple TV 4, and HomePod. But two of those aren't mainline computing devices and the others… are almost abandonware at this point.
The market has been steadily moving away from smaller screens. Maybe not for some and their tech circles on Twitter, but for most of the world where the phone can be and sometimes has to be a primary or only computing device. For a vast number of people, fitting phones into super tight jeans is a nice to have. A bigger screen so they can be more productive is a must have. And yes, even tiny people with tiny hands. Like a tablet is for everyone.
iOS has also been steadily moving away from smaller screens. Both the system and the apps can barely squeeze themselves onto the 320 point wide display any more. It still works, it's just getting less and less comfortable and even usable over time.
The rumors
But that was an old iPhone SE with the old design and old screen size. What about a new one?
On August 4, 2017, Focus Taiwan claimed:
On November 22, 2017, Taiwan's Economic Daily News reported:
On January 2, 2018, market research firm TrendForce, via MacRumors,
On January 8, Sachin Baht of Tekz24 claimed an exclusive:
On January 29, 2018, supply chain exfilitrator extraordinaire, Kuo Ming-Chi, cast doubts on a new SE. Via MacRumors:
On April 20, 2018, Mac Otakara pressed on:
On May 10, MacRumors cast doubt on just how old a potential new SE design might be:
On May 14, the Mac was Back — Mac Otakara that is — backing up the new design and more.
According to a certain glass manufacturer, there are 3 kinds of prototype glass, and wtih regard to the design, they are made to share the same features of having no Touch ID holes and their upper portion are cut into the shape of TrueDepth cameras.
On May 31, Sonny Dickson, who often gets pre-release iPhone parts and dummies out of China, tweeted:
https://twitter.com/SonnyDickson/status/1002388867041751040
On July 10, BlueFin Research reached out to MacRumors to say:
But, of course, the iPhone SE — not SE 2 — was discontinued.
So, where does that leave us?
The Options
Despite Apple not updating iPhone SE in over two and a half years, both the size and design remain beloved by a segment of the customer base. How big or small that segment is unknown, though guesses likely depend on whether you include or exclude yourself from it. In other words, the more we want an iPhone SE 2, the more likely we are to think many, many other people do as well, and believe that market must be sizeble, because dammit, we want it!
We'll say things like, it's impossible to know how many people would buy a modern, small-sized iPhone because Apple isn't offering one, so people can't choose it. And even when you point out Apple isn't offering a 2-inch or 20-inch iPhone either, but there are other ways to determine those markets are undeniably small, no needs to risk billions of dollars testing them and failing hard first to find out, we totally won't listen to you.
But, let's just say the believers are right and the doubters are wrong, and Apple still has a new iPhone SE on the drawing board, and was simply waiting to get through the iPhone XS and XR launch to free up enough resources of a next spring release. Let's just say that for the sake of making this way more fun. What would the SE 2 be?
Because, the market for it is really two.
The first is the less-expensive market. Apple is kinda-sorta serving that in two ways already. One, iPhone 7 has taken iPhone SE's place at the very bottom end of the market. It isn't $349 but it is available from $499, with a bigger screen, better processor, and better camera than the SE. And two, iPhone XR is a less expensive next-as-in-10 generation iPhone that typically starts at $749 but Apple has been heavily promoting for as little as $449 with trade-in.
Rumor also has it Apple is bringing iPhone X back for the emerging markets, primarily India. It won't be cheap but it'll be cheaper than the XS.
If Apple wants to get back to having a $349 entry-level iPhone, damn the ASP — average selling price Wall Street currently holds so dear — and doesn't want to just wait and drop iPhone 7 to that slot next fall, and slightly spec-bumped iPhone SE 2 with iPhone 7-like internals could certainly do that.
But it wouldn't do anything for anyone who's been wanting an even smaller flagship. Other than, you know, really piss them off.
So, the second is smaller iPhone market. Apple only really serves that right now with iPhone XS, which squeezes a previously-reserved-for-Plus-sized screen and dual-camera system into a regular-sized device. For anyone who previously had eyes and heart saying yes to the Plus but mind and hands saying oh hell no, it was perfect.
With iPhone Max, Apple took a plus-sized device and made the screen even smaller. What Apple hasn't done, at least not yet, is take a regular sized screen and make the device even smaller.
An iPhone 6, 6s, 7, or 8 sized screen crammed edge-to-edge into an iPhone SE sized body, even if it has iPhone XR-style compromises like aluminum and a single camera system to do it. Given the cost of an A12 Bionic and TrueDepth camera system, it wouldn't slot in at $349, though, so it wouldn't please anyone wanting a new entry-level iPhone.
So, this is where we are: Rumors that Apple was making a new, entry-level iPhone SE for first-time buyers and emerging markets, something that was essentially an updated iPhone SE with slightly better specs but the same low, low price. Then, rumors that Apple was making a new, modern iPhone SE with and edge-to-edge display, camera notch and all, for people who want a fancy new iPhone but not one even as big as the XS. Now, nothing.
Get the best of iMore in in your inbox, every day!
Rene Ritchie is one of the most respected Apple analysts in the business, reaching a combined audience of over 40 million readers a month. His YouTube channel, Vector, has over 90 thousand subscribers and 14 million views and his podcasts, including Debug, have been downloaded over 20 million times. He also regularly co-hosts MacBreak Weekly for the TWiT network and co-hosted CES Live! and Talk Mobile. Based in Montreal, Rene is a former director of product marketing, web developer, and graphic designer. He's authored several books and appeared on numerous television and radio segments to discuss Apple and the technology industry. When not working, he likes to cook, grapple, and spend time with his friends and family.
I love the big screens, but was surprised by the number of folks I run across who like the small screen of the SE, including my mother who had a stroke and does not want a heavier, larger phone. I wish Apple could have found a way to keep it.

There was a big market for it. I must admit, it did feel a lot nicer in my hand, but I go for the big sizes because of battery life. Maybe Apple will bring it back at some point, but currently the existing SE is still supported, and iOS 12 brought a lot of performance back to it, so it's still a great phone if not a bit outdated.

If Apple wasn't so obsessed with thinness you could have both bigger batteries/better battery life and a smaller phone

Maybe so, but battery tech hasn't really evolved in 10 years, so that's to blame too.

I can definitely see Apple do an iPhone SE 2 with a 4.7" "edge-to-edge" screen, not with FaceID but with an in-screen ultrasonic TouchID sensor.

Great insights into the case of iPhone SE. However, I think the timeline was alittle off... iPhone SE was released in March 2016, and iPhone 7 was released in Fall 2016 (not 2015). I remembered when I waited for iPhone 7 to be released after the announcement so the price of iPhone SE would go down slightly. Then I bought the SE. I remembered the time before Fall 2016 when it had the same camera and processor as the flagship iPhone, which was the 6s. That was great.

Definitely in the market for a flagship iPhone in an SE sized package. I am after the SE size of the phone, not the SE price. Feel free to give it a flagship price, with flagship tech, but in an SE sized iPhone.

Would prefer a new flagship SE, but a new entry level SE would work as well. Apple watch has assumed many of the features I once used for SE, now a rarely use the phone, save for calls and a few other uses. Just had the battery replaced in old SE, hopefully there will be a new SE forthcoming in 2019. The idea of carrying one of these huge phones about is an absurdity I can do without.

"iPhone SE 2: What happened to it and why?" Nothing happened to it. It never existed. If you want a modern, small screen iPhone, get an iPhone 8. It's a huge upgrade over the SE.

It probably existed as an idea inside Apple, but never came to fruition. Could Apple still make it? Possibly, the current iPhone SE is still supported and iOS 12 brought a lot of performance back to it, if Apple still plan to release an SE 2, they have until they stop supporting the original SE, which might be another couple of years yet.

Like I said, it never existed.

It never physically existed, that's a big difference to it not ever being considered by Apple, and it could still happen which was my point.

Physically existing is all that matters. Sure, lots of people THOUGHT about it. Like I said, it never existed.

But it does matter… that's the whole point of this whole article. In your opinion, it doesn't matter, but not everyone thinks the same as you. Be more open-minded.

1. We don't have the tech for smaller notch, which is the requirement for an iPhone SE X design. I think that is possible only with Face ID 2.0. 2. It is strange that Apple kept A8 alive and not the A9. The TSMC 20nm is a short node, and most moved to the 16/12nm. 20nm is the last node without using FinET might be the reason, but if cost were a concern we don't see large scale 28nm customers moving to 20nm. 3. If iPad Pro were an indication, Apple might want to move to Square Box design for next iPhone, similar to iPhone SE. Getting rid of it this year will allow the design to be "fresh" next year. 4. I still believe the "S"E name doesn't sit well with Apple, and one reason why the iPhone 8 wasn't a iPhone 7s. Now Apple is using the S in Xs, they decide rather than Renaming the SE into something else, they might as well drop it. 5. Apple had wanted to name their Phones like Cars for a long time. As Steve had always wanted to an BMW company rather than Toyota. Phil Schiller also mentions R being used in Car for the naming of Xr. I think Apple's next year iPhone model will be simplified and they drop the Number from their naming. iPhone S, iPhone R, and Possibly iPhone E. 6. Hopefully with Face ID 2.0, we could see iPhone S with 6.5", 5.8" and 4.7" / 4.8", the same physical width of iPhone SE depending on thickness of Bezel. 7. There is still a Cheap, and Small 4" Devices that Apple currently sell, the iPod touch. If Apple were to drop the iPhone 8 line up from next year, the iPhone 7 will be renamed as iPhone E, and adds a 4" iPod touch like with cellular for the same price as iPhone SE with iPhone 7 internals. So Next Year, we end up with Face ID, Stanless Steel, smaller notch, (hopefully) even thinner Bezel, Square Box Design for the S. The same Face ID 1..0 and same rounded design in R. And the Touch ID based design as E.

I own the iPhone 8 with 256gb internal-storage
Have the iPhone X with 256gb
iPad with 128gb
My favorite The SE with 128gb.
I have big hands so that isn't my reason for liking it so much. I do allot of running around and taking my SE is so Convenient, I was hoping the SE would be updated to faster processor, more RAM and better camera, everything else leave alone. I like the fingerprint scanner, maybe update the scanner to the same as on my iPhone 8. There are many people like me who prefer the small phone, wasn't always this way, as soon as I start enjoying the iPhone, Apple pulls the rug out. Bad Move. I can Remember well when The Leader use to state all the time that Apple would NEVER make a big phone, as soon as he passes away, the **** hits the fan. Not Happy

Sadly when Steve passed away, Apple fell to the pressure of other companies producing bigger phones. I think the iPhone SE should still exist, there's a large audience for it.

It isn't so much the pressure of other companies but the pressure of consumer demand. Samsung proved there was a large demand for large-screen smartphones. If Apple didn't make large-screen iPhones, sales wouldn't be anywhere near what they are now.

I'm in the same boat as Vinny. I also own an iPhone 8 as well as an XS. I recently purchased a like new iPhone SE 128mb on Ebay for around $200 and I was able to activate and add Apple Care to future proof this thing for a while. I find myself more and more reaching for the SE vs the other phones and I'm considering selling my XS (though I do love the portrait mode functionality so much). I live in south Florida where light shorts are worn year-round and the XS is just way to big and heavy...it flops around like a big brick in your shorts. I so wish Apple would come out with a full screen in a SE size body, for me that would be the perfect phone!

" I so wish Apple would come out with a full screen in a SE size body, for me that would be the perfect phone!" Agreed: Full-screen, 4.7", in-screen ultrasonic TouchID sensor, A12 SoC, flat edges

The main market for an iPhone SE 2 would surely have been the 2 billion or so young people on the planet who don't even have hands for a big screen phone? I bought my 11yo an old 4S and it's massive in his hands, easily the equivalent of a 7 in my hands. Apple will be hard at work miniaturising the Face ID camera as we speak to get the notch down on the X range and if they put it in a 5S (or even 4) sized body I'd buy one straight away.

I have had an SE since the beginning because I want a small phone. Apple: either update the SE or lose a very loyal customer!!! The price is not important.

Sadly, I believe Apple lost their entrepreneurial vision with Steve Jobs.. he WAS the Apple. I used to blame Tim Cook for their crappy changes... but after being annoyed with Apple's iPhones (ever since being forced to get the 6s, cuz i broke my 5s) I've come to wonder if he's paralyzed by a committee of money hungry board members who insist on turning Apple into the 'status quo' they pride themselves on not being. WHAT I LOVE ABOUT THIS ARTICLE is that you mention a) how the cheaper/new/larger phones aren't selling well.. b) how the SE's didn't necessarily didn't sell well (tho they just sold out this last/un-promoted batch).. and c) how Apple never tried offering a high-end 4" that was equal to their flagship phones (ie: how do they know a high-end 4" wont sell if they didn't offer it?) Thank you for that!!! It's about time a media source said all the above. Needless to say: we consumers are at the mercy (of the board members) at Apple, so there's nothing we can do but sit and wait for them to get it right.... or for Google or an Android makers to hear our outcry's and fill the wide open whitespace in the market. Cuz if that happened... Apple will do what they do best (now)... they will follow Android and/or Google and finally give us what we want. If that happens though, the question is, will those of us who switched away from Apple, switch back? The market needs 3 size options: Small, Medium and Large... but as this article so perfectly points out... now-a-days all we are offered is Medium and Large, unless you're willing to downgrade in quality. In the mean time: my iPhone 6s works just fine.
Thank you for signing up to iMore. You will receive a verification email shortly.
There was a problem. Please refresh the page and try again.