iPhone at Work: high school student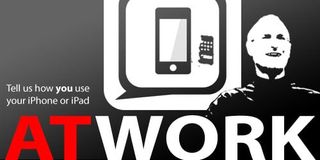 How does a high school student use his iPhone to get the job done and what iPhone apps help get him through his day? TiPb's iPhone at work contest aims to bring you just such slices of the iPhone life. Here's michaelchang516's answer and as a small token of thanks we're sending him a $20 iTunes gift certificate. If you want to see your name up on the TiPb home page and get a gift certificate all your own, head on over to the TiPb iPhone Forum and share your story now!
I'm a high school student going into my Junior year in September in Taiwan. I'm also the president of our grade and also a leader at the local youth group. So I use my iPhone along with my Mac to do the tasks I have, and also have fun at the same time.
I'll take you through my day starting in the morning. I use Apple's default Clock application as my alarm. Then as soon as I wake up, I check Omnifocus to see what needs to be done during the day. This is because throughout the day when a student or teacher would tell me such and such needs to be done, I would quickly jot it down in the inbox of Omnifocus. Then when I arrive home from school, I would take about 10 minutes to organize all the tasks and give it a context, project, start time, due time…etc. All the organizing is done in Omnifocus on the mac and I have syncing set up between my iPhone and mac through MobileMe. After I figure out what I need to do, I will go do them. After that, if I have any free time, I will check Facebook and Twitter on my iPhone with the official Facebook and Twitter apps. Throughout the day, I will also jot in the inbox of Omnifocus if I will have a test coming up or if I have homework due.
I use the Mail app a lot because that's the primary way our teachers contact us and that's also how the class officers discuss meetings times. I also use Calendar because I'm quite busy and I need to make sure I don't miss any classes or meetings. The way I enter my events into Calendar is not directly through the Calendar app, I feel like this is slow because I have to be constantly going in and out of pages. I use an app called QuickCal Mobile to quickly enter my events. This app is very smart and it will read your everyday language and turn it into a calendar event. For example, I would type "Officer meeting tomorrow at noon for 45 minutes in the student office" then it would automatically add an event that's tomorrow from 12:00-12:45 at the location "student office".
Evernote is also a big part of how I take notes and write down questions I need to have with me. Again, this syncs with my mac so I can, for instance, have my research information with me when I go discuss our project my partner. But recently I've started to use Awesome Note instead of Evernote because the interface is a lot cleaner and prettier and also the notes can be stored offline. Awesome Note also syncs with Evernote servers, so it's a great addition. For taking notes, if it is a quick note, I don't ever go into Awesome Note or Evernote to start writing a new note. I use an app called FastEver. This app is very simple and all it does is let you write a quick note and then you can quit the app. Then it will sync and send it up to Evernote servers because this app has task completion written in.
Throughout the day I need to use the browser to look up various things. Most people would use Safari all the time but I've discovered a really nice browser called Atomic Web Browser and it really does take browsing on the iPhone to the next level. For making long distance calls, I use Skype. Sometimes I will need to chat with a classmate about homework or projects and I use Beejive IM. This app is absolutely the best IM app in the App Store. It's really well designed and, most importantly, it's really fast and snappy overall.
On days when we have class meetings and we're running a powerpoint, I use the Keynote Remote app on my iPhone to control the slides so I can be on stage and advance slides at the same time.
At last, when I'm home and I'm bored, I play Veggie Samurai (a similar game to Fruit Ninja but tons more fun). Recently, I've discovered an app named Pulse News; it basically lets me read all the news I want in one app and in a beautiful interface.
As you can see, throughout my day, I use many fabulous iPhone apps for my school life. I would be completing a lot less if I didn't have my iPhone.
Any other high school students use their iPhone to stay organized for school? If so, which apps help you the most?
Master your iPhone in minutes
iMore offers spot-on advice and guidance from our team of experts, with decades of Apple device experience to lean on. Learn more with iMore!
Former app and photography editor at iMore, Leanna has since moved on to other endeavors. Mother, wife, mathamagician, even though she no longer writes for iMore you can still follow her on Twitter @llofte.