We might finally have a date for the iPhone 15 event — and it's not far off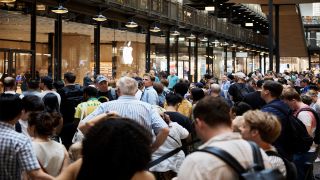 (Image credit: Apple)
With a whole new generation of Apple devices just around the corner, there have been weeks of rumors and leaks trying to guess exactly when the next Apple event will take place.
Now, it looks like we won't have to guess much more; we might finally have a date. The event seems to happening on September 13, thanks to some new information from a reliable source — meaning iPhone 15 may not be far away at all.
More than just a rumor
Unnamed sources have revealed to 9to5mac that a major smartphone announcement is set to happen on September 13th — urging employees not to take holiday. This has apparently come from multiple places and has been corroborated by a handful of different sources, according to the news outlet.
As of right now, we technically don't know for a fact that this is an Apple event. This being said, it seems unlikely that any other major manufacturer would plan their own event at the same time Apple usually holds its launches, and it's even more unlikely Apple would tell its employees to brace for impact from a rival launch.
The latest iPhone has been revealed during September almost every year it's existed in, and has become an industry standard at this point — If you are a mobile brand competing with Apple, you are aware of this fact. The dates that recent previous iPhones were announced are:
iPhone 14 — Announced on September 7, released on September 16
iPhone 13 — Announced on September 15, released on September 24
iPhone 12 — Announced on October 13, released on October 23
iPhone 11 — Announced on September 10, released on September 20
iPhone XS — Announced on September 12, released on September 21
iPhone X — Announced on September 12, released on November 3
As this source is not named, we will have to wait just a few short weeks to figure out if it is indeed Apple planning that event. As far as mobile phones are concerned, Apple's event is one of the biggest times of the year. The iPhone is Apple's best-selling device, and the most popular smartphone in the US — and watching the newest model being unveiled by Tim Cook and crew is always exciting. There's likely to be an appearance from Apple Watch Series 9 as well, and perhaps even AirPods Max 2 too.
For a little more on what they are due to reveal, here's everything we know about the iPhone 15, iPhone 15 Pro, and iPhone 15 Pro Max.
Master your iPhone in minutes
iMore offers spot-on advice and guidance from our team of experts, with decades of Apple device experience to lean on. Learn more with iMore!
James is a staff writer and general Jack of all trades at iMore. With news, features, reviews, and guides under his belt, he has always liked Apple for its unique branding and distinctive style. Originally buying a Macbook for music and video production, he has since gone on to join the Apple ecosystem with as many devices as he can fit on his person.
With a degree in Law and Media and being a little too young to move onto the next step of his law career, James started writing from his bedroom about games, movies, tech, and anything else he could think of. Within months, this turned into a fully-fledged career as a freelance journalist. Before joining iMore, he was a staff writer at Gfinity and saw himself published at sites like TechRadar, NME, and Eurogamer.
As his extensive portfolio implies, James was predominantly a games journalist before joining iMore and brings with him a unique perspective on Apple itself. When not working, he is trying to catch up with the movies and albums of the year, as well as finally finishing the Yakuza series. If you like Midwest emo music or pretentious indie games that will make you cry, he'll talk your ear off.