How do you use your iPhone/iPad as a remote control?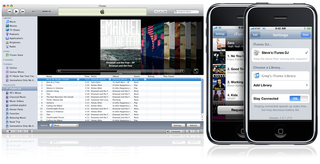 How do you use your iPhone/iPad as a remote control, and what do you use it to control?
When Apple introduced the iPhone, they also introduced Remote, and app that you could use to control iTunes or your Apple TV. Since then a variety of other, more wide-ranging remote control apps have become available in the iTunes App Store for controlling media, entire computers, and even complete household automation.
With the introduction of the iPad, there's even 9.7" of screen real estate to fill all your controlling needs.
Let us know your favorite remote control apps for iPhone and iPad, and favorite ways for using them in the comments!
Rene Ritchie is one of the most respected Apple analysts in the business, reaching a combined audience of over 40 million readers a month. His YouTube channel, Vector, has over 90 thousand subscribers and 14 million views and his podcasts, including Debug, have been downloaded over 20 million times. He also regularly co-hosts MacBreak Weekly for the TWiT network and co-hosted CES Live! and Talk Mobile. Based in Montreal, Rene is a former director of product marketing, web developer, and graphic designer. He's authored several books and appeared on numerous television and radio segments to discuss Apple and the technology industry. When not working, he likes to cook, grapple, and spend time with his friends and family.
VLC Remote and iTunes Remote Control, I'll try XMBC remote soon.

I use the ipod as a Sonos Remote (Sonos) as well as a TiVo remote (DVR Remote) and sometimes use it for my Roku (i.TV). I also use the phone to control my Thermostats at my weekend house with (iIP Thermostat) and to view my webcam at the house with (Eyecam) Not sure if (SlingPlayer ) app is considered a remote, but i use that as well

I don't..
The only remote app I've ever downloaded for my iPhone just controlled iTunes and my laptop isn't hooked up to my entertainment system so I didn't see the point on using it.
Are there any other remote apps out there that control more than iTunes?

Don't use anymore now that my Xbox 360 is my media hub.

I use DSLR Camera Remote to control my Nikon D90 with my iPhone. I'm really hoping for an iPad specific version soon.

I love "air mouse" or mobile air mouse" it does keyboard and mouse functions, I can edit pictures in photoshop, video in final cut, surf my favourite sites all from my couch. Looking forward to air mouse on my iPad.

Both iPhone and iPad run Rowmote, controlling Mac mini media center w Boxee, Hulu. Also, Remote Tap and VNC lite for odds and ends.
Works really well. :)

"Air Mouse" and "Remote" are all I need

I feel like such a Luddite - I didn't even know this was possible! @john fischetti - you must have the best house on the block...

I use "logmein" app when I am without my labtop or pc. I also know that I use the Boxee app and Apple Remote app and Eyetv as well when I want to be lazy.

Oh and the DirecTV app for the DVR.

I regulary use Jaadu VNC and Touchpad...

HippoRemote Pro, to control both the XBMC installation on a desktop computer hooked up to the living room HDTV, as well as the computer itself (eliminating the need for a wireless keyboard/mouse). That app is freakin' king.

I use Hippo Remote and Boxee Remote

...and of course "Remote" to control iTunes...

I use the Apple Remote to control iTunes on my iMac upstairs that I stream to my stereo in the basement via an Airport Express. I also love the ability to control my AT&T Uverse DVR via the available. I previously used DirecTV App to watch NFL Sunday Ticket during the football season (but I was using my brother's account for that one!)

I use touchpad all the time with my mac mini. great app!

I use theApple Remote and DishNetwork app to change the channel and to jack with my DVR.

iPhone & iPod Touch using iTunes Remote to connect to a server running iTunes to connect to Air Tunes connected to a Whole House FM Transmitter to listen to music/podcast in any room in the house or even outdoors.

I have my laptop going to my receiver which are connected to a pair of outdoor speakers. I use Remote on my iPhone to control my iTunes music library during parties, family gatherings and simply just hanging and relaxing on my patio.

JumiMouse Plus is great for a free form PC remote control, and the free JumiTAP is a bunch of remotes for PC (also lets people design their own remotes without writing code... well, a bit of XML modification). both work great. its iPhone/iPod only though. No iPad.

I use Apple's remote program for iTunes. I use it to control my PC when I am practicing songs on drums.

I use several remotes apps: iPeng (Squeezebox), DVR Remote (TiVo), Boxee Remote, Remote (iTunes), EyeTV, Keynote Remote (for presentation) and RemoteBuddy AJAX remote (universal control of iMac). I have to upgrade to Blu-Ray and HDTV, but I'm anxious to use pocket BLU (Blu-ray) and possibly the Pioneer iControlAV.
Ideally, I'd like a universal IP based remote app the controls the devices it can by IP and then the rest by bidirectional RS232 through a device like those by Global Cache. I know Crestron and Savant can do that now, but who wants to spend $5000+ on a controller and then pay a custom installer to make the remote app. Redcliffe Technology Control Center, Cremote Bobby and iRedTouch look pretty good but are not fully featured yet nor super user friendly. I'd be curious if anyone has worked with these or similar apps. I'd love to see bidirectional communication with an interface as easy to setup as a Logitech Harmony remote.

Really looking forward to iPad version of remote.

I can't believe that no one has mentioned rowmote pro. It can control your desktop (keyboard and mouse) as well as itunes, eyetv, hulu, boxee, frontrow, etc. I use it all the time since my imac is hooked up to my flatscreen.

I use the remote app for iTunes all the time. It works great and is one of the apps that I use the most.

The remote app wasn't introduced when the iPhone was introduced :) Just an FYI, hombre.

I am using i-Got-Control. Turns my iPhone and now iPad into a universal remote. Real easy to setup. Controls all of my tv's/dvd's in every room of my house. Love it!

Hippo Remote Pro for most things -- wrote my own profile to control Google Reader. Apple's Remote app for iTunes just because the integration is so complete. iTeleport (fka Jaadu VNC) if I need to see the screen.

iPhone to control my iTunes n mouse/keyboard with air mouse

I throw my iPhone at the TV in the hopes of hitting the channel up button.

I use iPiMP to control my MediaPortal HTPC. Brilliant web-app that allows me to control the HTPC from anywhere with an internet connection. if I remember to program a TV program too late.. No problem, I can do it with iPiMP!

I use the following apps. Logitech TouchMouse (input & general control) / Ncontrol (for Windows Media Center) / Remote (for iTunes)

I normally use logmein n team viewer for remote desktop. N I have rowmote plus logitech touch pad too. But I seldom use just as fun. I'm a serious user of team viewer n logmein though. Most of the time if I have some tasks to accomplish like downloading, I leave my mac open for downloading, then whenever I finish them I use logmein to finish my job.

With the Olive Maestro app.

I use the i.TV app to control my TiVo HD.

I use the Re Universal Remote Control Accessory and App. The Re controls all my AV equipment at home better than a traditional universal remote. I also use it at work for presentations.

I use i-Got-Control www.i-got-it.com to control all my home electronics, my MacBook and my house lighting. I do this from my iPhone and my iPad. It's great! I also like how I can take that control with me wherever I go. Friends house, Hotel, Restaurants, Stores. It controls almost everything!

@Doug, I use the same thing: i-Got-control. Definitely way better than iTunes remote. My wife no longer complains about the stack of remotes on the table, and I can take it to bars and change the channel.

wow, no one's mentioned Remote Jr. yet? It's expensive, but the best way to control the Apple TV when you can't see the screen.

I also like the Re (by NewKinetix). Very well designed product. I tried the I-Got-Control and found it to be really underpowered.

After trying almost every remote app out there, may favorite one is Remote Jr. - nothing comes close.
And for iPad, airmouse or rowmote does not make any sense. You need Remote Jr...

I use remote mouse to control my PC on my HDTV, it works great, I can access my movie collection without having to get up and use the mouse!

I use iridiumHD for my entire system, it needed a lot of setup, but at least it works exactly how I wanted it. Compared to any of the standard remote type apps, being able to design how I wanted it to work was great fun (even my wife can use it!)

I have a 2 rack system's of audio & video components that consist of a flat screen for each system with amps, dvr,blue ray dvd & ipod docks & apple tv. Is there a way to use my Iphone 4 or my Ipad to control every thing. The challenge is the rack systems are not in the same room as the Flat screens. What other technology is available that will allow me to keep my entertainment
systems in another room out of site and still direct all of the components.
Need help
Dan

savant is what you need to look at for that. very cool stuff and bulletproof

I'll immediately snatch your rss feed as I can not find your email subscription link or newsletter service. Do you've any? Please let me recognise in order that I may subscribe. Thanks.

Nice blog right here! Also your web site a lot up fast! What host are you the usage of? Can I get your associate hyperlink to your host? I desire my web site loaded up as quickly as yours lol
Thank you for signing up to iMore. You will receive a verification email shortly.
There was a problem. Please refresh the page and try again.