It finally happened - I've kept the same case on my iPhone for over 6 months!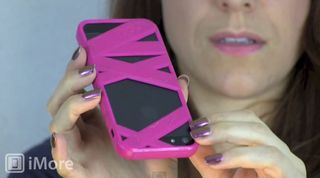 I've never been in a committed case relationship before. Most times I'd just switch to whichever hot, shiny little number crossed my path any given week. Then it happened. I hooked up with the Mummy Case by Loop. That was 6-months ago, and I'm still using it. It's protected my iPhone 5 from numerous drops, carrier my cards, and easily slipped into and out of all my pockets and purses. What more can a girl ask for?
I originally reviewed the Mummy Case by Loop back in March. Now, half a year later, here's a second look. And a question - what's the longest you've stuck with the same case? Which one was it, and why?
$27.95 - Buy now

(opens in new tab)
Senior Editor at iMore and a practicing therapist specializing in stress and anxiety. She speaks everywhere from conferences to corporations, co-host of Vector and Isometric podcasts, follow her on Twitter @Georgia_Dow and check out her series at anxiety-videos.com.
Does it add to the weight much? Is it bulky? Sent from the iMore App

It is exceptionally light, it is a bit larger than a slip case but it is really very protective. Hard to fit in skinny jeans but easy to fit in regular ones.

Nice video review, Georgia! :-)

Ugh I'm such a case whore I don't think I've ever kept the same case on for more than a few days. I really want a sector 5 but may go life proof. I just live the naked look of the 5S, but would be so mad if I damaged it. Sent from the iMore App

"What more can a girl ask for?"
- Never ask that question. xD I've had 2 Lifeproof cases over the life if my 4S. The first I wore slap-out. It deserves a reward for its tour of duty. I think I'm gonna be a long-time Lifeproofer because the cases don't add too much to the size of the phone and their particle & water resistance are a must for me. Listening to music via the speakers is rather blah - it's like hearing a car driving down the street booming their system while parts of te car almost rattle off!
(PS - I cannot see what I'm typing - it's somewhere behind the keyboard!) :P Sent from the iMore App

Good point and yes Lifeproof cases are great.

Absolutely agree. LifeProof is a must for me being outdoors and in dirty environments. Nothing beats being able to rinse off my phone at the end of a work day.
As for sound, I've had my case replaced three times due to defects, and believe it or not, each case ended up sounding better than the last. Sent from the iMore App

Sorry to sound like an ad, but I need every drop of juice my mophie case provides me. Sent from the iMore App

Does switching back and forth count? I swap every other month or so between a black incipio dual pro and an otterbox commuter (two blues) Depends on my mood. And activity. Love the one day when I switch that I go naked. Then I bauble the phone and remind myself why I need a case. Sent from the iMore App

5s is the first time I've gone caseless. The iPhone has evolved in beauty, and with its diamond cut edge, aluminum back, and silver band (I have the white + silver model), I haven't found one case I like on it. I bought AppleCare+ and I'm hoping for the best.
It also doesn't help that my 4S got TONS of scratches from sitting in a bumper too long. I don't want to have to take out my phone out all the time to clean it.
I've discovered that...being caseless is pretty easy. I'm just more aware of how I'm handling the device. Having a case gives you this subconscious layer of protection and you become sloppier because of it. You act differently holding a basketball than you do an infant. I'm keeping my baby naked.

I prefer not to go caseless because I work in a dirty environment. Do you also go without a screen protector.

I do use a screen protector. I got clear films for the back as well. So I at least I know I can set it down on a sketchy surface without scuffing it up. I like the Spigen Crystal Mix set that has a special matte back protector just for the center aluminum section. Sent from the iMore App

Most times I carry around my iPhone with no protection but the only case I've been using (on and off) for the last several months is this one: Body Glove 9291003 DropSuit Cell Phone Case for Apple iPhone 5 - 1 Pack - Retail Packaging - Black
https://www.amazon.com/dp/B009LGOV40/ref=cm_sw_su_dp?tag=hawk-future-20&... I like the material, the matte finish, it's not slippery and not soft so that it becomes hard to pull out of jean pockets or picks up lint, and it looks like it can stand a decent drop. It also comes in different colors but I like black for my white iPhone 5. It's also nicely priced even at retail stores, I paid $24.99 @ The Shack. Sent from the iMore App

I'm like you: I HATE cases. I think that the entire point of Apple's engineering is to show it off and not hide it via a phone case. HOWEVER, the new leather iPhone 5S cases are an exception. I've had the brown leather case for my iPhone 5 and haven't taken it off ONCE since it's release. Couldn't be happier even despite the worn look. I think it gives it character and all my friends seem to love it as much as I do. :) Sent from the iMore App

Do a review on the Element Case, I've gad 2 so far and love them!

I have reviewed one before but not recently perhaps I should

I currently have the Sector 5 for my Silver 5s in black which gives it a nice contrast. I also have a Soft-Tec Wallet case which I use on a daily bases. Sent from the iMore App

iPhones without a case are too slippery for me. I've had a Ballistic LS on my iPhone 5 for almost a year. It's fairly thin overall but thicker at the corners where you need it for protection. Sent from the iMore App

On the rare occasion that I take the bumper off my 5, it feels dangerously slippery in comparison. I'd love to carry my iPhone naked in all it's beauty but keeping it protected helps me get more for it when I upgrade. Sent from the iMore App

I decided when I purchased the iPhone 5 I would get a leather sleeve instead of a case. The iPhone has such an amazingly ascetic design that I didn't want to cover it up. I purchased the Spigen Crumena in brown. Now that I have had it for over a year it is nicely worn in and fits my phone like a glove. I like that it is thin, but protects my phone from scratches and doings. I don't think I will ever go back to a traditional case. Sent from the iMore App

I have had a incipio dual pro on my 4S and now my 5 and they have been great with no extra bulk.

I have 3 small kids that love to touch just about anything and also love to throw just about anything. Had to go with an otterbox and it's been on for the last 9 months. Excellent protection. In the future though I might try the Magpul case as I've heard good things about it. Has anyone tried it?

Apple care and no case Sent from the iMore App

Currently using a Speck case for my new iPhone 5C. I usually like to switch it up every few months or so but there's not much to choose from fir the 5C's. Sent from the iMore App

I usually don't change my case. I've been using a Lifeproof case which provides excellent protection in a thin and light weight package. Sent from the iMore App

Nice review! Sent from the iMore App

Mine was a Speck Candyshell on my 5 (white and charcoal). Had it on for about 8 months until it broke at its weak point, by the lightning port. Went the day after and bought another one...same case and color. Speck's are about the only case i'll ever use.

I'm on my third candyshell grip case in 18 months! Its great for the first couple months, but after that, the thing cracks like crazy and the rubber grip parts get distended and bubble out. Very strange. Two of the three were replacements from Speck themselves, covered under warranty, so while I like the company, I don't like the cases.

Wow go Georgia ! I know how tough it had to be not switching constantly I still do it. Sent from the iMore App

Wow go Georgia ! I know how tough it had to be not switching constantly I still do it. Sent from the iMore App

Wow go Georgia! I know what a struggle it is to not switch your case constantly!! Sent from the iMore App

I use the SPIGEN slim armour. Lightweight and very slim, doesn't add much bulk to my iPhone 5. Sent from the iMore App

Spigen neo hybrid, amazon cheap! I think you will like it, red perhaps!

Mophie has been my best friend on my 5 :)

I use the Kays case jelly case. It's very minimal, comes in colors, is translucent so the phone shows through, and costs less than 10 bucks! Sent from the iMore App

Elago is the one! (http://elagostore.com/category/75746756921/1/S5-Slim-Fit-2-for-iPhone.htm) S5 Slim Fit 2 to be exact, however you cant go wrong with most of them. I stay away from the glossy ones as they can be slippery (opt for the soft feeling colors). They have a ton to chose from and the price is right (try Amazon as it is considerably less with the mostly the same selection). Best fit and finish while still protecting that I have found. It is this or naked!

The longest I've stuck with a case is a bumper for my iPhone 5. But it gave in a few weeks ago so I'm back to the one I bought originally. Sent from the iMore App

Good job! It's hard to be that dedicated to a case. Though I do love my current one! Sent from the iMore App

I stuck with a bumper on my 4 for a few months but since then on my 4s and 5 I haven't used one. I found that I changed my mind so much it was cheaper just to get a replacement from Apple than switch cases all the time. I don't worry about scratching my phone (anymore). Sent from the iMore App

It looks great..I love the idea of storing your credit cards. Thx for the review Sent from the iMore App

I'm sort of using my 4S semi naked as I've got it in a wallet case so I don't have to carry around both my phone & wallet. Also the wallet case I'm using actually looks like a proper wallet with space for 6 cards an ID card or photo & a note slot. Sent from the iMore App

You should do more reviews. You'll have more hits than Rene :p

Just ordered myself a Twelve South BookBook case, can't wait to get it!!

I've tried about six different cases for my 5 until I found the awesome SPIGEN SGP Neo Hybrid Case. Slim, stylish, good protection, and only $17 on Amazon. Sent from the iMore App

This is a quite interesting cover Sent from the iMore App

Thanks for the update Sent from the iMore App

I can't stand cases, even the slim, snap on ones that are a dine a dozen. It's a naked iPhone and AppleCare+ for me. I'm not too worried about retail value if the phone after 2 years, plus we typically turn our phones into media centers for Pandora and movies for the kids on long trips rather than selling anyways, and they never seem to care about minor cosmetic damage. Sent from the iMore App

You might like a BookBook from Twelve South! If you were using the Mummy for cards and cash, a wallet case might just be your thing. The BookBook is also a pretty good conversation starter and stylish, so it's not like a big goofy Otterbox, which I've used for a long time to the detriment of actually enjoying my phone :)

I've owned each end every iPhone ... and since iPhone 4: BookBook and forever ... http://twelvesouth.com/products/bookbook_iphone5/?ref=affiliate-12 In fact, I use their products for my MacBooks as well.

I have just moved to a plain bumper. And I really like being able to feel the back of my phone in my hand.

Bumper is a gateway drug to carrying your iPhone naked. It happened to me. Sent from the iMore App

On my iPhone 4S I went with a clear plastic backing off Amazon and loved it because I wanted to show off the phone. With my iPhone 5 I decided to go with the Ringke SLIM in black and I have been loving this case as well. Sent from the iMore App

"What more can a girl ask for?"
- maybe hair brush? before facing the camera. : ) Sent from the iMore App

Dude, seriously? You could only wish your girlfriend/wife was as hot.

Lol yeah it was a bit of mess wasnt it =)

I like the design of that case. Even if I had it though I would still end up changing case every day! I've never gone more than two days with the same iPhone case on. Sent from the iMore App

Been rocking my 5s caseless more than any phone I've had before- I love the space gray/black contrast and of course it just feels great naked. However, with my 5 my favorite case that I almost never took off was the Incipio Featherlight. It has an awesome grippy feel to it but somehow still slides in and out of pockets with ease. It adds very little bulk to the phone, but comes up just slightly to keep the screen off the table if laid face down. Also comes in several color choices- I had the blue one. $30 I think and worth every penny - now my wife uses it on her 5s and hasn't taken it off since she got it. Sent from the iMore App

I'd like to have my phone naked, but since I sell my phones whenever I upgrade, I like to protect it from major scratches. I liked the Speck Candyshell gr Sent from the iMore App

You should try Wildflower Cases, Georgia. They're really well made. I've had mine for about 6 months now and the case still looks new.

Oh I havent heard of that case yet, Im going to look it out

Let's see you in skinny jeans!! Sent from the iMore App

Tech 21 Impact Mesh is the bomb. Military grade pro. Sent from the iMore App

Yes I have reviewed that case. Check out my trying the drop test on the case... OUCH http://www.imore.com/failed-review-smash-puny-georgia-iphone

I had a belkin grip candy sheer on my iPhone 4 for almost a year! It never wore out on me and almost looks like new. And I loved it so much that I bought a similar one for my new 5s. It's extremely lightweight, doesn't add any bulk at all, all the buttons are easily pressed. It protects it extremely well for such a slim case. It's made of TPU so if you drop your phone the case does a great job at reducing the impact. It's not "self-healing" but It is extremely scratch resistant. On my old case for my 4 I did not see one scratch on it after 1 year of having it. It also comes in multiple colors for you to choose from and price ranges from $7 to $16 so not expensive at all. Sent from the iMore App

I've had both my devices case-protected on day one. It's a must for me that I put them in a case the minute I get them out of the box.
Im using Capdase's Soft Jacket (smoke black color) case on both of them. I have been using it for 11 months now. I like it since it only adds a tiny little bit of weight and thickness. Eyeing Speck's Candyshell (dark blue+red) as my next one.
There were times that it has been real tempting to try and get them out of their cases and use them naked but I'm one of those who gets crazy annoyed whenever I see even a tiny scratch on my beloved devices. (I feel a little bad for your iPhone. 10-12 drops in 6 months? Ouch.) Sent from the iMore App

I will look into those cases I am really clumsy so I need a sturdy case =)

Wow, you look fantastic Georgia. You don't do as many reviews as before (because you're busy and we all understand that) but each one is worth the wait. And yeah, still the awesome nail polish!

Did you want to comment on something to do with cases or just try to get a date and compliment on her nail polish? Sent from the iMore App

FYI, Georgia is happily married and has a son. No date for me.
But, anyway, I've been complimenting Georgia for years.

Thank you Sock I am going to be doing more now and I am so happy you appreciate the polish

Ugly case, I'm not surprised. I never like stuff Georgia does. She hangs on to old devices and waits to upgrade, which is odd to me since this is a tech review site. If you want an amazing case check out the Tech21 cases, they're amazing and they sell them at the apple store. That or the Lifeproof.

Thanks for the constructive criticism Heres my tech 21 review from last year and it is a really great case btw http://www.imore.com/failed-review-smash-puny-georgia-iphone

Personally like to keep it naked or get a best skins ever, however I just bought my wife a case-mate naked tough case and its really nice.

So you've shown you have ADD, and a bad command of english.. How does a case CARRIER your cards?

I've had the same black Otterbox Defender case on my iPhone 5 since Day 1. I've usually had to exchange the case with their warranty program after the materials loosen up and whatnot with my prior iPhone's . Cool enough, this case hasn't changed one bit (besides the beating it's taken from all the drops). I love it. Sent from the iMore App

$30 bucks for junk, for another 20 you can buy real protection like Otter box and Survivor. Sent from the iMore App

I used a leather pouch for a few years, then switched to a thinner plastic case. I recently went caseless and I love the feel of nothing on my iPhone. I think I'll be caseless from now on. Sent from the iMore App

Get a bumper case. It's simple and functional for everyday use, and most importantly, it gets the job done protecting the phone. But, for those who drop phones frequently, Otterbox is a good way to go. Sent from the iMore App

LifeProif or otterbox can't go wrong with either one Sent from the iMore App

LifeProof Sent from the iMore App

I had the iPhone 4s with the PixelSkin HD case for 1 and a half years and my phone did not crack or smash or break in that time, the phone is in great condition even after many drops. I recommend this case. https://www.imore.com/e?link=https2F2Fi2F852...

IF I had an iPhone 5 I would totally get this case Sent from the iMore App

My longest case was the Lifeproof I had on my iPhone 5. I had it on the phone 3 days after I bought it and it never came off until I bought my 5s. I'm more concerned with protecting the phone than how it looks. Sent from the iMore App

The longest I've gone with a case is 1 or 2 days, definitely prefer no case. Sent from the iMore App

I'm normally in a fairly long term relationship with my device cases. BUT I also spend way too long picking them out. It has to be perfect (in my eyes) before I'll pull the trigger. Until then my phone gets handled with kid gloves so it doesn't get destroyed. Spigen took home best in show for me this year. Sent from the iMore App

I've gone away from using cases, because they do more damage than good. I've gone to an awesome sleeve called a snugg, and love it. Now I have my phone naked and free, and it is the way It was made. The sleeve is really awesome as well. http://www.amazon.com/gp/product/B0091THDOM/ref=oh_details_o05_s00_i00?i...

Great video. This might be my replacement for my spigen bumper. Sent from the iMore App

Btw. You asked for suggestions on what to review next. The Spigen Neo hybrid EX has been a great bumper so far. I've dropped my phone multiple times and this thing has protected my phone perfectly. It's very minimal and looks great. I have a red one on a space grey 5s. Sent from the iMore App

10 to 12 drops in 6 months? I suggest you take better care of your devices. Either way, Mophie is the best case for my money hands down. I'm sorry but screw these cheap silicon cases.

The only iPhone case I've ever consisted keeping on longer than two months is my (RED) iPhone 5 S case from Apple. It's the only premium case worthy of staying on. In very picky. Sent from the iMore App

I don't understand how you can be so careless with your phone. Maybe it's because you can afford to be careless? I do very well for myself financially and can afford a new one if I ever broke my it, but tossing it around and dropping it 20+ times is ridiculous. I could never treat my things with such carelessness, especially pricey ones. I've had every "S" version of the iPhones and have not once dropped any of them. Sent from the iMore App

I myself have a bunch of cases that I use on a continuous basis. I change them based on my mood or with what I'm wearing. I find it hard to pick one and just stay with it. There are so many choices out there!

But going back to what I was originally going to post, I do not like the look of that mummy case. I bought the spigen sgp slim armor case and I love the look of it on my space gray 5s. Sent from the iMore App

Looks like a very nice case. Have you tried the poetic atmosphere? that's a very lightweight yet protective, slim and simple case, it is one of my faves.

ONE OF THE BEST CASES EVER IS THE SPIGEN TOUGH CASES! I always resulted to the Otterbox but so far this is the case that I love, it protects it and it looks and feels good! I have the satin silver one! http://www.amazon.com/gp/aw/d/B00DMKGR66?vs=1&tag=hawk-future-20&ascsubt... Sent from the iMore App

Some day, Apple just might release a nearly 100% scratch-proof "iPhone Air" with Liquidmetal enclosure and synthetic sapphire screen. Hopefully next year.

Right now I have the 5S case made by Apple. Feels great but it does get dirty ; that's the ONLY issue.. Too bad they almost has a win. I also love the much improved Otterbox Defenders. I'm going to give a silicone case a try soon ( cannot remember the name but sells here for $10, incidentally found on Amazon for 6.27). I too enjoy switching cases every few months. Sent from the iMore App

Amzer soft gel TPU that's the silicone case I ordered. Sent from the iMore App

I have a hard time finding the right case too. I have a zoogue case on my iPhone. 5 now and have liked it. Sent from the iMore App

I was a hardcore case guy for a long time. Defenders and lifeproof for the most part. They didn't allow for easy changing. I'm now using the apple leather case for my 5s. I surprised how much I like it. I find easy to take off and put on. I'm looking for the product red to switch around with the black one I currently have. Sent from the iMore App

I have been using the Incipio Atlas case since they shipped it to my house. I love the feel of the glass front and the pictures in the pool have been awesome. As a fireman this case has been my goto for months. Sent from the iMore App

Do they make an Eddie Van Halen model? Sent from the iMore App

I know this review was about a case, but good gravy.........Georgia is smokin hot!

looks like she did that video at gun point.

I've been using Twelve South's Book Book since the 4s. I love it because it is a case/wallet, looks great and my latest survived a vicious teething attack from a feral baby that roams our house. Not water proof, but baby proof....so far.

approaching 3 years with the same otterbox for iphone 4. since i'm in the construction industry, the case has done its job protecting the phone from drops, spills, dust and sweat.

I'm admittedly a case whore. It's only when I got the SAFE Wallet on Kickstarter that I stopped for a bit. It's broken right now, so I'm on the hunt again... Sent from the iMore App
Get the best of iMore in in your inbox, every day!
Thank you for signing up to iMore. You will receive a verification email shortly.
There was a problem. Please refresh the page and try again.