12 Days of iTunes Christmas starts early with Kylie Minogue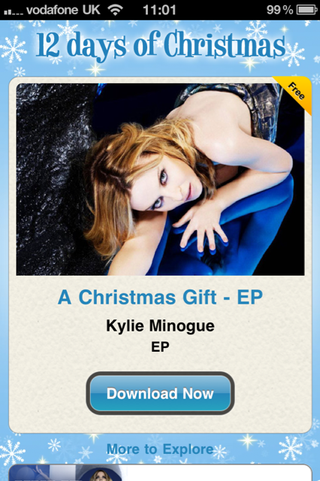 Apple has started their 12 days of Christmas early, notifying European subscribers that they can right now pick up Kylie Minogue - A Christmas Gift, which consists of 3 free songs.
A few days ago, Apple UK launched the 12 days of iTunes Christmas app, that gave you 1 free song/film/app from the iTunes Store everyday from December 26th for 12 days.
Interestingly, the Official 12 days of iTunes website (opens in new tab) doesn't show this special promo, and "A Christmas Gift - EP" can't be found on iTunes, so this seems to be a app/email exclusive.
Anyone in the US upset they're not getting this (yet)?
[ Kylie Gift (opens in new tab) | 12 days App (opens in new tab) , thanks Pete!]
Get the best of iMore in in your inbox, every day!
Writer for iMore, YouTube Vlogger, and Host for [TEChBrits]
If they stick to stuff like Kylie Minogue, I won't be too disappointed not to get this app. That said, I hope they throw us Yanks a bone of some kind!

While Kylie has a few hits in the US, I think she's more popular in Australia and the UK. So it may be they're targetting performers that are closer to the region.

Got the notification from from app, and then ignored the download. Of course there will be some chaff, had some good free apps last year though.

I like her and I want my app.

Got the notification, but since I'm not a Kylie Minogue fan, I won't be downloading this. Hopefully the next free download will be something worth while...

Love Kylie! Not everybody in the States is in love with this Pop/Hip-Hop hybrid crap... I'd love to be able to take advantage of this. :(

12 One hit wonders
11 Ushers walking
10 Rihanna restraining orders
9 Kanyes raging
8 Beyonces boinking
7 Kylies stripping
6 Britneys birthing
F-I-V-E Black Eyed Peas!
4 Gagas gagging
3 Biebers balling
2 Clapton strats
......And a Beatles catalog no one gives a rip about!
Merry Christmas folks!

"Anyone in the US upset they're not getting this (yet)?"
Nope.
The cool/useful/relevant/exciting stuff that it exclusive to a specific country is always the U.S. Just one more reason for all you America-hating folks to hate us even more. (as if you needed another one, huh?)

Checking again today dec 26, still not avail.

This is the best blog for anyone who desires to find out about this topic. You notice so much its almost onerous to argue with you (not that I truly would want...HaHa). You undoubtedly put a brand new spin on a topic thats been written about for years. Nice stuff, simply nice!
Thank you for signing up to iMore. You will receive a verification email shortly.
There was a problem. Please refresh the page and try again.