iTunes sending out free movie rentals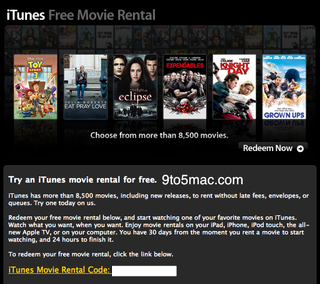 Apple started sending out free iTunes movie rental codes to iTunes users today. The promo code will allow you to rent one of the 8,500 available movies.
Apple has not indicated the reason behind this promotion, but we're not complaining - we'll gladly accept a free rental. Perhaps this is Apple's way of saying "Happy Holidays".
Who's received a free rental code? What do you plan to rent? Do you plan to watch it on your iPhone or iPad?
[9To5Mac]
Get the best of iMore in your inbox, every day!
Former app and photography editor at iMore, Leanna has since moved on to other endeavors. Mother, wife, mathamagician, even though she no longer writes for iMore you can still follow her on Twitter @llofte.
That would be a great holiday gift. None for me either

iTunes movie rentals are useless in my country (Switzerland) since they only offer the synchronized German versions while most people would like the originals (usually English ones) just with optional subtitles.

I didn't get it I want it

i'll be watching 'Monsters' or 'Inception' and no i haven't received one yet... dammit.

I haven't gotten one either unless it went to spam.

I haven't gotten one either, but this is something they should so. Amazon offers promotional credits frequently.

Starting to sound like an urban myth.

Nothing here yet, but I love the idea!

No dice here either! :( poops!

ok.... So how do i get it? I just gotta wait patiently for an email to possibly never arrive? hmmm....

I haven't received one either!

I didn't get one :( I'm kind of jealous

I didn't get one yet either :(

I received one buy it was for a 99 cent tv rental.

I didn't get one, looks like very few did.

What is heading in free code email? Maybe I missed it.

Thanks for this! I've been searching all over the web for the info.