iWork vs Microsoft Office vs Google Docs: Which iPad and iPhone office suite is best?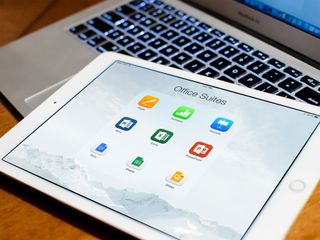 iPhone and iPad owners have an amazing problem — iOS is the only platform with all major office suites. The good news is: we get to choose between Apple iWork (Pages, Numbers, and Keynote), Microsoft Office (Word, Excel, and PowerPoint), and Google Docs (Docs, Sheets, and Slides). The bad news is: we have to choose between Apple iWork, Microsoft Office, and Google Docs. And it can be a tough choice! iWork is great for consumers. Microsoft Office is the enterprise standard. Google Docs is increasingly everywhere. So, which one is best? We put them to the test so you can find out!
Word processing: Pages vs Word vs Docs
One of the most common things we do with an Office suite is create documents or PDFs. Whether you need to update your resume, complete an assignment for school, or create a flyer for an event, or something else, you need to be able to get the text in efficiently and format it effectively.
In terms of templates, both Pages and Word offer a decent selection to choose from. Everything from reports to resumes to outlines to fliers and more. Google Docs doesn't offer templates and simply launched you right into a blank text document. So if you're looking for templates, you're going to want to use either Pages or Word.
When it comes to feature set and editing tools, Pages uses interactive formatting in order to let you select different elements. Editing tools and the format menu will change depending on what you have selected. When you're typing, a formatting bar will appear over the keyboard so you can easily adjust fonts, alignment, breaks, and more. You can also add tables, charts, graphs, shapes, and photos in just a few taps. Overall, Pages offers a robust feature set that remains easy to use and works great on a touch interface. When it comes time to export your documents, Pages supports .doc and .docx as well. Pair Pages with a Bluetooth keyboard and it's almost comparable to the desktop version of Pages.
Microsoft Word has been completely designed around a touch screen interface, but will be familiar to desktop Office users as well. (This is true across all the Microsoft apps.) There are tabs for creating, formatting, and editing your documents. In just two taps you can insert or format pretty much any object you'd like. Some features such as tracking and reviewing changes, section breaks, and a few others will require an Office 365 Premium subscription. Either way, the free version of Word offers enough features that a good majority of folks will be able to accomplish what they need with zero issues. One thing I do wish Word had was the formatting toolbar similar to what Pages offers.
Google Docs is simpler than either Pages and Word, and the editing tools more basic. Like Word, I do wish Google had placed a formatting bar directly over the keyboard instead of at the top of the screen. Image insertion is also missing, which will be a deal breaker for many. (You can go back to the web version to do it, but that's a terrible work around.)
When it comes to word processing, Pages and Word are equal in terms of feature set. However, certain features such as review tracking, section breaks, and more are free with Pages but require premium subscription with Microsoft Word. So unless you need Word or simply prefer the layout, Pages currently offers the best value for most people.
Spreadsheets: Numbers vs Excel vs Sheets
Numbers proves that doing calculations doesn't have to be painful on an iPad or iPhone. Just plot your data and then choose what kind of table, graph, or chart you'd like to use to represent it. The keyboard also changes dynamically in order suit what you're doing. So if you type an = sign in order to start a formula, Numbers automatically gives you a full number pad and relevant buttons you may want to use. There are also lots of templates to choose from in Numbers including ones to create budgets, calculate net worth, track grades (great for teachers), plan travel, and much more.
There's no disputing that Microsoft Excel has been the king of spreadsheets. The main reason for that is the robust feature set. There's no denying in networked office environments, Excel can't be beat. Microsoft did good job bringing the experience to the iPhone and iPad as well. When using formulas in Excel, the formatting bar automatically brings up suggestions to make handling complex formulas an easier job. The keyboard also is suited for entering numbers and editing formulas, a feature I wish the Word application received as well in terms of a formatting bar. Some features, however, will require a premium subscription.
Google Sheets is a barebones spreadsheet application that allows you to create spreadsheets but without the help of a lot of formatting tools and templates that are offered in competitor apps such as Excel and Numbers. However, if your main purpose is to track data between large groups of people, Google's collaboration tools are some of the best around. Just share sheets with whoever you need to via email and once they accept you can view changes, make comments to each other, and even see who's changing what in real time.
If feature set and advanced tools are your main concern, there's none better than Excel. If you're new to spreadsheets and would appreciate a balance between ease of use and feature set, Numbers is for you. If collaboration tools are what you're after and your feature requirements are minimal, Google Sheets will suit you just fine.
Presentations: Keynote vs PowerPoint vs Slides
Keynote has always been Apple's best office app, and the same holds true on iOS. Aside from offering gorgeous templates to choose from, Keynote's interface feels as it if were made for the touch screen. Adding slides couldn't be easier, and neither could tweaking them to your liking. Just like the other iWork apps, formatting and editing is interactive, so the menus will change depending on what type of content you're working with. The Keynote Remote feature also lets you use one iOS device as a remote to control a presentation on another, or even on a Mac.
PowerPoint is no a slouch when it comes to creating presentations either. You can create animations, transitions, and much more in just a few taps. If you've ever used PowerPoint on the desktop computer, the experience is very much the same on iPad and iPhone. Inserting objects is also easy and includes support not only for tables and pictures, but videos as well.
Unfortunately Google Slides doesn't provide as great of an experience as either Keynote or PowerPoint do. Slides are technically "editable" but not functionally. You can add text into existing text boxes but there isn't a way to add, move, or edit them. Basically, you have to pick from Google's pre-made slides and be happy with text-only slides with no image support, unless, of course, you are okay with finishing things up from a web browser. You can choose themes on the web and then they'll sync down to the mobile version, but again, not very convenient.
Keynote and PowerPoint run neck and neck when it comes to creating presentations. Both support inserting images, videos, and other kinds of objects as well as the option to choose from many great looking templates. Google Slides can't really offer any of that.
Syncing, sharing, and collaborating
All of Apple's iWork apps tie in with iCloud. That means no matter what device you create something on, you'll be able to access it on any other iOS device or Mac that's linked to your account. (You can also use Continuity to Handoff documents between devices as you go.) All of Apple's iWork apps also support the most popular file formats and let you easily share what you create via email or by sharing an iCloud link.
Microsoft Office syncs with Office 365 so you can access all your work on the web from anywhere. You can also link Dropbox and pull files from there into any of the Office apps. Dropbox integration isn't something Google or Apple offer (though that may change in the future thanks to iOS 8's third-party storage provider support), so if you're tied into that ecosystem due to file sharing or some other factor, Office may be the best option for you.
Google uses Google Drive as a hub. There, you can view all your Docs, Sheets, and Slides files in one place, and they'll sync anywhere you can access Google Drive, including any desktop browser. You can easily share documents or export them from the apps and online. And when it comes to collaboration, Google can't be beat. Not only can you share Google Docs files with others so they can view and edit them, you can see what changes they're making live, which makes Google Docs a great option for workgroups and teams that need live collaboration options.
Who should use iWork?
If you're tied into an Apple ecosystem consisting of Macs and multiple iOS devices, and iCloud is your main syncing service of choice, Pages, Keynote, and Numbers will serve you well. All of the iWork apps manage to strike a great balance between feature set and ease of use. If you don't need the most advanced tools on the planet, the iWork apps are a great place to start. Also, if you're new to working with office documents, iWork is a great place to start.
Pages - $9.99, free for newer iPhones, iPads, and Macs - Download Now

(opens in new tab)

Numbers, $9.99, free for newer iPhones, iPads, and Macs - Download Now

(opens in new tab)

Keynote, $9.99, free for newer iPhones, iPads, and Macs - Download Now

(opens in new tab)
Who should use Microsoft Office?
Microsoft Office has always been the most advanced productivity suite on the market. Anyone that's already familiar with Office 365 on the PC will feel right at home with Office for iPad or iPhone. Office is also the only offering that includes Dropbox integration, which is something you'll want to consider if you keep most of your documents there. The more advanced features of Office will require a 365 subscription, however. If you already have an Office subscription, Microsoft Office is hands down the best option for you considering all the premium features you already have access to.
Who should use Google Docs?
Google Docs is a barebones productivity suites but it's completely free and offers some of the best collaboration tools you can ask for. If you don't need all the fancy formatting and media capabilities, want to work with multiple people, and like having everything in the cloud, Google Docs is your best option. (If you work with presentations, however, you'd be well advised to pick up Keynote or PowerPoint as well...)
iMore senior editor from 2011 to 2015.
Nice review Ally!
Often it is the work environment (certainly in my case, with Microsoft Office and Exchange email) that dictates what suit to use.

I'd agree. In fact it's been work or school that's dictated since the 90s for me. And since it's always been Microsoft in school and work that's been the one i mostly use. Granted, i also do all of that stuff on a desktop. I haven't done much editing at all on a phone.

Microsoft Office user here. With work, students and all those computers, it makes it easy. We use Office 365, get the most recent features, unlimited storage on One drive, which I use for my iPhone, androids and WP, as well as for all devices. One thing is that they sure take up a lot of space on my iPad...good thing I just bought a iPad air 2 with 64 GB! Posted via my OnePlus One!

Great comparision of office suites.
Just to clarify, Office apps use "documents" folder OneDrive as default location for syncing. u can access all the office files on the cloud just like google drive for google docs.

I agree with Sanibel, the software suite I use at the office on my Windows machine, dictates which suite works best for me on mobile. However, as I don't have a 365 subscription, I often find myself using Pages to edit documents which need to be blacklined, then simply exporting to .docx. If I'm simply editing something for myself, Word is my go to.

I've enjoyed using iworks almost exclusively for a couple of years now, and fully exclusively for about 1 year. It serves my needs very well and costs nothing. Sent from the iMore App

I use iWork for everything. I have nothing against Office, in fact I think Office is superb software, but I literally stopped using a PC when I got my first iPad and there was no Office for iOS at the time. iWork is fully free to use and does everything I have a need for and much more besides. Never tried or even seen Google Docs so I can't comment. Sent from the iMore App

I have a lot of docs created in Word and Excel. Could never figure out a way to open them in Pages/Numbers. As already pointed out, no Dropbox support for the iWork suite. I am forgoing my "DocsToGo" app in favor of the recent release of Word/Excel. Sent from the iMore App

They open up easily in iWork. Just email them to yourself or save them in Dropbox etc and select open with Pages, Numbers etc. They do a good job of keeping the original formatting unless your excel file contains formulas that are not in Numbers. I have found that Numbers makes a better job of reproducing charts made in excel than the iOS version of excel. Posted via the iMore App for Android

Files stored in DropBox can be opened with just a tap.
To save a file to Dropbox, you've got to have iOS 8 and have Dropbox installed. Hit the Share button, Open In Another App, choose the format (e.g., Excel, Numbers, PDF, Pages, DOCX, etc), select Dropbox, and select your folder to save it in.
Easy. And fascinating that everyone talks about Microsoft now having the ability to save to Dropbox, when iOS supports Dropbox and a whole lot more.

Install iCloud for for Windows and just copy them to iCloud. It really isn't a feat of strength, you know. iWork will open them up. Apple has a pretty extensive list of things that work and don't work on the iWork website. Pages is *okay*. Keynote is *kinda okay*. If you're a heavy Excel user, you may find that Numbers may have the most trouble importing things if you tend to have things that go beyond "standard fare consumer Spreadsheet use." I'm giving iWorks a go, since I don't need anything majorly advanced for how I personally use Office Software, and the Web App works great and is very responsive in IE11. I'm a Windows 8.1 user. When I got my iPhone, I just installed iTunes and iCloud for Windows and that stuff is easy to take care of. As easy as moving things to OneDrive or Google Drive for accessing them from Android or Windows Phone native Office Suites :-P

Lost me at "Google Docs doesn't offer templates…" https://drive.google.com/templates?ddrp=1#

They don't on mobile Sent from the iMore App

Good point, Allyson. Thanks!

There is this one basic function that keeps me from using Numbers. Highlight a row, copy, and then say "Insert copied cells" which create a new row above with the copied text. It's so simple, yet only Excel has it.

Just do it the other way around. Insert the row and then copy and paste the text. Posted via the iMore App for Android

On OS X, select your row, Copy, then Insert > Copied Rows.
On iOS, do as Crosswhite17 suggests.

Note: Office also supports OneDrive as well, as you can probably imagine since it's a microsoft service, in addition to supporting dropbox.

iOS supports Dropbox, too. And a whole slew of other apps that support the document formats natively, in addition to iCloud Drive.
I'm going to try saving to my BitTorrent Sync drive next....

You mean "Dropbox has an iOS app." Windows Phone, Blackberry, and Android users can say the same, and in Android Dropbox can integrate at the system level via Android Storage Access Framework. However, iWorks apps - which is what this article is about, in addition to their competing MSFT/GOOG apps) doesn't support Dropbox. Not the way Microsoft Office Supports Dropbox.

I would only use iWorks if I could. The programs are easier to use and edit on. I know microsoft is better in some situations but for most users iWorks is the better choice if you already have Apple products. With iCloud now fully running it is easier to edit on any machine.

Not if you have a Windows Machine. There, you are limited to Web Apps, since obviously Apple does not produce Desktop iWork Apps for Windows and at this point the low price of Office 365 Personal has made it not worth it for them to bother. Just use Word and Drag to iCloud Drive, or simply use the Microsoft Mobile Word/Excel/PowerPoint apps and be done with it. iWork is great if you don't do a lot of heavy work in these types of apps and therefore don't mind being limited to an Online Web Interface (Good Luck using that on an Airplane without WiFi), or if you use a Mac and/or iPad in addition to the iPhone.

iWork is free. You have it listed as $9.99

iWork is free if you bought a new Mac or iOS device after September 2013, otherwise it costs $9.99. It even says on the pricing in the article, "$9.99, free for newer iPhones, iPads, and Macs"

Just to clarify; if you buy a new iOS device you get free iWork apps but not OS X iWork apps. If you want to be able to work on an older Mac and make changes on a new iOS you will need to buy the Mac app as well. It may have changed but this is what happened to me in 2013 when I got a new iPhone and my Mac was purchased in 2012. It's not that big of a deal though. Sent from the iMore App

Funny thing is, Most people seem To forget about that the Ms Office apps online via OneDrive. They offer everything Google Docs does - cloud editing, collaboration, etc - but they save to .doc, .xls, and .ppt formats, which make it much easier to move around to other computers. Actually, iWork now offers that stuff as well. So, I don't see much of a reason to use Google Docs anymore.

Office also can save to OpenDocument formats. There's an option to change the default save format for the Web Apps as well. So, it's possible to use OneDrive and Office Web Apps as a back end to LibreOffice or OpenOffice, which you can also install on a Mac (but not an iPhone). LibreOffice Calc is more powerful than numbers. I cannot use Numbers because it lacks Pivot Tables and I really do not like how it uses a canvas with small tables laid out on it. Pages is fine but I actually find Word easier to work with, though I use the PC version of Office 2013. I don't use Presentation software that much. OneNote is great and iWork has no competitor to it. Even the limited Mac port is more than Good enough cause Apple has nothing there.

I have to use word at work, but like pages better. At home I totally ditched PowerPoint for Keynote for investor decks.

I use all of them for different reasons to share docs with different people cause my friends and colleagues are all in different platforms and swear by one or the other and won't switch to just one. On a side note. Did Ally go to reviewing school cause she does a wonderful job at reviewing apps. I come to this side to read your reviews. Helps me a lot.

I've been using pages but sometimes when I try to load a word doc or export one it comes out funny. Have you run into this problem? Sent from the iMore App

The only time I've had issues is when the person who created the Word document either used some proprietary font, or used spaces or tabs to line stuff up, rather than setting multiple columns or changing their ruler settings.
What kind of "funny" are you seeing?

The new free MS Office suite for mobile platform has turned it into a killer app. Besides - now most of the common functions are all free, including Edit. Dropbox integration adds cherry to the already excellent office dessert. So yes.. the current implementation of MS Office blows all other office suites out of the water.. and it's cross platform with Dropbox and Onedrive integration. Sent from the iMore App

I've been a long time Office user — all the way back to MS Word and Excel when they were sold as individual applications on Macs back in the 80's. But Microsoft really threw me for a loop with their "Ribbon", a confused, schizophrenic conglomeration of buttons and text and pulldowns and sliders and obfuscations.
I found myself wishing I could use Pages and Numbers at work because of their logical, consistent design.
Then, one day, in a fit of rage at Excel's inability to get out of its own way, I quit Excel, opened the App Store, and downloaded Numbers. I finished my project in ¼ of an hour after I had wasted 2 hours trying to get Excel to do something simple. I exported my Numbers spreadsheet as an Excel file, and the recipients said that was the best looking Excel spreadsheet they'd ever seen. I could only chuckle.
Even the Director has come back and said that she wanted all projects tracked using the same tools I used to create a project tracking spreadsheet — not knowing that I'd created it using Numbers and published it using iWork for iCloud.
It didn't take me long to recognize that $20 for Pages was going to save the company a lot of my time also, and I pulled out the corporate card and got myself a copy to match my Numbers purchase. Now, after nearly 25 years of using Word and Excel, I try to avoid using them at all costs, as I find I'm far more productive and produce a better product using iWork.

It sounds like all the years you have been using MS Excel, you really did not learn how to use well, if you did, you should not have such problems as you have stated. And for the best looking spreadsheet you have ever made and appreciated by your boss and colleague, I bet if you knew how to truly use excel, you would have made a much better spreadsheet with it than the one you are alluding to effortlessly.
As of today, no spreadsheet is richer in features and usage than excel.

Having a lot of features is great, as long as people can quickly and easily get to them. When Microsoft broke their UI with the atrocious Ribbon, removing decades of backwards compatibility, they lost a lot of usability, and users.
"Lots of features" does not make the best spreadsheet, nor the best results. The end product from the end user is what is truly important, and I contend that Numbers is the best solution for a user that wants to be productive.

The Rinbon actually makes getting to features easier because of the grouping and sub grouping, and contextualization of it. Menus are bad when apps do as much as Office. iWork doesn't even half the feature set of Office, and they still saw fot to shove a ton of stuff to a sidebar. Why do you think that is? Go use LibreOffice or WordPerfect Office to see what it's like using complicated apps with tons of deep menus. It's not pretty. The Ribbon was necessary.

Microsoft Office. Had 4 hours to do a word assignment and half the time I was traveling. With Microsoft Word on my iPad Air 2 I was able to get it done within the time limit plus still go home, do some final touch on my Windows installed MacBook Pro and turned it in with no issues. I've been working with Microsoft Office since I was growing up in the 90s, and I rarely ever touch pages and Keynote, so Microsoft Office will naturally be my choice.

Microsoft Office user here. Love it a lot. iWork is good too, just not as good for me. Google's office suite is WAY too bare for me. BTW, does anyone know how to tab something in microsoft word? Like indenting the first line of a paragraph. I can't seem to find that. I can only do that with my physical keyboard, which stopped working after I updated to iOS 8...

This is the kind of problem I referred to above. You can spend half an hour trying to find out how to do the simplest of tasks wading through ribbon after ribbon. It's easy and obvious in iWorks, making the end user more far productive.

Another factor as well is the amount of free storage they offer. Google Drive has 15gb, Onedrive also has 15gb (but offers an additional 15gb if you link your photos), while iCloud...

Office user here too. It's never let me down and will continue to use it for the foreseeable future. Sent from the iMore App

Just to clarify, you do NOT need an Office 365 subscription to create and edit documents, spreadsheets etc with the Office for iOS apps, ONLY for some advanced features. Basic stuff, as well as sync with Dropbox, will work fine without (since the recent update). All you need is to sign up for a free Microsoft account. I used to use iWorks to open and edit docs on iOS because I don't want to pay for an Office 365 subcription, but since I keep my stuff in Dropbox, not iCloud, this was awkward. Also, while I got iWork for iOS free with my iPhone 5s, I bought my Mac before iWork for Mac became free, so I'm still using paid MS Office on my Mac. I may switch to iWork if and when I upgrade my Mac but not before (and then it depends on how well the system supports Dropbox).

Nice article, I find myself going back and forth between iWork and MS Office. I recently purchased an office 365 home subscription for my family and I gotta say, I think its the way to go. Unlimited cloud storage, full versions or office on my mac and ipads all for 99 bucks for five users. I even migrated to outlook.com for my email and calendar. I **wish** I could talk myself into being "all-Apple", but their product and pricing just isn't competitive.

Because "free" costs more than $99?

apple "free" = a measly 5gb of space, a glorified syncing service (iCloud drive is **not** cloud storage) and a productivity suite that is largely unused by the general public/commercially. Web apps for iCloud mail and iWork??? horrible... Even at the "free" level for outlook you get 30Gb of space (15gb is extra if you allow camera auto backup), a true cloud **storage** solution and web/ipad access to the world's most popular productivity suite. I am more than happy to shell out $99 annually for my entire family to have all of the above, upgraded to unlimited storage space and desktop versions of Office.

I thought we were talking about apps here, not pricing on cloud storage. So, apps for $99 per *year* versus free for as long as you own any iOS or OS X device. And if you ever decide to stop the Microsoft plan, you lose your apps (or at least get downgraded to quasi-functional demo teasers).
I'm more than happy to shell out $12 a year for my 20GB of storage (far more than enough for my needs), and get the better apps that work with it right out of the box. Apps that will still be there if I ever decide to roll back to the free plan.
Different strokes for different folks. But please, do let us know when you finish syncing that terabyte of data to all your devices on your $99 cloud service, because obviously you needed more than the biggest iCloud plan.

"I thought we were talking about apps here, not pricing on cloud storage." We are talking about apps. My apps come bundled with a pile of **real** cloud storage, not a glorified syncing service. "But please, do let us know when you finish syncing that terabyte of data to all your devices on your $99 cloud service, because obviously you needed more than the biggest iCloud plan." That's the beauty of Office 365. I'm not **forced** to sync all of my files to all of my devices. I have the ability to select what files I would like to remain 100% in the cloud without taking up space locally on my machine. Also, my $99 annual fee is for 5 users..... Different strokes for different folks indeed. I'm happy to hear the 20GB iCloud plan works for you (although, you are actually paying $12 a year for 15GB of storage since you get 5Gb for free). However, I recommend you read up a tad more on what Office 365 **is** before further negatively commenting on it.

Why not just buy Office for the full price be in 2010 or whatever even better doing that then paying 100 annually. Posted via the iMore App for Android

Because upgrades. When The next office for Mac releases the auto updated just installs the new version. Otherwise you have to keep paying for new versions. Additionally. Full out licenses are one user only. For 5 users that's $139 x 5 in license fees. That covers 6+ years of Office 365 and that's not even accounting for upgrades to new versions of you go the full out route. If you own a PC and a NoteBook and want Office on both you're going to be paying $275+ outright, which is enough for about years of Office 364 Personal and that's not counting upgrade fees if you go the full out roughy. Frankly, for larger families (who will use more than 3 licenses) or individuals who need the software on a PC and notebook, it doesn't really make sense to buy outright unless you plan to use the same version for several years, which I don't really recommend as people who upgrade may send you documents that used features not in the old version (iWork isn't backward compatible at all so please don't jump on that).

The nice thing about the Office apps is that if you have Office 365, you can start a document at home or in the office, store it in OneDrive, and then open and edit it on your iPad. Then you can save it in OneDrive, and your edits will be available when you next open the file on your home or office PC.

You can do that with any of these suites.

It's time for Microsoft to incorporate the ability to open iWork docs in Office.

Only three words to describe my opinion: Office is king. Posted via the iMore App for Android

I am using the free software WPS Office on both iPad & iPhone and it is pretty good and it is pretty full featured.

I've used iWork almost exclusively for many years. I have an old copy of MS Office but can't remember the last time I needed to use it and I certainly don't want to. iWork has been an absolute joy to use, although the re-write has seen some capabilities vanish... slowly it is returning to a fully fledged product. Sent from the iMore App

I don't use all those features as much as I used to... As it is I usually just use TextEdit for everything!

Pages Numbers Keynote are more than good enough, enjoy using it. Glad to be not using Microsoft Office.

Office is simply the best but I am checking out iWork. I don't use any google products aside from YouTube Sent from the iMore App

One thing you missed, which is a big deal for me.. Pages does not format to the iPhone display size. Both Google Docs and Word do. Apple should have been the first to do this, because it's just good design. But no.. It zooms into the area you are typing into. Don't like that.

I will never rent Microsoft. I'll use a pirate version or some other software before I'd even CONSIDER renting software, especially from a spying company like Microsoft.
Get the best of iMore in in your inbox, every day!
Thank you for signing up to iMore. You will receive a verification email shortly.
There was a problem. Please refresh the page and try again.