Community spotlight: Thinking about leaving the iPhone for the Galaxy S4?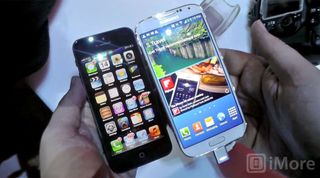 Given how many great phones are coming out these days, it's not wonder one of the hottest topics on the iMore forums is iOS vs. Android, or more specifically, the iPhone vs. the latest and greatest Android phones. Every so often community members start to wonder out loud about jumping ship and trying their hands at Google's mobile platform. Being someone who enjoys new technology myself, I can understand the curiousity, and, of course, the feeling that the grass always greener on the other side. One particularly interesting discussion this week comes from the thread leaving iOS for Android and more specifically, the Samsung Galaxy S4.
offdaglass started us off asking if, given the Galaxy S4's specs, an iPhone 5s-style update would be enough to keep us on the Apple path this year:
jclisenby says it's not about specs or the latest and the greatest, but about the overall experience:
MasterofPuppets agrees, adding great hardware needs great software to make it shine:
cardfan has a different perspective, worrying about the bigger screen gap:
jvernwald is concerned about battery life and build quality
Personally, I just love new devices and I'm always trying them out, regardless of OS or manufacturer. There are a lot of factors to consider, however. If you live in the Apple ecosystem with your Mac computer, iPad and iPhone, and you're used to using iTunes to manage your media, iMessage to avoid SMS fees with international friends, and you've spent a lot of money on apps and games, Apple has you right where they want you.
On the other hand, if you are not heavily invested in Apple products, you can switch around far more easily. Take it from me, if you are considering the switch to a device such as the Samsung Galaxy S4, stop and consider all the pros and cons, and if there are no deal breakers, then by all means give the Galaxy S 4 a chance. It looks to be a powerhouse of a device. If you do have concerns, though, jump into the iMore forums and get into the discussion. We'll help you make the best, most informed descision possible!
Get more iMore in your inbox!
Our news, reviews, opinions, and easy to follow guides can turn any iPhone owner into an Apple aficionado
Your source for all things Apple